Monday, October 4 2021
my birthday
---
---
Dear Journal,
Good morning, everyone. Boy is it good to be back, even if it is Monday. It's been a while since I last checked in, and it feels so good to be back at the journal, not even the doldrums of our least favorite weekday make it seem any less special. I'm feeling grateful today. I'm caught up on sleep. We have a mellow, grey sky that feels perfect for sneaking back into a productive rhythm. And I we have all the delicious fresh coffee we need. Cheers, friends.
Sip. It's been a while since I've checked in. I took a long break from writing to capitalize on my brithday privileges. This year, it felt like the smallest birthday privileges were the most special. Sleeping in, binging football highlights, and giving myself a gluttony pass at the Steak and Shake drivethrough. In the spirit of little things, I told Marissa that my real birthday highlight was the moment she offered to clean up from dinner and put the kids to bed. My only responsibilities that night were to take a short walk from the dining room to the living room couch. No bedtime routines. No changing diapers. Just straight to the couch for an YouTube binge while my food digested - this must be what it felt like to be a pharaoh in ancient Egypt.
In terms of actual presents, I had a pretty good haul this year. Marissa found two books on Spiders - one of them is a college level introduction to Spider biology. She also wrapped up three empty juvenile spider enclosures. There's nothing in them yet, but the real spirit of that gift of course is her implicit blessing to purchase three more spiders. I placed an online order with my go-to spider breeder, and if all goes according to plan, I'll expand our spider kingdom with three more juvenile tarantulas.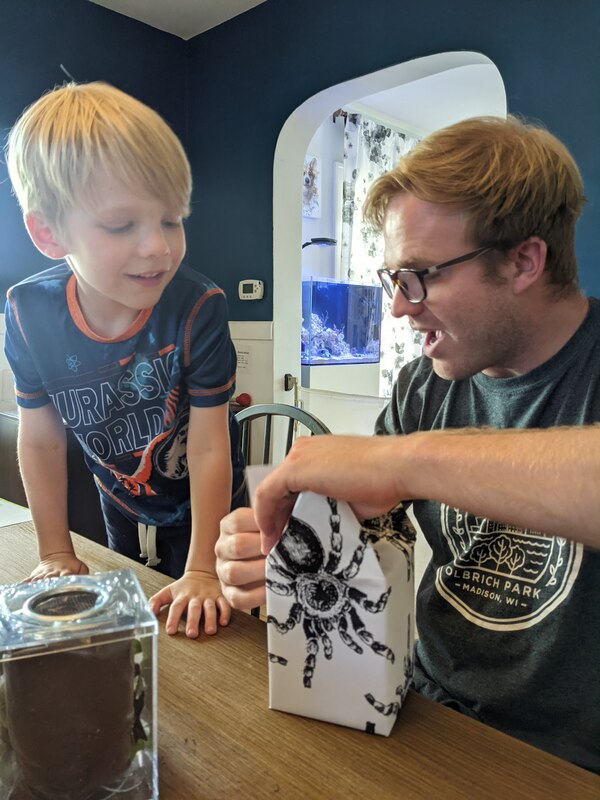 Marissa and Rodney also surprised me with a new Blackhawks jersey. Both Rodney and Marissa had their own jerseys, and with nothing to wear except for my ratty Blackhawks hoodie, I was secretly feeling a little left out. Now I'm the proud owner of a cozy DeBrincat jersey.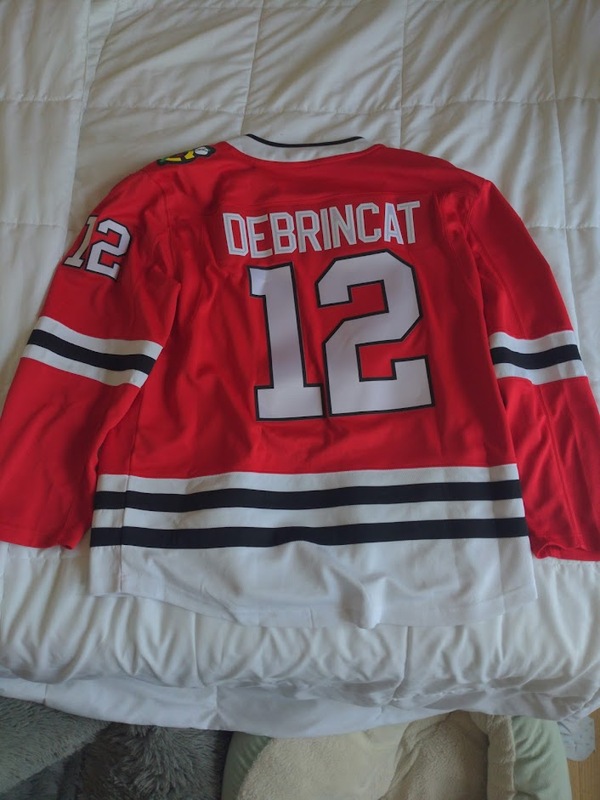 The next morning, we took a long drive into Illinois. After dropping Miles off with his grandparents, the three of took a train into the city. Marissa and I worried about Rodney getting tired from walking or overwhelmed from the big bustling sites of Chicago, but the grin plastered on Rodney's face as we made our way through the loop quickly quelled our reservations.
We spent the day on foot hitting all the usual tourist spots. We waved (and "dabbed") kayakers on the Chicago river.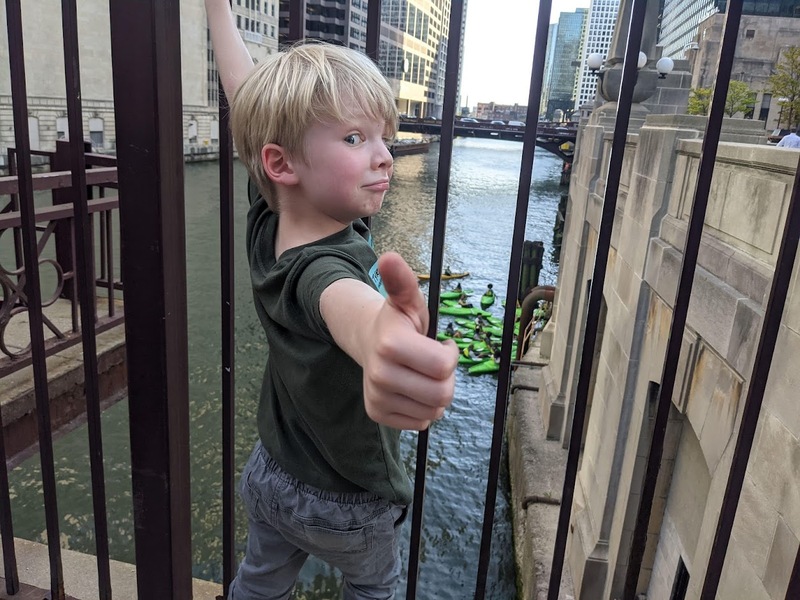 We shared a popsicle and rinsed our hands in front of the giant faces that spit water.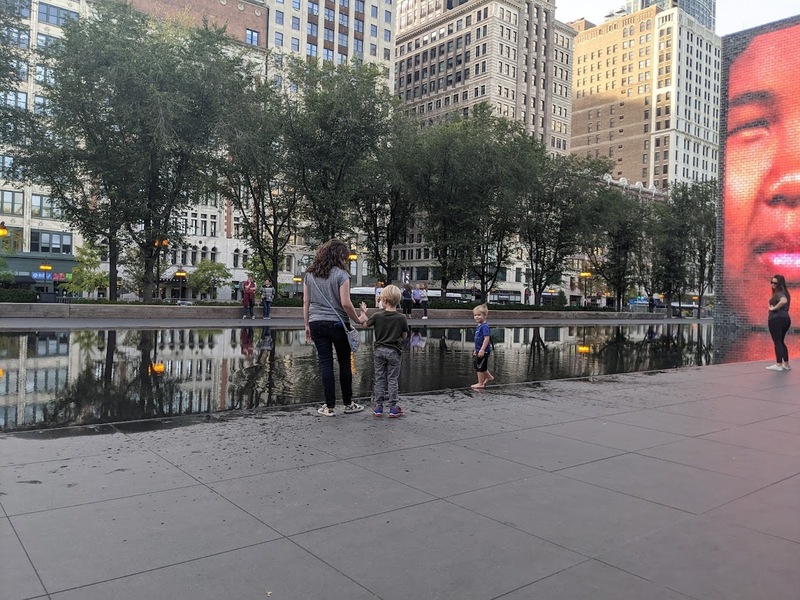 We shouted "LETS GO HAWKS" at everyone that passed by the lion statues outside the art museum on Michigan avenue.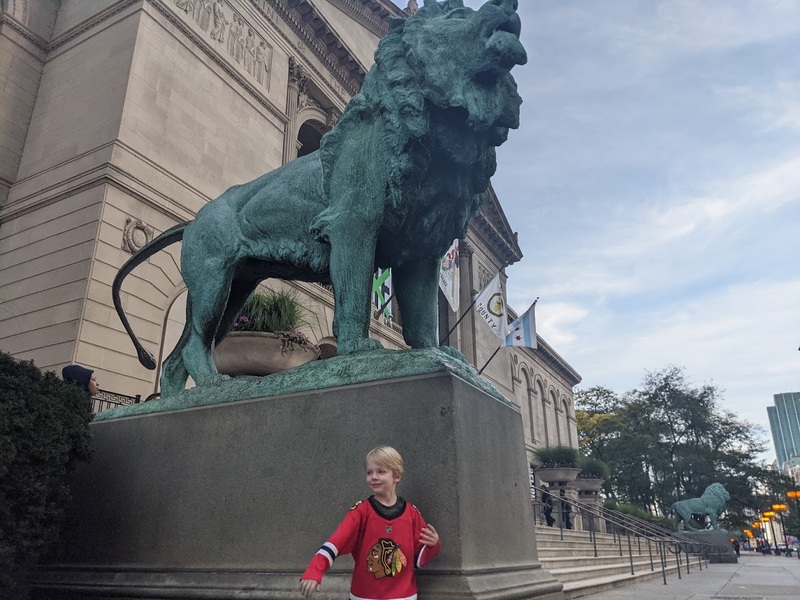 We squinted through the bright sunlight around a shimmering Buckingham fountain in a misguided attempt to get a good family photo.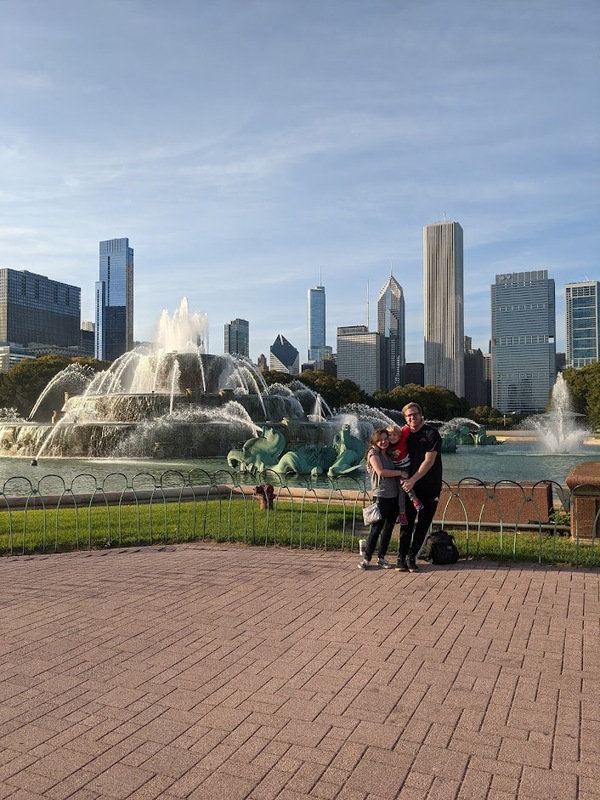 And of course, we visited the holy grail of tourist attractions. The most sacred place in Chicago for taking silly photos - da bean. Rodney, who had commandeered my camera phone, took fifty identical pictures of the giant reflective structure. Following an ancient Chicago tradition, we crouched beneath its curvature and snapped a silly selfie.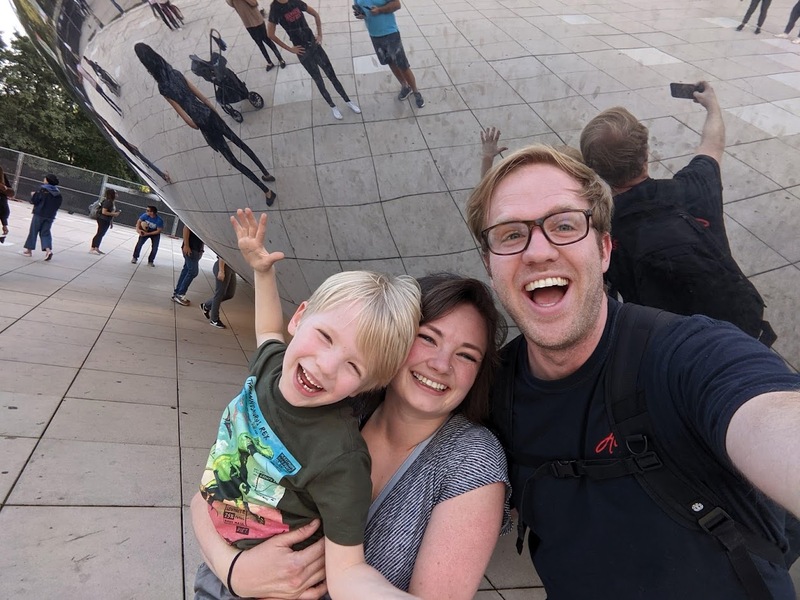 As cheesy as it sounds, seeing these familiar landmarks from Rodney's perspective made them feel new and exciting. We hadn't even made it to the Hawks game yet - the true purpose our visit - and Rodney was already soaring.
As the sun went down, We took an Uber to the United Center. We had a close call at the gate, as neither of us got the memo that security was checking vaccine cards with tickets. In a panic, Marissa and I dug our vaccine confirmation emails out of the Gmail trash bin. The burly security guard raised an eye brow and wriggled his push broom moustache while he glanced at her phone. "Yeah no - dat works for me," he shrugged. And with that, we gained entry to an awesome night of hockey, beer, and snacks.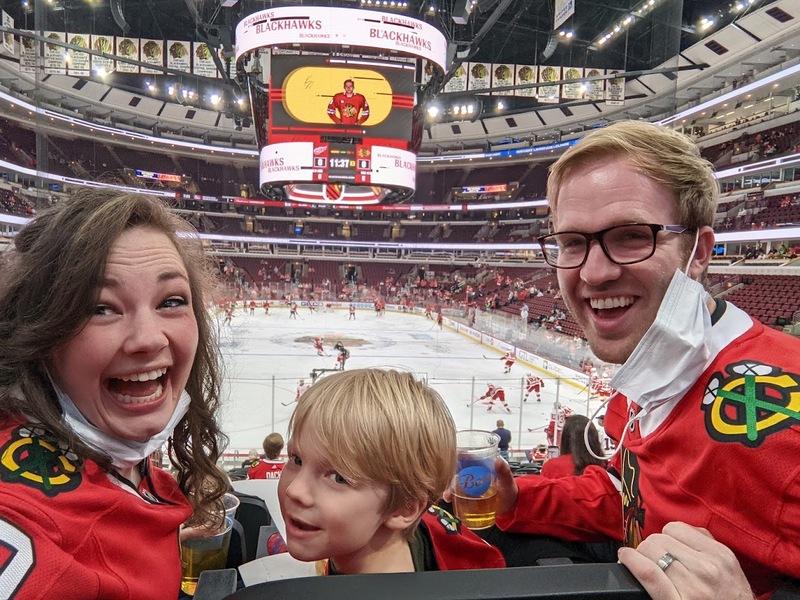 One thing I learned is that taking an extroverted five year old boy to a hockey game practically gets you the VIP experience. Rodney's dancing and dabbing earned us two cameos on the jumbotron. And the famous Tommy Hawk paid us a gratuitous visit.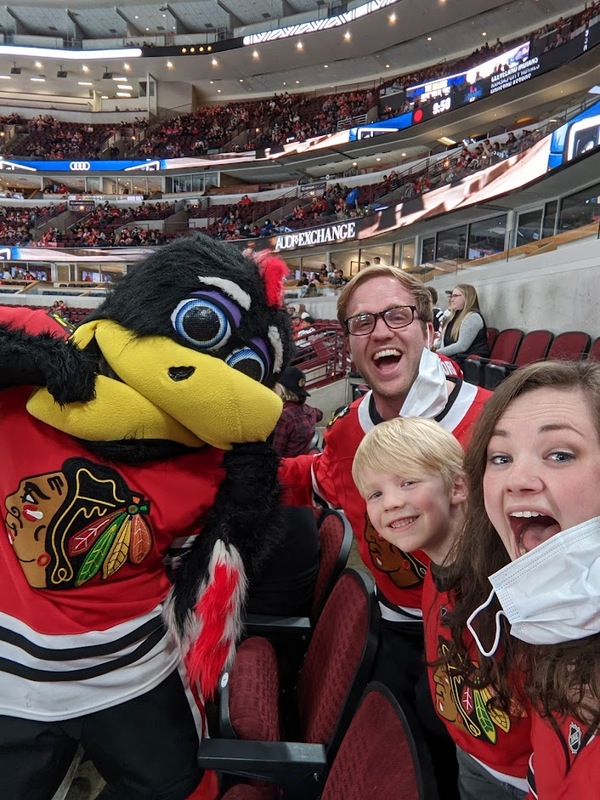 We had an awesome time. We were so exhausted from our day in the city, our train ride back felt like a blur. Rodney tiredly unboxed his Duncan Keith bobblehead, dropping it on the cold steel of the Metra train floor. We were lucky to recover Duncan Keith's foot - if we hadn't found it all the way at the other end of our train car, Marissa wouldn't have been able to glue him back together.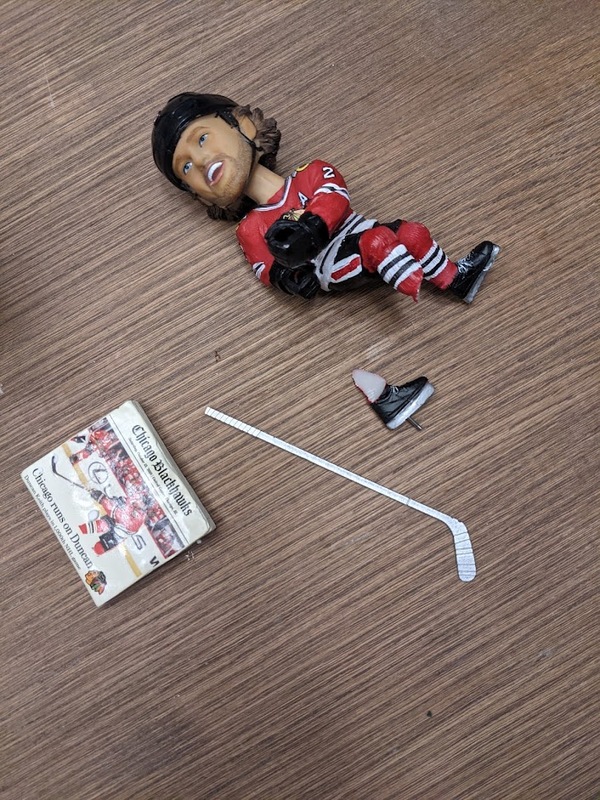 It was an awesome birthday. It took us all weekend - and one sick day - to recover from our busy day in the city, but now that I'm shaken this head cold and I've caught up on sleep, all that's left is gratitude.
Here's to October. Time to turn the last corner of 2021. We've got holidays, projects, moving, school, and new spiders ahead. Thanks for stopping by today, I hope you have a great Monday.