Saturday, July 25 2020
knex, grilled cheese, and polishing a bowling ball
---
---
Dear Journal,
Happy Saturday, my friends. I hope the day is treating you well so far. I had a much different morning than I'm used to. I decided to devote the entire morning to mine and Rodney's secret construction project. This morning, we put the final touches on our k'nex crane - over 800 pieces, standing just shy of three feet.
Yesterday, Rodney and I ripped open the box minutes after the package was left on our porch. Marissa stepped past our heaping pile of colorful sticks, snaps, and rubber gears.
"Miles is sleeping, I'll feed him when I get home," said Marissa as she absent-mindedly scanned the room for her keys. "You can hold down the fort?"
I looked up at her from my squatted seat on the living room carpet. "You mean, can I just hang out here and play with K'nex and watch Batman?" I asked. "I think I can handle that."
Understandably, Rodney's enthusiasm dissipated in the early stages of construction. He found a more comfortable seat on the couch, leaving me to the menial task of counting and sorting the pieces. After about an hour, the crane began to take shape, and as I snapped the base and neck of the crane together, Rodney had a renewed interest in the project. By the time Marissa got home, we had two of the rotating gears in place.
"You guys made good progress," chuckled Marissa. I grunted, pulling my cramped, curled legs out from underneath me. "My back is a little sore, but it was worth it. I think Rodney is really fired up about it."
"Did you have fun too?" she asked.
"Are you kidding me?" I laughed. "Watching Batman, playing with K'nex on the floor - I pretty much felt like I was seven years old again."
Normally, I don't like the idea of imposing my own sense of nostalgia on Rodney. I'd like to leave plenty of room for him to find his own hobbies and interests without needing to sift through mine. But I made an exception for K'nex, because they're awesome. Much sturdier than LEGO's, I find K'nex make for better towers, bridges, and cars. The pieces snap together much more tightly, and creations can survive one or two tumbles down a flight of stares without needing to be utterly rebuilt from scratch.
"I used to have an 8 foot long roller coaster in my basement," I bragged to Marissa. "I made a remote controlled robot that shoots rubber bands, and one time I made a replica of the Eiffel Tower that touched the ceiling."
Meanwhile, Marissa was surfing around on Ebay. "Is this the Roller Coaster you had?" She asked. "You know we could be in for a long quarantined winter. It might be a good idea to stash a few other sets in the basement to surprise Rodney."
Rodney went down for a nap, and I moved into the kitchen to begin to prep dinner. Later that evening we would be meeting Alex and Cassie at the biergarten, and I promised to make my best double grilled cheese sandwich. After donning a mask and gloves, I shredded an entire block of Wisconsin cheddar and sliced a fresh loaf of krang bread into thick, rustic pieces. I melted a chunk of butter in olive oil, carefully laying all four sandwiches in my pan and gently smashing them under a cast iron skillet. The smell of sizzling cheddar lured Marissa into the kitchen.
"Those look good," she said, watching me carefully flip the sandwiches at the end of a spatula, the crispy bread making a gentle splash in the oil. "Are you doing cheese on the outside too?"
"Of course," I laughed. "For Alex and Cassie, they get fried cheese on both sides."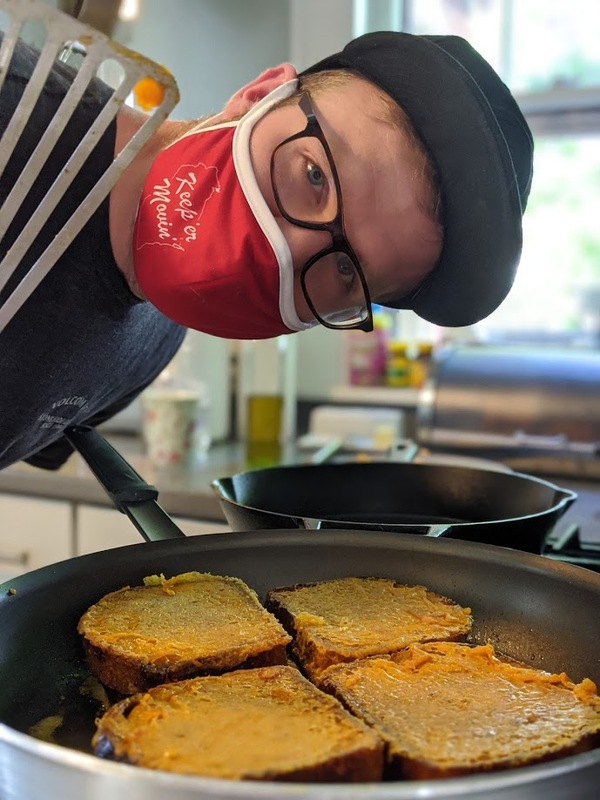 We met Alex and Cassie, laying our opposite facing blankets in a shady spot in the grass. We drank bier, had our fill of Gazpacho soup and grilled cheese sandwiches, and for dessert, Alex treated us to homemade carrot cake. We laughed, watching Rodney lick all the frosting off of his cake with his face pressed to the plate, and that led us to telling a few more Rodney stories.
"Do you guys think we talk about our kids too much?" asked Marissa. I nodded. "That's something we're conscious about, especially around people that don't have kids."
"Not at all," said Cassie quickly.
"I mean, we're already invested in the characters," laughed Alex. "And we're interested in your perspective, like, what's it like taking care of a baby? Is it a lot of work?"
"This one's not actually that bad," I said gesturing at Miles. "I feel like we're at the point now where it's just diapers and new changes of clothes. And Miles is really spitty, so we have to clean his head a lot."
"You mean like a bowling ball?" asked Alex, without skipping a beat. He motioned a back and forth towel motion with his hands, like how you would polish it with a towel. We erupted in laughter.
"Actually, yes. It's kind of like cleaning a bowling ball," I replied. "See, we're interested in your perspective on kids too."
We stayed at the biergarten, talking over drinks until the sun began to set. By the end of the evening, plastic silverware, rocks, sand, and ripped up napkins were scattered all over our blanket along with Rodney's toys and markers. "You guys go ahead," said Marissa. "We're going to be here a while anyway."
After we had cleaned up our mess, we snapped a few pictures in front of the sun that was setting over the lake. "We live in a beautiful city," said Marissa. "And we have good friends too."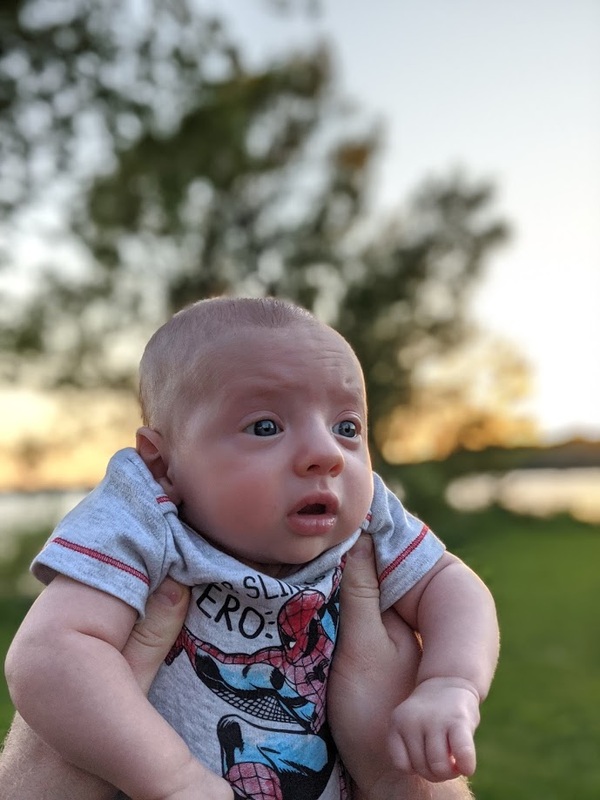 Thanks for stopping by today. I hope you have a wonderful day.
---