Sunday, October 25 2020
the first snow, fridge scraps, and playing hockey
---
---
Dear Journal,
Hey everybody. Hope your Sunday and your weekend is going well, and that you are leaning into the cozy vibes this cold October weekend. Stocks for hoodies and hats are up. Crisp walks around the block are in fashion. I even finally packed up my ratty Adidas flip-flops. A little earlier in the afternoon, the dark overcast clouds gave way to just the smallest snow flurry. As a family, we discussed the technicalities of our yearly tradition.
"Does this count as the first snow?" asked Marissa leaning out of the kitchen back door. "Or does it have to actually start sticking?"
"I don't remember anything about the snow sticking," I said. "As far as I know, if it snows, we have to watch Frozen that same night." Rodney scampered into the kitchen, kicking around a hockey puck on the ground.
"I don't want to watch Frozen," he said. "That movie is too scary."
I furrowed my brow in confusion. Rodney ran away.
"He thinks every movie is scary, as long as it has, you know, a plot and a climax." explained Marissa. "Except for the dudes movie. I'll admit it, that movie is pretty even keel."
Sip. We've had a relaxing day today. To hold us over for another few days, I picked up a small grocery trip from Hy-Vee this morning. Throughout this whole pandemic, there has been a constant weekly trade-off between getting more groceries and just staying home and making due with what we already have in the fridge and pantry. The colder it gets, the harder it is to justify heading out the door more than once a week.
After a good grocery trip, the fresh vegetables and the good meat is always first to go. We eat our way into the heartier vegetables, the good cheese, and maybe we break into a chicken or two. After more than a week at the grocery store, things start to get weird. Fried rice with Chinese food leftovers. Mac n cheese with cabbage. Penne pasta with an andouille and canadian bacon meat sauce.
Last night for dinner, scraping the back of our fridge, Rodney and I laid out some cheap provolone and turkey slices between two sheets of puff pastry and slid it into the oven. While it finished, Rodney remained at the cutting board, stabbing at the extra slice of puff pastry with a fork. The marks from the fork, as he explained, were sparkles. After we finished dinner, I clued Rodney in on a surprise.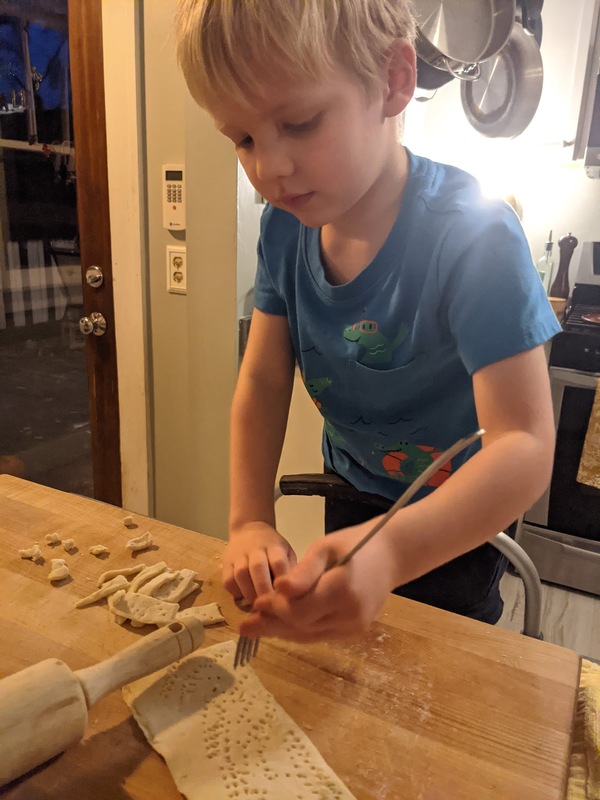 "You better finish your turkey and cheese pastry," I said. "We still need to have dessert."
Rodney's head shot up and his eyes widened.
"That's right dude," I said. "And guess what - you made it."
After Rodney had lost interest in his puff pastry experiment, I dropped the scraps on a pan and baked it after dusting it with sugar and cinnamon. It wasn't bad, served with a scoop of ice cream of course.
Above all else, hockey has been the theme of the weekend. We watched the Mighty Ducks on the couch on Friday as a family. Even baby Miles sat propped up between us, his baby eyes wide and bulging like he was struggling to keep up with the fast moving plot of the film.
I think the movie may have re-ignited Rodney's love for hockey. We picked up some new sticks, a puck, and a new net from the sporting good store. At Rodney's wish, we slid the puck around the back deck last night past his bedtime. Today, to tire him out for quiet time, I took him across the street to the community center parking lot, dragging the shiny regulation sized PVC hockey net behind us.
Rodney and I shot the puck around the parking lot as the snow picked up. The adverse weather made for some excellent action shots. Rodney is a lot better since the last time we did this.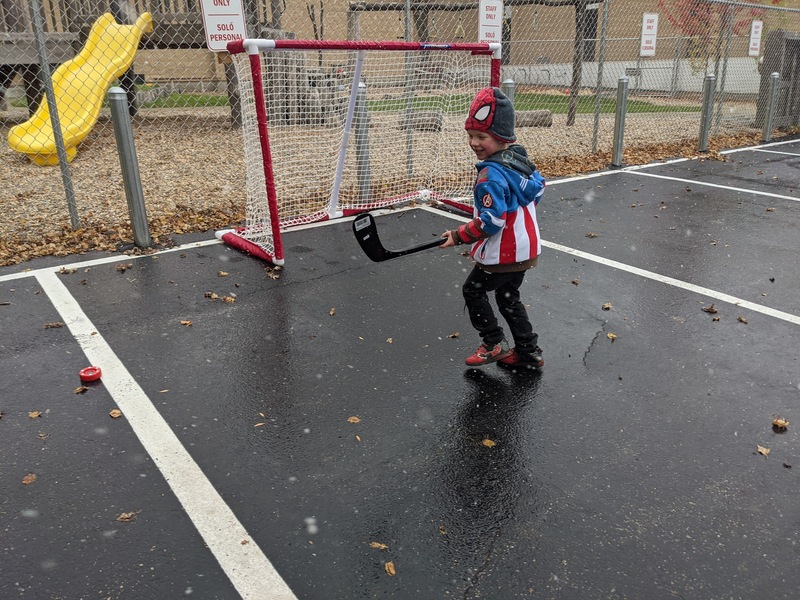 "I think we won!" Rodney said, chasing the puck to the corner of the parking lot, out of breath. "I think it's time to go home now. My hands are cold."
I made my way across the blacktop to join him at the side walk. "Sure dude, it's probably time for you to take a nap anyway," I said. We scooped up the gear, and began lugging the hockey net back home.
On the way home, we passed by a house across the street from the community center. At the end of the driveway stood a boy who was Rodney's age. He was holding a hockey stick limply in his hand, looking dejected. Rodney, squinting through the snow, didn't see him. But I saw him, and not knowing what else to do, I just waved.
"That's the saddest thing I've ever heard," said Marissa back at home. "How old was he?"
"He was almost literally Rodney's age," I said shaking my head. "That's a tough call though. Is it safe? I mean it's just hockey, but being around someone else, running around, breathing heavily. I wouldn't have felt right about it anyway."
At least we know that once the pandemic is through, Rodney will have a hockey buddy to scrimmage with.
Back at home writing at the computer, it's already starting to get dark outside. Condensation is running down the windows, as it usually does when I make chicken stock in the kitchen. Nothing left for today except for dinner, clean-up, and by a narrow margin of a technicality, watching the movie Frozen to celebrate the first snow day.
I'm happy that Rodney is getting so much joy from hockey. Because it's something that I also enjoy, it's easy to spend time together.
It's been a great weekend. So great, I'm almost not ready to head back into work. This week, I'm thinking about on-boarding a new part time intern and keeping up the momentum for a very ambitious project. That can all wait until Monday. We still have a whole wonderful cozy Sunday night ahead of us. I think I'm going to go open a bottle of wine now.
Thanks for stopping by today. Hope you have a great day today.