Thursday, November 12 2020
light sabers, a fishtank update, and marissas gallery
---
---
Dear Journal,
Good... early afternoon everybody. Feels weird to be journaling so late in the day, but what can you do? Sometimes you make plans and follow through with them. And other days, you sleep through them without putting up a fight, and then you order Denny's delivery, and the rest of the day lies at the mercy of the sugary pancakes digesting in your stomach.
Sip. It's a good day today. It felt great to sleep in and take things a little more slowly. Yesterday between waking up so early, hitting the chores so hard, and chasing Rodney around the house with a light saber half the day, I got a little burnt out.
Rodney mistakingly referred to them as light stickers, so I decided to reinforce that. We fashioned our light stickers out of some k'nex. They're lightweight and fun to swing around, but the major design flaw in these is how much the sharp plastic corners can hurt when Rodney gets a good strike in. Of all the carnal pain a person can experience, taking a jagged k'nex sword right in the knuckle has to be among the worst. I'm still sporting a welt on my favorite finger.
For inspiration, Rodney and I cued up some light sticker fighting videos on YouTube. We let a compilation of all the Star Wars battles play in the background while we mimicked the action with couch cushions and Tupperware bins. While we were battling, the autoplay rolled over into a homemade tutorial on proper light saber technique. A guy with long flowing hair and what could only be described as wizard pants stood alone in the desert, swinging a toy light saber around his body like a dancer to a mellow new age soundtrack.
"This is kinda weird," said Rodney, breaking free of our YouTube trance.
It is weird, Rodney. YouTube is wonderful and terrifying, because for every silly toy, new fad, or time waster, you can always find someone who has dedicated their entire life to mastering it and teaching others to do it for free. Of course there is a light saber guy, why wouldn't there be?
In other news, the Recker family fishtank continues to thrive under Marissa's keen instinct for fish care. Earlier this week, our new cleaner shrimp arrived in the mail. There was a knock on the door, and a FedEx truck peeled away.
"Is shrimpy back from the doctor?" asked Rodney.
"I don't know," said Marissa. "Let's go see what is in the box."
Marissa checked the box in secret. "Sometimes they don't make it through the trip," she said to me quietly. "Just checking before we get him all excited."
The brave shrimp survived the journey. Marissa hung his plastic bag over the edge of the tank so he could acclimate. He was pale and weak, but hungrily washing his mouth parts in fresh salt water.
"He's already way more active than the last one," said Marissa. "That's a good sign.
We're naming our new shrimp Stephane also. Rodney thinks that Stephane has actually just been at the doctor for the last few months. Rodney must be quite impressed with the amount of care that cleaner shrimp have access to. Just imagine all the complex procedures and experimental therapy that must have taken place since early this summer, and all for just a lowly cleaner shrimp.
Even though I'm in on the secret that Stephane is really Stephane II, it seems fitting for a scavenger animal like a cleaner shrimp to reuse the name. If you think about it, he began his life in our tank with a scavenged name from a deceased comrade. The circle of life keeps turning.
Stephane is doing great. He's grown bigger. His color is a bolder, vibrant pink and red. He has a commanding presence in the tank. The clown fish have tried to introduce themselves a few times, only to make Stephane stand with his chest out holding his little shrimp arms out in front of him like swords.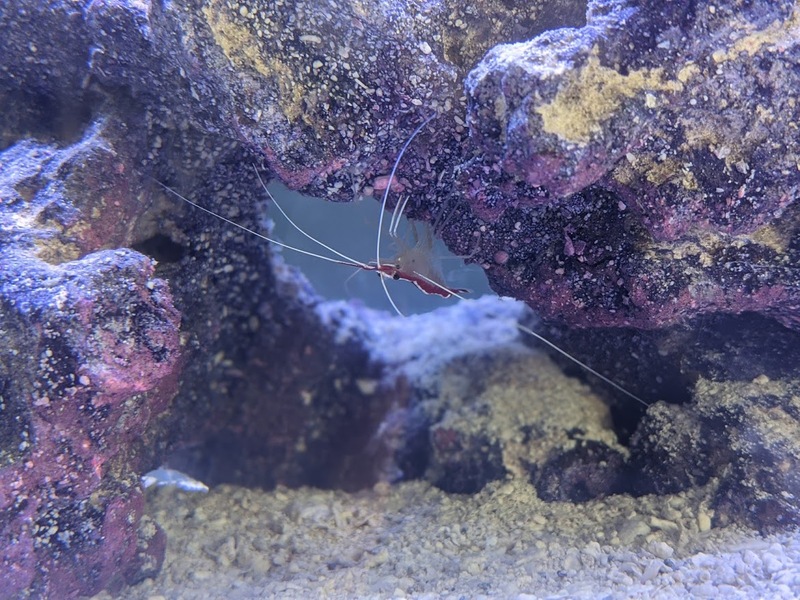 Champion, our coral, is also thriving. A few weeks ago, just a few open tentacles during the day was enough to get us fired up. Now the entire thing opens daily and the fingers are getting longer. Champion even has a healthy greenish tint.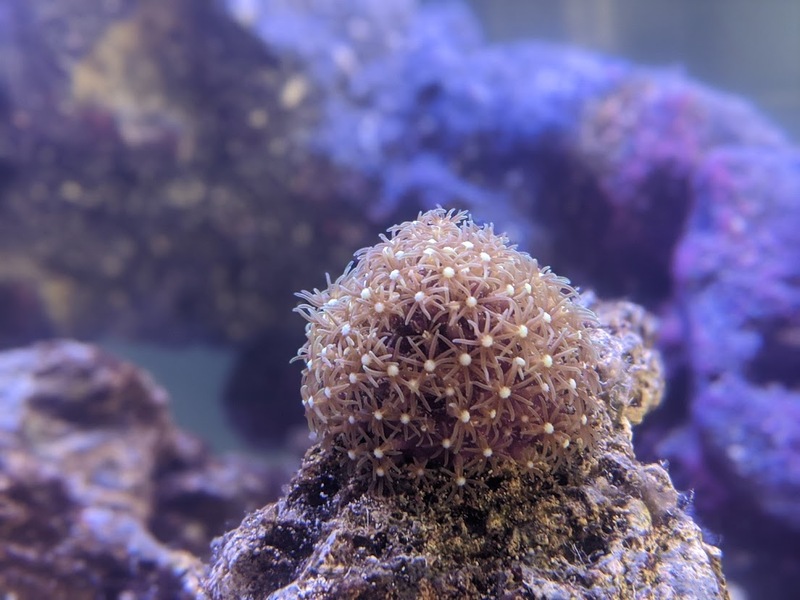 Ibb and Obb are the old timers now, and it's difficult not to get a picture of them. Every time the camera comes out, they seem to enjoy swimming in front of the lens and throwing off my focus - a prank that must give them a lot of satisfaction.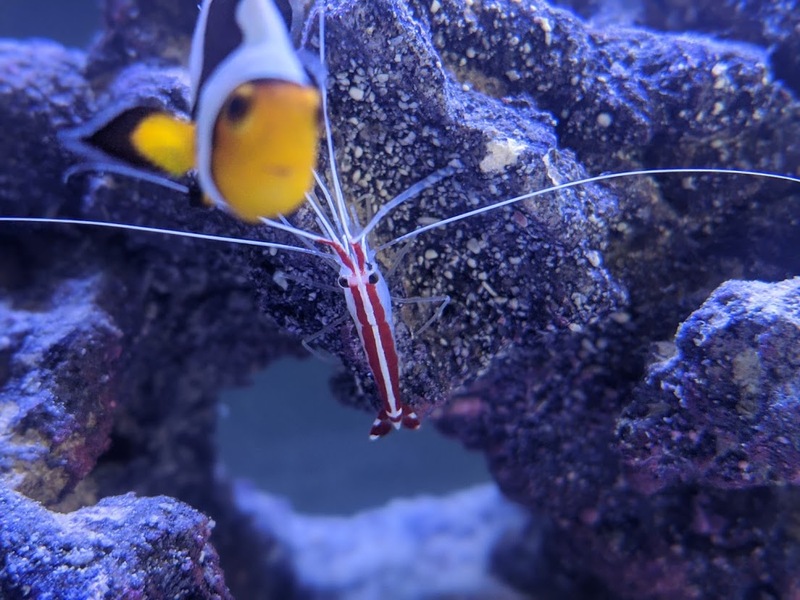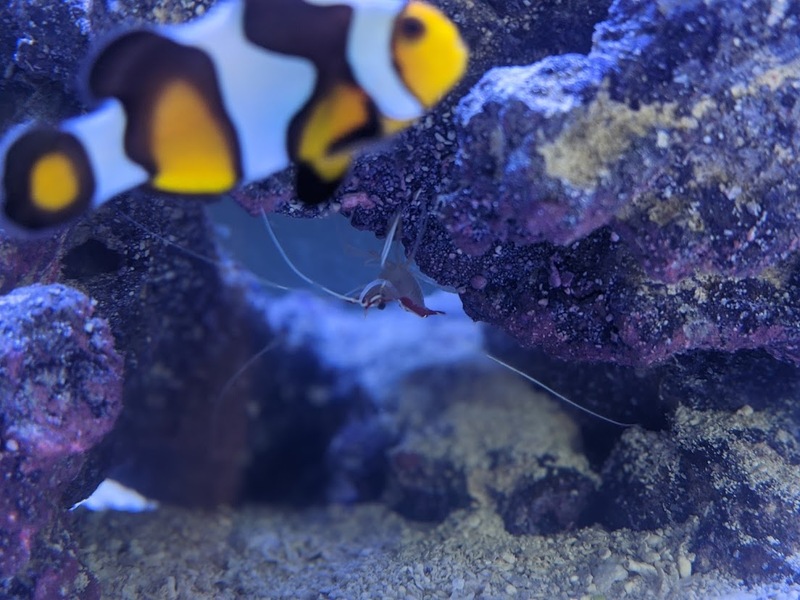 Having animals in the house is a great distraction. It makes me feel like I'm living in a cozy ecosystem, and I've spent way more time than I'd like to admit just staring into the fish tank watching these silly little fish interact with things.
That's what I got today. Before I go, Marissa sent me the details for her virtual art gallery this weekend. The show is live from 10-4 each day from November 13-15, and you can come hang out with us over Zoom as well as over 200 other artists. Details are on sacrementoartsfestival.com. Hope to see you there!
Thanks for stopping by today. Have a great day today, everyone.
---