Wednesday, November 18 2020
the joy of sitting, shit sandwiches, and a walk by the lake
---
---
Dear Journal,
Good morning, everyone. Happy Wednesday. Welcome to the middle of the work week, rounding second base, the half mile marker. At the moment, I'm sitting down in a chair, and I just have to take a minute to tell you how wonderful it feels to sit. Last night after putting the kids to bed, finishing our chores, and putting the house away, Marissa and I sank into our usual seats on the couch.
"I don't know if I'm getting old, or something," she said, carefully lifting her chilled gin and tonic off the coffee table, "but it just feels so good to sit down."
"Oh I hear that," I said. My glass beer bottle quietly clinked on the coffee table as I set it down. "So in the mornings, after I finish cleaning up, feeding the starter, and brewing coffee, I sit down for exactly a half hour in that chair to read, and it feels so good it's like my whole body starts to sing."
"When you sit down, do you feel like you're getting a back massage?" she asked.
"Oh you have no idea," I laughed. "My back literally cracks. It feels so good I think I could cry, or just immediately fall asleep."
Today, let's respect the simple joy of sitting down. The physical act, along with what sitting down symbolizes. No more jobs, and I'm not planning on going anywhere.
Sip. How do you feel about sitting down? Do you seek it out, or do you actively avoid it? Are you one of these thrill-seeking standing desk people I keep hearing about? Maybe you're one of those weirdos that like to shuffle on a treadmill while you work. Not me and my butt, I'll take a good chair every time.
Yesterday was a good day - not for work, but for everything else around it. Remember that annoying secret task I was complaining about yesterday? I had ambitions of taking care of it in its entirety with one focused afternoon blitz. I shut off slack. I closed our bedroom door. I got close, but I wasn't quite able to put it to rest. As is true of most annoying tasks, it gave birth to a gaggle of smaller annoying tasks, and mistaking me for the head of their annoying task family unit, these new little baby annoying tasks continue to waddle behind me.
Even though I have a right to complain, I have to be mindful of letting the negativity affect the team. During our morning stand-up update, I jokingly referred to the chore as eating a shit sandwich. But I wasn't careful with my wording, and I made it sound like both the security chore and working with the interns were all part of the shit sandwich. "Just to be clear, I didn't mean to lump our new intern project in with the drudgery of this chore, I'm actually really looking forward to getting into this together," I clarified later over slack. I'm half certain that nobody in the call made that conclusion, but you have to be careful with your words in a remote working environment. With nothing holding people together except for zoom calls, slack messages, and google docs, the importance of precise wording can't be understated.
In the afternoon, Marissa floated the idea of taking a family walk. We needed to pick up some meds from the neighborhood vet, and Marissa thought the weather was nice enough to finally take the whole family to her new secret running spot by the lake. Feeling the need to vent, I jumped on the offer, and so we bundled up and headed out deeper into our neighborhood. For the first few blocks, I filled Marissa's ear with complaining. But then Rodney shook me out of my bad head space.
"Look at these rocks!" yelled Rodney, running ahead of the back. "Oh, a person! Hi person! Look at their cute puppy, what a nice boy."
Rodney was so enraptured with the scenery that he distracted me from my work rant, stopping at every stick lying in the middle of the sidewalk and every pile of leaves at the end of driveways to marvel at their beauty.
"He hasn't been out in a really long time," said Marissa. Rodney continued to bounce around like a hummingbird in the spring. He stopped in his tracks to gaze at an airplane overhead scraping the clear blue sky. He leaped over a concrete stair. He leaned in to pluck a crabapple off of a neighbor's tree.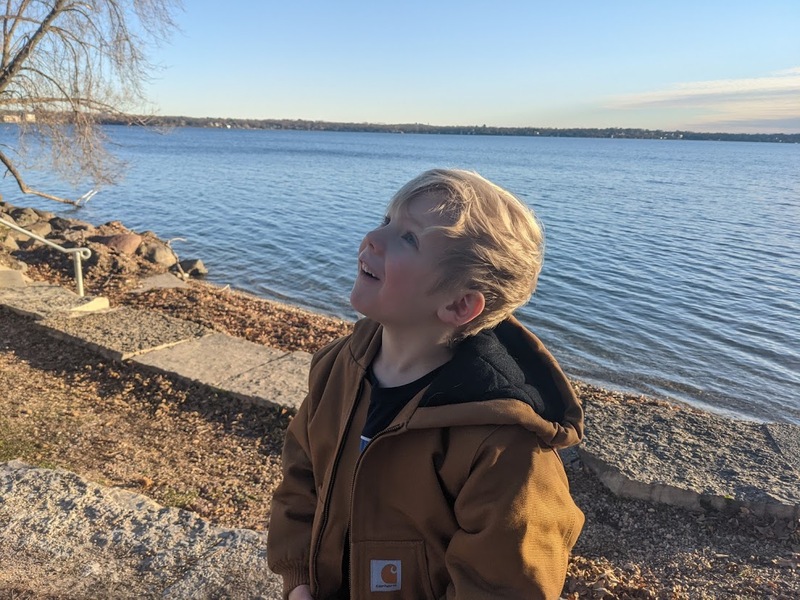 "Don't fall in the sewer," he said turning around to warn me. "The enn-jin turtles live down there, pretty scary."
I thought about what this quarantine has been like for Rodney. Rodney doesn't know the term COVID or quarantine. He just knows that people are getting sick and we're waiting for them to get better. He doesn't understand the context of why we can't go anywhere and why it's taking so long to stop it. A walk down a new side street and a few minutes by a chilly lake was all it took for his heart to burst with joy. He didn't let a single person pass us on the sidewalk across the street without asking them at least four questions. He sprinted down each stretch of sidewalk like a relay runner.
We grabbed a seat on a wooden bench by the water. Rodney ripped off his winter jacket and hat and climbed down to the water. I helped him lean forward far enough to feel the chilly water on his fingers. "It's so beautiful," he said, trying to taste it.
"When quarantine is done, I'm taking that kid to Dave and Buster's every day for a week," I laughed. Marissa and I, both misty eyed from watching Rodney fling sticks into the lake, packed up our things and walked home.
Back at home, we made hot chocolate. Marissa used her blowtorch to toast the marshmallows on top. Rodney, out of breath from his afternoon eventful afternoon walk, disappeared into his room with his own full mug of hot chocolate.
That's what I got today. Thanks for stopping by, reader. Have a great day today.
(bonus content)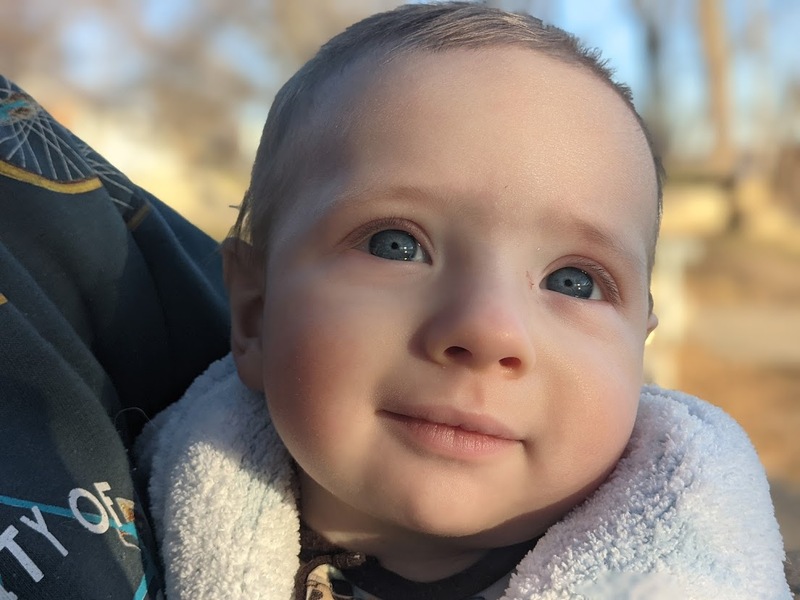 ---