Saturday, February 20 2021
calories, rodney's monitor, and kelly's visit
---
---
Dear Journal,
Good evening, everybody! Happy Saturday. I hope you're having a relaxing weekend. This quarantine I've done a little too much relaxing. In trying to shed some of the quarantine weight, I've gone back to counting calories. Punching all of your meals and snacks into an app is tedious, but when your diet goes off the rails you can learn a lot from that data. For instance, as a rule I stave off the evening snacks until Friday. Yesterday, I punched in everything I ate from wine, to cookie dough, to slices of bread with butter, and I was surprised to find that I snack so hard on Friday it pretty much just cancels out all the other snack-free days of the week. I'm disgusted, but also proud in a way. I must be a really serious snacker to pull off something like that.
So as much as I wanted to just eat another slice of bread and take a nap, I jumped on the bike this afternoon. I paid back the Friday gluttony debt with sweat.
Sip. My Blackhawks hoodie finally arrived. It would have been just in time for the game today, but the game was postponed. I slipped it on over the shirt I was wearing all day.
"How does it fit?" asked Marissa.
"It's cozy, maybe a bit snug?" I remarked. "I hope it doesn't shrink."
"I hope it shrinks," said Marissa, smiling wryly. Marissa knows what becomes of the hoodies in my closet. When they finally shrink, get stained, or get to holey, they have the privilege of retiring in her art studio as painting hoodies. She was eyeballing my new hoodie pretty hard. It makes me wary that she's going to offer to wash it for me then run it through the dryer three times, or use some other form of sabotage. I had better keep an eye on that.
We had a good weekend so far. On Friday, Rodney helped me set up my new computer desk. My work sent me a 4K monitor to replace my old one. I rearranged the screens on my desk while Rodney grabbed the included allen wrench and fiddled with the old one. Later that night while putting him to bed, before launching into our bedtime prayers Rodney pitched an idea he had been sitting on.
"Hey? What you do with your old mermometer?" he said. I was impressed with his commitment to make the topic jump sound organic and hide his motives.
"I don't know," I said. "It's just sitting in my closet for now."
Rodney put his hand to his chin, like he was thinking. "Hey, what about we put it in my room?" he asked. Wanting to see how much he thought this through, I decided to play along.
"Interesting point, dude," I said. "Why don't you flesh it out for me. Where would it go - on the desk? By the window?"
"How about right here," he said, patting the wall next to bed.
"By your bed?" I asked.
"Yeah," continued Rodney. "I can play Nicky J [Nick Jr.], or I can even watch sports!"
"Well dude, you make a solid pitch," I replied. "But you got to present all these arguments to Momma too. Why don't you go find her downstairs."
In disbelief, Rodney climbed out of bed. He disappeared into the hallway and down the stairs. A few moments later, I heard his quiet voice explaining something to Marissa in the living room. I heard Marissa break out into laughter. Rodney returned to his room.
It's OK Rodney. You miss 100% of the shots you don't take.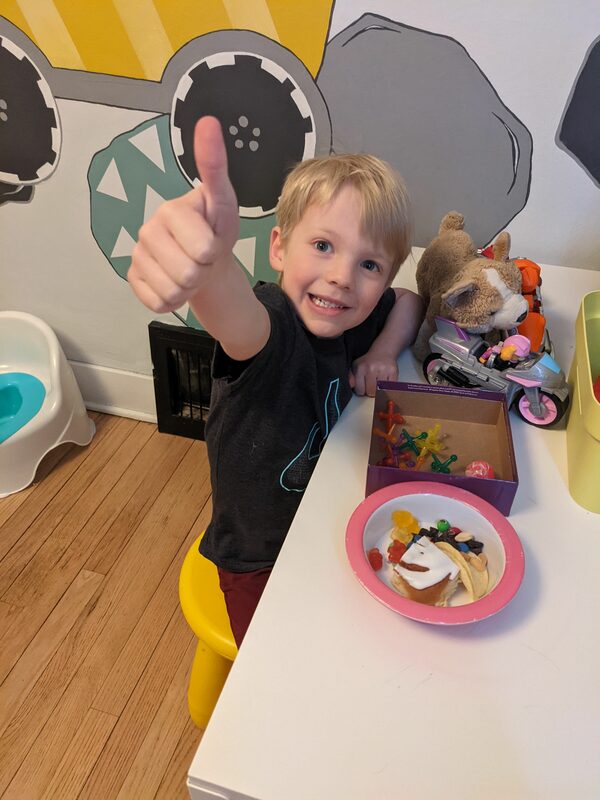 Last night, to prepare for Kelly's visit, Marissa and I stayed up late baking. Marissa baked a batch of her famous oatmeal butterscotch cookies and I prepped three loaves of bread. Admittedly I went a little overboard. I promised Kelly I'd send her off with some bread, and my rationale for the extra loaf was that I wanted to have a backup. I was excited to see Auntie Kelly. We ALL were. It was the highlight of our week - maybe even our year. Because not only would she be here, but she'd be able to give us a hug at the door and hold Miles.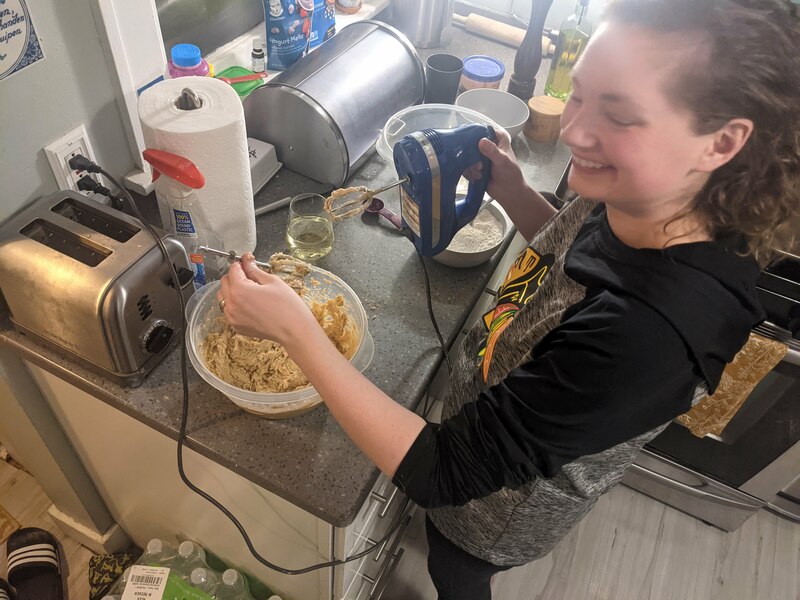 Kelly met us at the front door. We each gave her a long hug. Miles was wide-eyed and slack-jawed, gaping at the strange adult that picked him up and put him in her lap. Rodney also gave her a hug, then without asking he launched into the grand tour he had prepared. He led Kelly around as if she were one of his inflatable dinosaurs. He dumped k'nex, puzzle pieces, train tracks, and magnatiles at her feet. He talked to her with focus and urgency, beginning each of his long run-on sentences with scu-mee Auntie Kelly. When he was out of toys, he showed her the rooms. When he was out of rooms, he showed her the closets. And when he ran out of closets, he just started showing Auntie Kelly every drawer and storage bin. He took Kelly into my closet and showed her my cables. He tipped baby Miles dirty clothes hamper so she could see inside.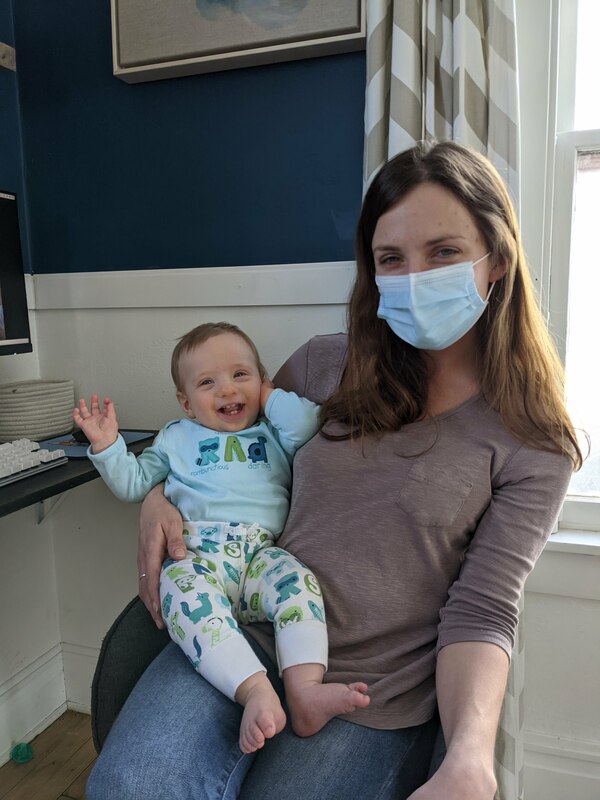 It was so wonderful to spend time with Kelly. The experience was a return to the old familiar way of life, but also very other-worldly. The surreal nature of the experience of having someone over for lunch like this reminded me of those photos of Mars that NASA released earlier this week. It felt like a walk on a different planet.
That's what I got today. Oh, sorry I had to skip the programming stream this week. I was too busy cooking and hanging out with my sister Kelly. Here's to slowly getting to hang out with people again. Thanks for stopping by - have a great Saturday.