Wednesday, July 21 2021
garbage day, darts, and bug time
---
---
Dear Journal,
Good morning, everybody. Welcome to Wednesday. It's been a quick week, but this morning I'm feeling grateful that we're already at the halfway point. Around here, we're finally starting to de-party the house, and the tipping point was garbage day. I had a small, quiet sigh of relief while listening to the screeching gears of the garbage truck dump and haul the bulk of our party garbage away. Of course, they sort of botched the recycling bin. Whether I'm stuffing the recycling into the can too snugly or that mechanical arm isn't holding it over the truck long enough, lately they always leave a few straggler cardboard boxes in the bottom of my can. There they sit for two weeks, taking up five, ten, fifteen inches of precious recycling bin real-estate until we can try again.
But that's not a big deal. The garbage inside the house is finally cleaned up. We've caught up on chores, worked through all the leftovers, and all of Rodney's new birthday toys have been assimilated. Even little Minnie has taken a whack at some of them. This morning she chewed the arms and hair off of Rodney's new Owen Grady figurine. I suppose if Rodney is upset about it, we can just tell him that it was a dinosaur attack, and that was the risk that Owen Grady accepted when he set out to be a dinosaur trainer.
Sip. It's good to be here. This morning, the router is humming and our wi-fi is at full strength. Pushing the home network repair into the early morning proved to be the right move. During the first few cups of coffee from 9:30 AM to 11:30 AM, I feel unstoppable. Big disruptive technical problems like a crashed router don't seem so scary, and I actually found some genuine enjoyment validating all of my settings from scratch. When you make time for them, outages have a funny way of clearing out the cobwebs from an old system and giving you a new sense of pride and admiration. The night before when the system broke, I felt like chucking all of those servers into the street. The next morning watching it all pass the reboot test with flying colors, I had the complete opposite feeling.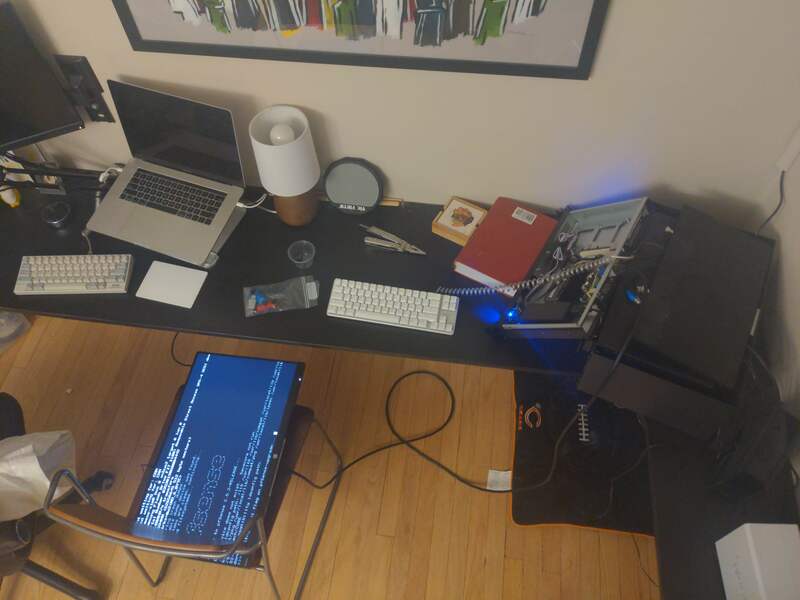 It's also nice to get the dining room computer back. Now that I'm done with the monitor, I was able to get into Marissa's Google photos and share this very glamorous photo of Minnie she took two days ago.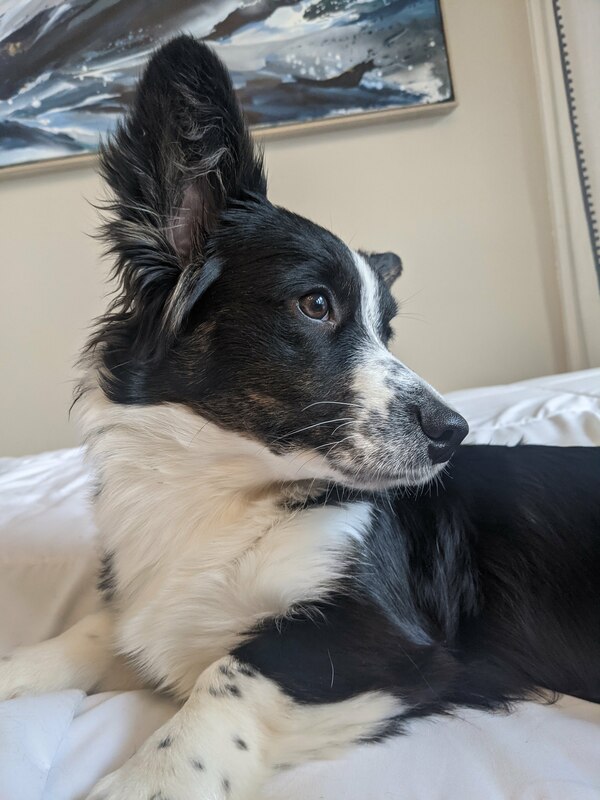 I had a good day yesterday. As corny as it sounds, I'm still in the "pinch-me" phase of this new role, and there's no end in sight. Our low-touch schedule makes it so easy to deep dive into things. My mornings are bathed in focus. My afternoons are garnished with friendly chats. I'm learning so much from the other engineers on my team, and I've grown to really admire how they treat each other.
I had a great workday yesterday, and Marissa was a big part of that. Yesterday, she took both the boys across town to Canine Sports Zone, leaving me home alone with the dogs. They asked her to help with some painting, and she felt like helping out.
A few months ago, Marissa painted a mural on their wall. She told me that some attendees were exciting to see her again, thinking she had another mural on the way. "Nope," she laughed. "Just solid blue this time."
Marissa had the car late, so we decided to take the family out to dinner at the Brass Ring. The Brass Ring was already starting to crowd in preparation of the NBA finals game, so we ate quickly. Rodney asked if he could check out the dart board on the wall beside the bar. Marissa handed him six bucks, and the two of us made our way over through the bustling dining room. Rodney took his position a few feet away.
The electronic dart board was dead, but it still took our money. We both stood there befuddled watching it the machine slurp our six dollars into the metal cabinet. I shrugged, and handed Rodney the nearby cup of broken darts. He proceeded to fling them up at the board. The first few bounced and rolled behind the window sill and down the restaurant stairwell.
The dartboard was also placed really close to another table. Mere inches from where Rodney and I were standing around, a couple sat on the same side of a high table staring into each other's eyes, trying to ignore the five year old throwing darts past their heads. "Thats' enough darts," I said, ushering Rodney away.
After putting the kids to bed, Marissa descended into the studio, and I retreated to the bedroom. The half hour between putting the kids to bed and starting on chores has become my unofficial bug time. None of the spiders, beetles, or worms actually needed anything, but sometimes I just like to say 'hi'.
These darkling beetles perplex me. All ten beetles spend their days and nights huddled in the same cardboard egg cup. They barely eat. They don't explore or burrow. I sifted through their oat bed last night hoping to find some babies, or even some pale white eggs. No dice - maybe they're still just getting to know each other.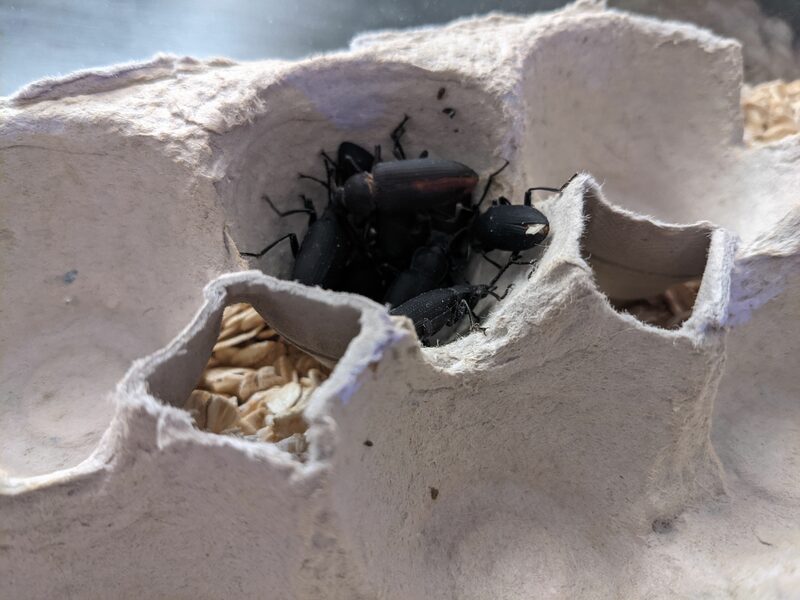 Meanwhile, the spiders have really settled into their new enclosures. Karta dug a basement underneath her piece of cork bark. She hides out in her enclosure all day, growing, eating, and resting in secret.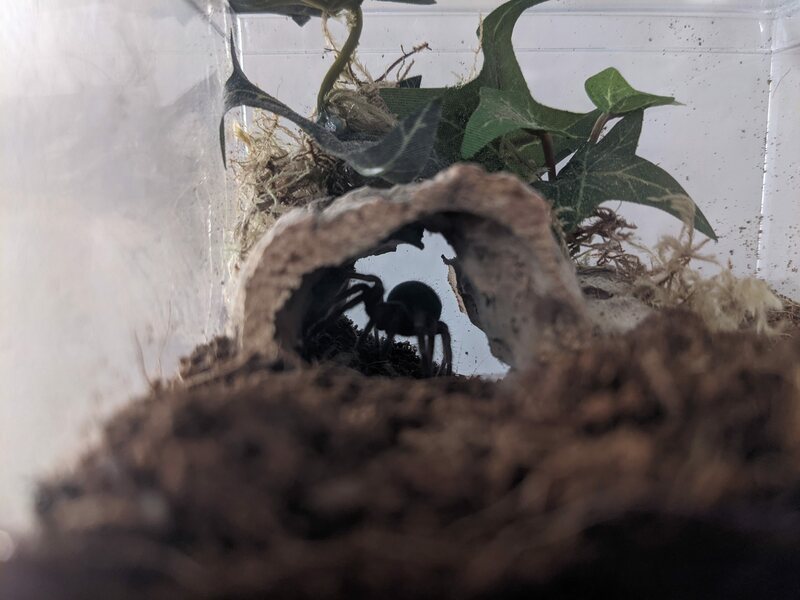 Glassy has grown to like his enclosure as well, but he's much friendlier than the others. Last night, he walked out of his burrow into the corner of the clear plastic enclosure, almost as if he was volunteering to pose for the camera.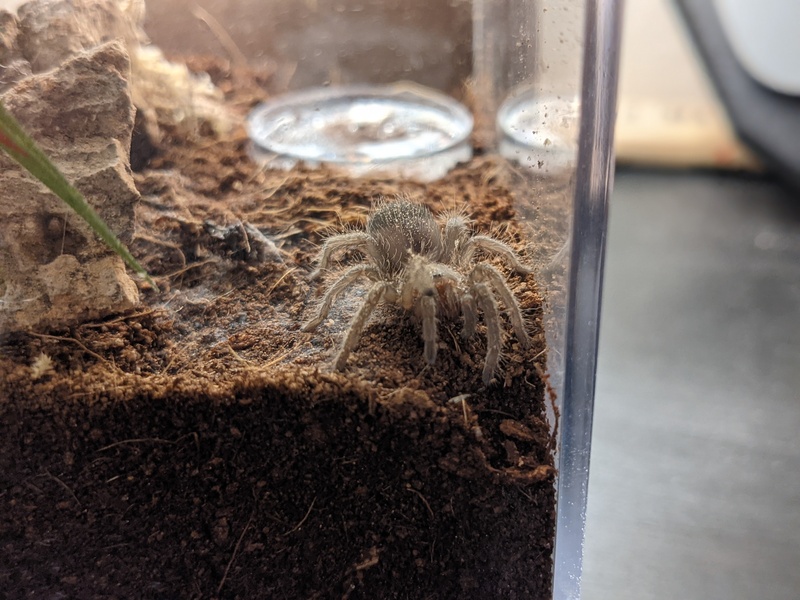 Spidey is doing well too. Laying off the food for a few days helped him get back into fighting shape. His speed and agility have returned. Spidey likes to hang out on top of his lair, but whenever he feels the slightest vibration on his enclosure, he comes darting around the corner to his burrow. His intimidating size and breakneck speed amaze me. I have a feeling that the next time he eats, it's going to be a real show.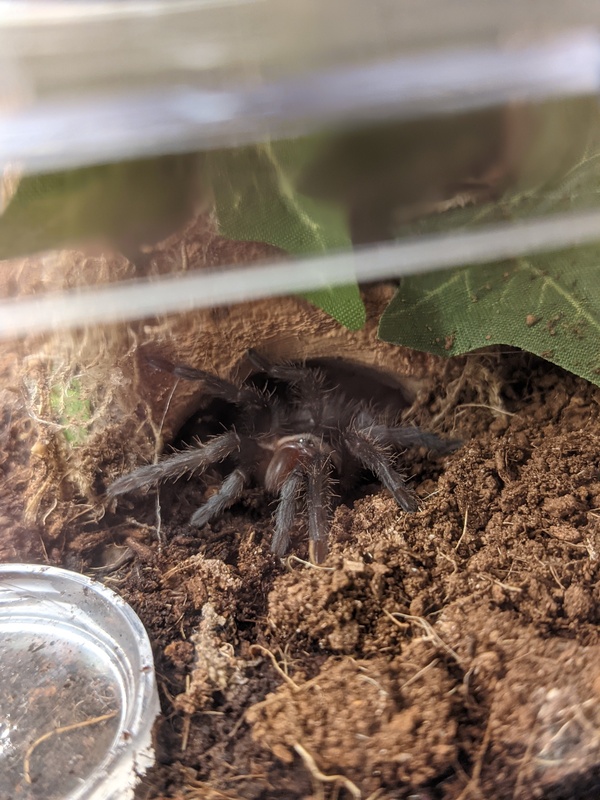 That's what I got today. Thanks for stopping by, everyone. Happy Wednesday.
---