Friday, August 20 2021
paw patrol, moving a treadmill, and doing nothing
---
---
Dear Journal,
Good morning, everyone - I have some good news for you. It's Friday and we made it to the weekend. Catching up on sleep, tackling an ambitious project, or losing yourself in hobbies, whatever kind of weekend you plan on getting up to I hope you find all the fulfillment you're looking for.
Personally, I think I might have a coding kind of weekend. Marissa has to get up early tomorrow for an agility trial, so she'll be turning in for the night early. "Just have a daddy night or something," she advised. I can't think of anything better to do than opening up some code, breaking something, and fixing it again.
It's also been a while since I wrote some code in a live stream, hasn't it? I committed to trying it at least ten times this year, and I should probably keep chipping away at it. The recent Debian upgrade broke some stuff on my home servers, and that might make for a fun chore to tackle on a surprise Friday night live stream - with a beer in hand of course.
I'm feeling happy about the weekend. We've had a busy week, and I'm chomping at the bit to recharge with something fun. That's what weekends are really about, aren't they?
Sip. What are you plans for the weekend? What kind of week did you have? And most importantly, are you going to see Paw Patrol: The Movie in theaters? I saw that finally dropped, and to be honest Rodney's Paw Patrol fixation seems so far away in our rear view mirror that I don't even know if Rodney would get any real enjoyment from it. He still plays with the toys and flips through the books, but Rodney hasn't sought out the pure Paw Patrol experience in a while. The realm of dinosaurs and Spider-Man has usurped his long-running fascination with Adventure Bay.
Right now, Rodney is really into this Disney Jr. show called Spidey and his Amazing Friends. The show features the three versions of Spider-Man from the Sony movie, only they have giant heads, doughy eyes, and floppy cartoon bodies. Peter, Miles, and Gwen take non-threatening missions from a giant computer. That's when it dawned on me - "this is the exact same thing as Paw Patrol, only with Spider-Man!" I exclaimed.
Technically, the show is not even real yet. The first season is just a "preview". The eleven "episodes" are four minutes each, and as you could imagine Rodney can finish the forty-four minute sprint and start it all again without a blink of hesitation.
In other news, our moving instincts are in full swing. At this stage in the process, Marissa and I value getting rid of things. Yesterday, I took a quick break from work to help her get our treadmill outside.
Did you even know we had a treadmill? We drove all the way to Minnesota to pick it up from Gigi when she was moving. Once upon a time by some miracle of shifting time and space, Marissa and I managed to get it downstairs into our basement. I tried running on it once and bumped my head on our nail-studded basement ceiling. Marissa ran on it semi-regularly, but she understandably stopped. The truth is that our basement makes for terrible scenery, and she must have gotten tired running in place for two miles in the darkest, most cob-webbed room in our house.
Marissa and I dug the dusty treadmill out of the back corner of the basement. We lugged it up our basement stairs, one thumping, scraping wooden stair at a time. We pried it through our side door like we were pulling out a fish hook, and at last the beast was free.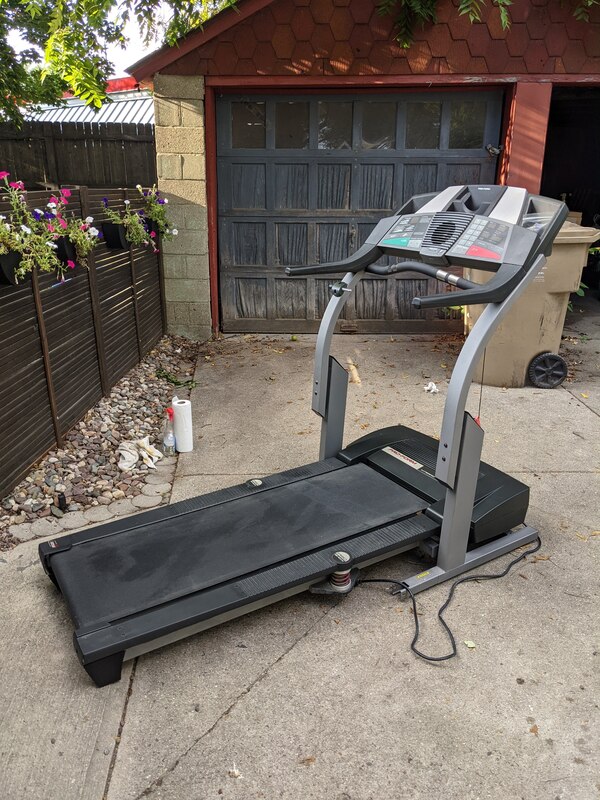 In other news, I'm making some small, thoughtful upgrades to how I film spiders. I remembered I still had a GoPro collecting dust in my closet from when I used to edit videos for Marissa. Instagram would go on to step up their own tooling for editing simple videos, and what better use for an old GoPro than capturing the daily life of a tarantula?
As a test run, I pointed the camera at Karta. I let the camera run for a entire work day. Before it ran out of battery, the camera saved three hours of footage. Feeling excited, I imported the video files onto my computer so I could see what it looked like sped up. I called Marissa in the room.
"Hey, you gotta check out the Karta video," I said. "Do you know what she did today?"
"What?" asked Marissa.
"Nothing," I smiled. Through the sped up footage, Karta remained in one spot the entire time. Her legs slightly shifted throughout the day, but her body stayed in the exact same place with photographic precision.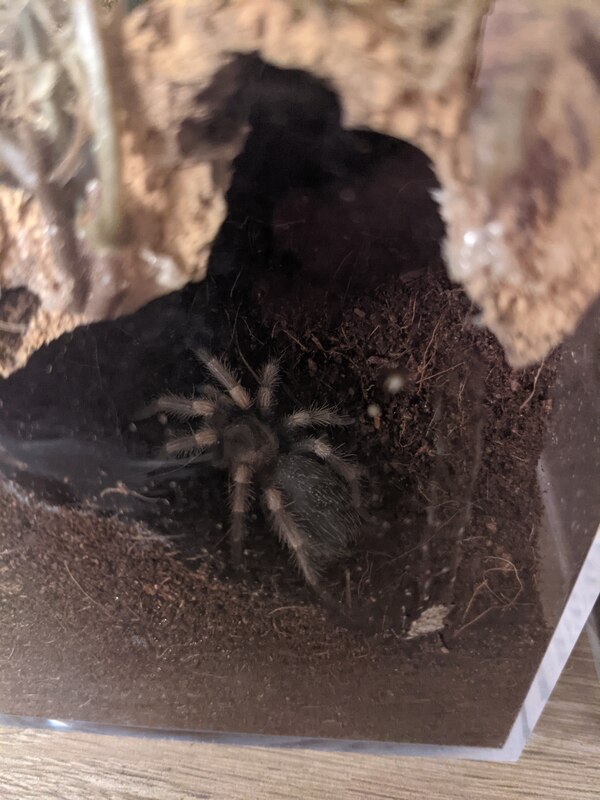 When it comes to doing nothing, nobody does it better than a tarantula can. And this ability to do nothing allows them to go months without food. Tarantulas don't use any energy when they rest. Their lungs stop contracting. Their blood (hemolyph) stops circulating. Their brain goes to sleep much like the way a computer fades to black when you don't touch it for a while.
It's been a busy week, and after working, cooking dinner, and putting the kids to bed, I decided to take a move from Karta's playbook and treat myself to an hour of lying perfectly still on the couch. It was really special, I think tarantulas are on to something.
Thanks for stopping by today. I hope you have a good weekend, everyone.