Wednesday, September 1 2021
september, outfit choices, and ripe probes
---
---
Dear Journal,
Good morning, everybody. Welcome to the first day of September. We can now consider summer of 2021 a relic of the past. It felt so brief, but did you get the most out of it?
What can we look forward to in September? The turn of September always makes me return to this silly comedy sketch.
The video raises some good points. You can't really swim in September. You can't expect any dramatic changes in weather to put you in a cozy fall mood. My birthday falls in September, but putting my biases aside it doesn't feel like September has a lot of good things going for it. Fairly assessed, September kind of sucks.
I'll tell you what September is good for - panicking. Rodney starts school tomorrow, and I can feel the tension building. The "September scaries" are setting in, and even though we've been successfully practicing the early morning school routine for the last two weeks, it feels like we're closing out a once in a lifetime era. Gone are the days of staying up past midnight. No more stepping over Rodney's elaborate living room construction projects on my way to refill coffee. No more lazy party-of-four lunches on the back porch. Rodney is a working man now.
At least Rodney seems to be digesting all the changes well. A moment ago I asked him about his choice first day of school outfit. He perked up, ignoring his bowl of captain crunch while he had the floor.
"Paw Patrol undies," he began. We all know the undies are the foundation of any good outfit, and if you aren't feeling good about your underwear than there's little chance of feeling good at all.
"New spider-man shoes," he continued. "The light up ones.." Another no-brainer. Those hybrid sandal-shoes with the blinking red soles are sure to stun even the fashion elite kindergarten crowd.
"Um... shorts," said Rodney. That's it - just "shorts", no further details. Clearly Rodney doesn't place a lot of importance on that part of his wardrobe.
He took a long pause while he contemplated his shirt - the critical statement piece that brings the whole outfit together.
"My PURPLE. DUDE. PERFECT. T SHIRT," he declared.
The t shirt he's talking about is light purple, emblazoned with the words "TALL GUY BEARD TWINS PURPLE HOSER," the opening lyrics to a recurring segment on our favorite YouTube channel Dude Perfect. I have the same shirt, and unlike Rodney I've had to bear the full brunt of adult awkwardness that ensues when strangers lean in to my personal bubble to read each word down my stomach. How would I even explain this shirt? Do you watch YouTube? How about this particular channel? How about their recurring segment "Overtime"? Do you remember the theme song? I usually just say "it's a YouTube thing" and get out a-dodge.
But in Rodney's case - if he meets a kid who does recognize his shirt? Those two will have enough to talk about for the rest of the school year.
Sip. Got so into telling that story that I forgot I had coffee sitting in front of me. How did yesterday go for you? I felt lucky to return to work on a Tuesday. It allowed me to slip back into the work week undetected, and I had a quiet day to catch up on emails and slack messages at my leisure.
I also hooked up my new probe. My work is trying to switch over to this company called RIPE for global Internet tracing. What's cool about RIPE is they make their dataset open to the public, and it's all sourced from small hardware probes running in people's houses. RIPE is a Dutch company, an in the spirit of typical Dutch thrift, they make their Internet probes from repurposed modems and routers, ensuring the device remains as cheap as possible.
My boss tells me that the company would like to see more probes in the American Midwest. Between you and me, I feel I know enough Dutch people in the Midwest to flood the Internet map with dots, and the only tag line in my sales pitch would be "they're based in Amsterdam." Dutch people seem to naturally trust other Dutch people.
After the work day ended, we all piled in the car to drop-off the communal share of Rodney's school supplies - kleenex boxes, glue sticks, crayons, etc. A staff member warmly escorted Rodney into the building. He would officially meet his teacher in his classroom and see his desk. Meanwhile, Marissa and I stood masked out in the yard, passing a fussy Miles back and forth. The staff member returned with Rodney a few minutes later.
"He talked a lot about dinosaurs and snakes," she laughed. Rodney nodded in approval.
In other news, Spidey surprised me yesterday. Just before heading downstairs to make coffee, I caught him hastily making a little web hammock in the back corner of his burrow. By the time I was getting ready to jump in the shower, he had flipped over onto his back.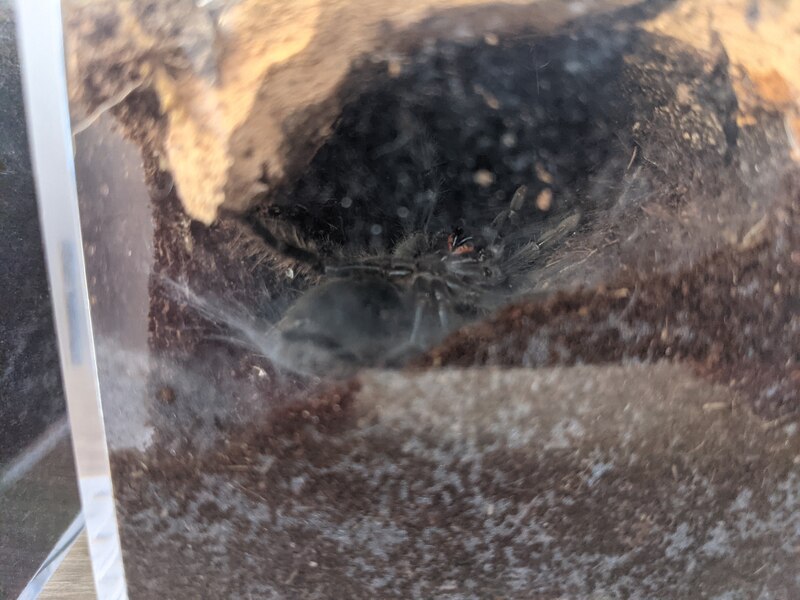 He remained on his back for a few hours before sliding off his outer skin. Underneath the faded brown former self awaited spindly deep blue legs and a small abdomen decorated with long orange hairs. Even while still balled up in his web hammock, the small glimpses of his new spanning size left us in awe.
"Spidey is like... a small horse now," said Marissa nervously.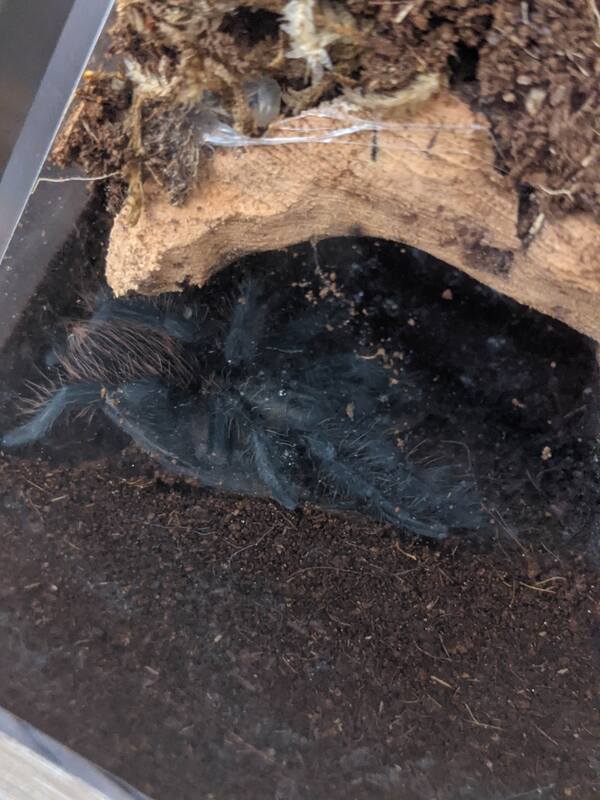 Glassy and Spidey each have one molt down. We're still waiting on Karta, entering 21 days of fasting in a sealed underground chamber.
New changes are happening everywhere. If September is good for anything, it's bringing about change. Thanks for stopping by today, have a great Wednesday everyone.