Monday, January 24 2022
new phrases, shoveling snow, and playoff football
---
---
Dear Journal,
Good morning, friends. Happy Monday. Welcome to the first full five day work we've had in a while. There's no national holiday to cushion the shock this time - we're just going to have to gut through it.
A full work week, Monday to Friday. Do you also find that a little daunting? Maybe it's time to find something small to get excited about this week, like the chance to wear your favorite bulls jersey to school. We watched a lot of sports this weekend, and that gave Rodney the idea to wear his jersey to school. But we couldn't rationalize sending him out into the harsh winter, his bare shoulders and upper arms exposed under a loose fitting jersey. But dad swooped in with an ingenious long sleeve undershirt idea - basketball day was back on.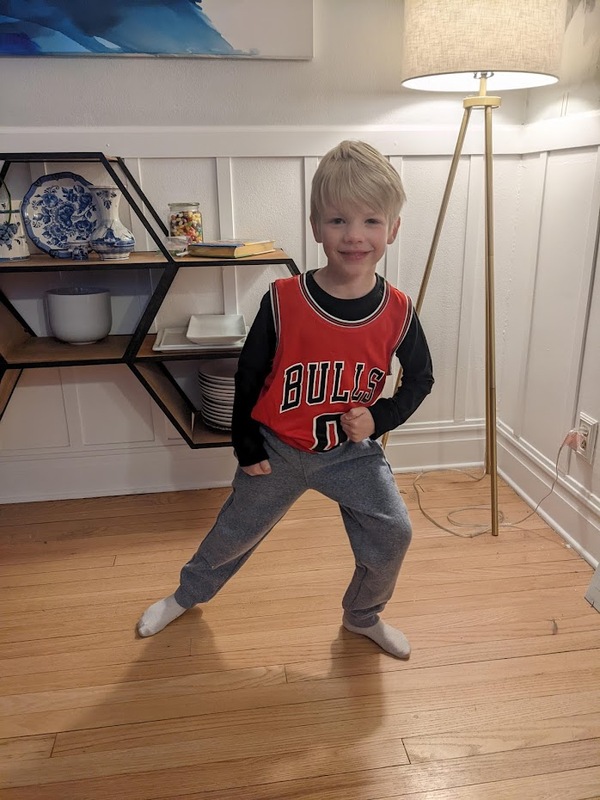 "This will sure come in handy later... for if we play basketball in gym," laughed Rodney. Do you know how kids discover new phrases and then immediately start to mix them into conversation a little too frequently? For Rodney, it's the this will sure come in handy later. We find it endearing, so we just get on board with it.
"Put your boots on," I said. "There's a lot of snow, and these will come in handy later.."
Rodney nodded.
"Oh, and let's check that your gloves are in your bag. It's cold, and those will come in handy later."
Rodney nodded again, still oblivious to how often I was using his phrase.
What's that smell in the air? Is that coffee? Oh, that'll come in handy later.
Sip. It's good to be here today. It's hard not to feel awake and alert surrounded by all this bright, shimmery snow. Beautiful, fluffy, picturesque, powdered sugar like snow. After the first snow of the year, it's tradition for the city of Madison to go into full spoiled brat mode. Each year they work tirelessly to excuse their half-assery in clearing snow off the roads.
There's only so much a small city like Madison can do to keep up with snow. But what really irritates me is the two-faced messaging. When it comes to the roads, they place the onus on its citizens. Drive slowly. Expect delays. Residential streets, you're on your own. Their top priority is priming us to have low expectations.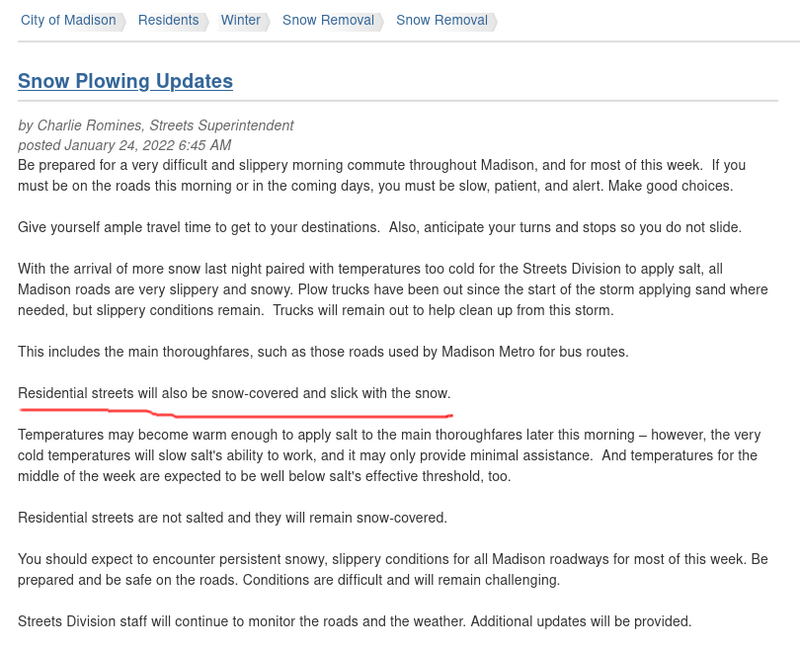 And then in the very next breath, they have the gall to remind us that promptly shoveling sidewalks is our responsibility. Even if that means you have to shovel your neighbors driveway too.

The two-faced attitude makes me want to give the streets division a taste of their own medicine. I should write them an email that says "the Recker family is declaring a snow emergency, please promptly remove snow from your own roads."
Not that we have anything against shoveling snow. Our family loves shoveling snow - especially because Marissa does all the work while the boys and I just get to screw around.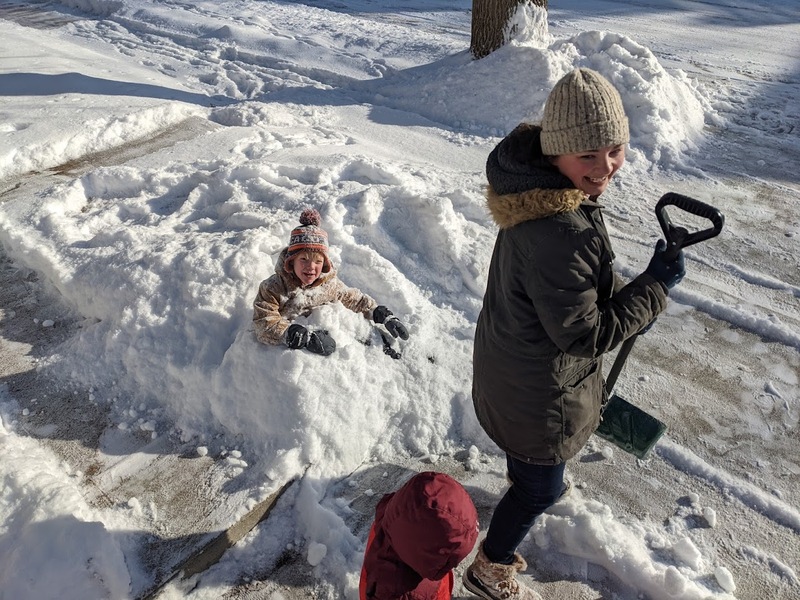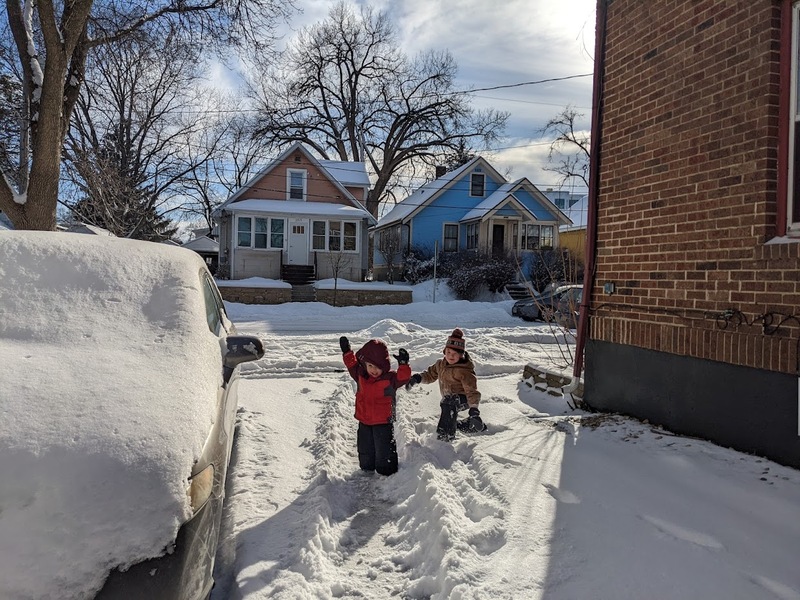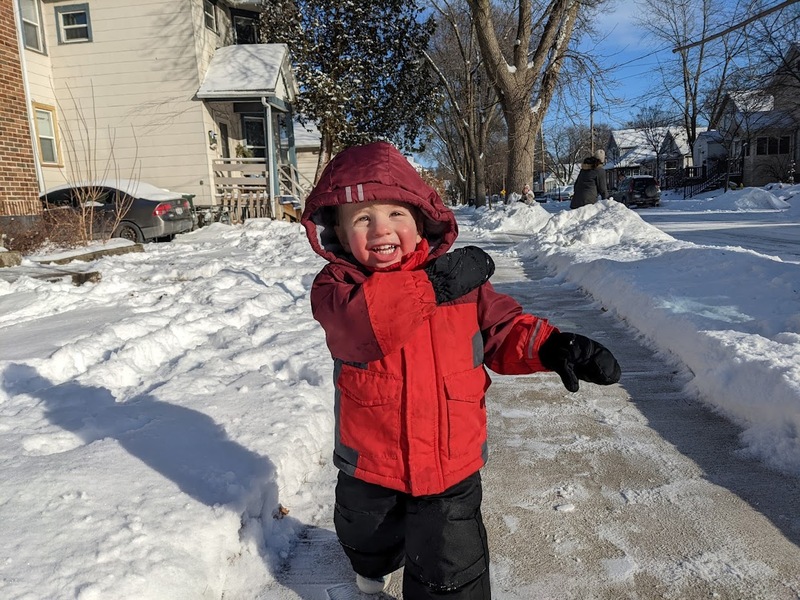 Rodney abandoned his snow shovel and buried himself in a snow mound. I trudged behind Miles, who felt compelled to explore the great beyond around the corner from our neighbors house. As he tottled his way to the front doors of the neighboring Burger King, I walked far enough behind him so I wouldn't rob him of his temporary thrill of independence.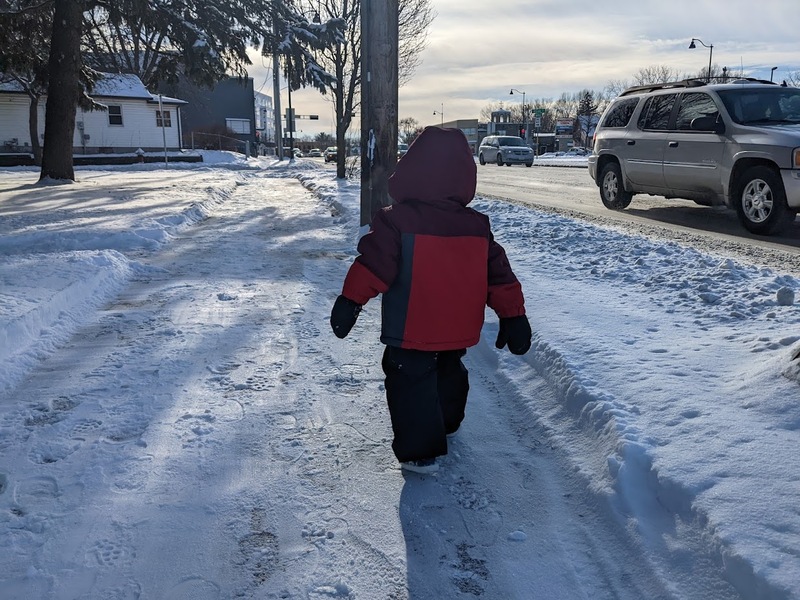 After spending an afternoon in the fresh snow, we put on dry clothes and went shopping. We treated the boys to a new fort in the living room. The way Minnie stalks around it makes me think she aspires to one day have the courage to poop in it.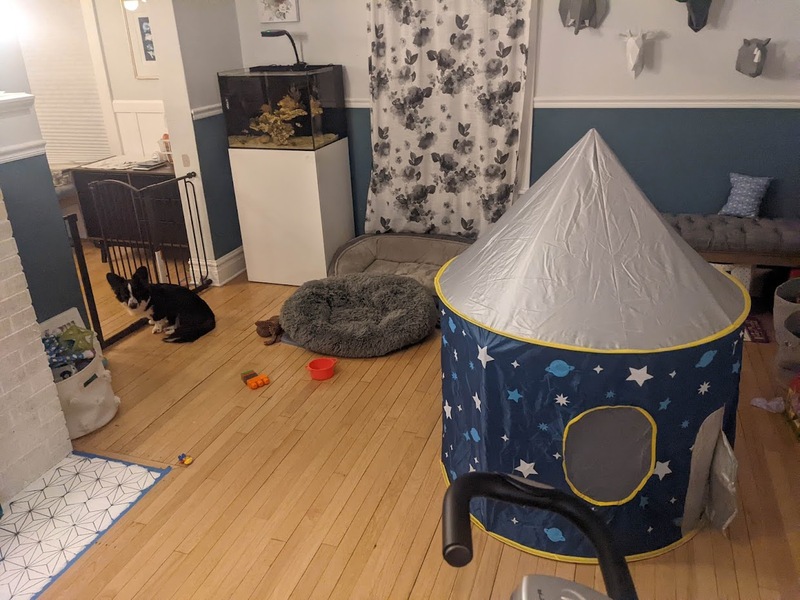 We also picked up a new storage bin for the various bags of dirt, sand, and other substrate we had accumulated in the hobby closet. If you ask me, few things feel as thrilling as finding the perfect bin for a storage problem.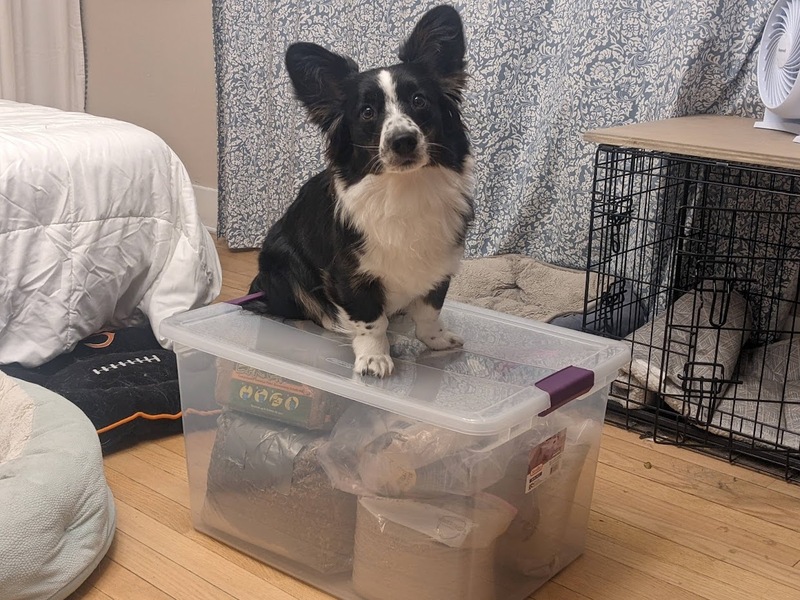 We spent the rest of the weekend watching football. We made a big batch of turkey chili, which paired nicely with exciting playoff football. What a thrilling weekend for sports, huh? I was texting a friend about the Bengals upsetting win over the Titans. "Are you going to bandwagon?" he wrote. "I never thought I'd see the day where the Bengals had bandwagon fans."
"Honestly, I just root against the Packers," I replied. "I can't truly enjoy the playoffs until they're gone."
My personal football highlight of the weekend was watching former Bears kicker Robbie Gould seal the playoff game against the Packers. I get goosebumps from watching the footage of Lambeau field going silent when the ball flies through the uprights, followed by Rodgers slinking away into the locker room. Too bitter? Too vengeful? I don't think so. I don't often talk football with the Wisconsin locals, but if it comes to it, I won't hesitate to remind them their quarter back screamed "I STILL OWN YOU" at the fans in my stadium this season. If you ask me, this was a fitting humiliating end for that kind of hubris.
That's what I got today. Thanks for stopping by today, and go Niners.
---