Monday, January 31 2022
spider pizza, trainer greg, and the bengals
---
---
Dear Journal,
Good morning, friends. Happy Monday. Heading into a new week, and almost a new month, I invite you to join me in shaking the rust off from a low-key, relaxing winter weekend. Not to worry, we'll take it slowly.
For today's first cup of coffee, let's contemplate Spider Pizza.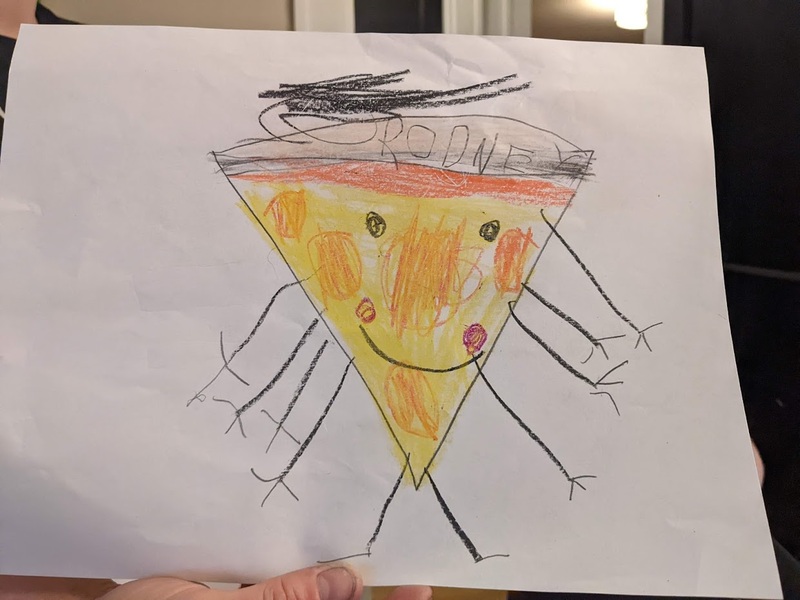 This colored crayon piece is by a young, relatively unknown artist from the Midwest, known for regularly experimenting with different themes and media. Rodney's Spider Pizza is a contemporary classic, beloved for its bold, dramatic colors and haunting visage.
Yes, I too count 10 legs, but don't yet hit "submit" on your smarmy Internet comment. Two of those "legs" might very well be "pedipalps" - or extra mouth parts that can sometimes act like legs. I think technically Rodney wins this round. Bravo, Rodney. Spider Pizza is a complex, imaginative, and technically accurate addition to your coloring gallery. I'll toast to that.
Sip. It's good to be here today. We have a lot to cover with this late action-packed weekend. We watched tv shows like Bluey and Spidey and his Amazing Friends from the comfort of a cardboard box.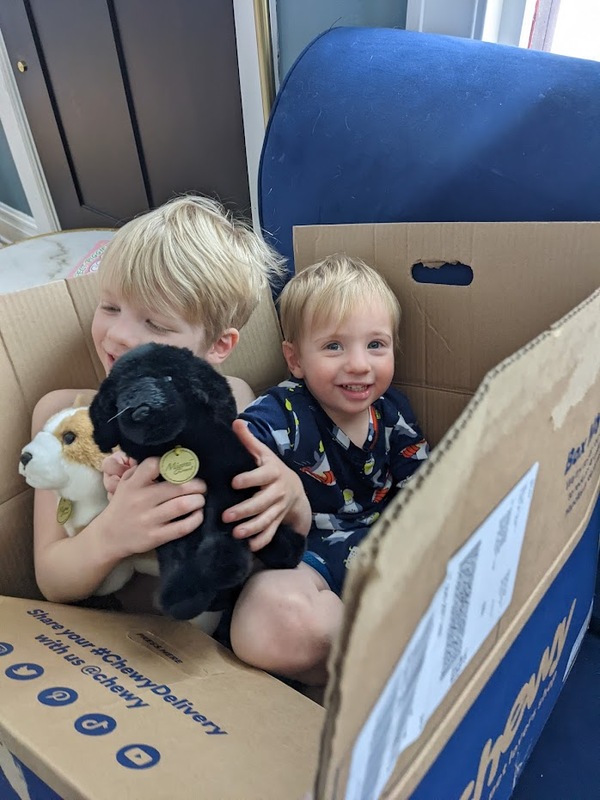 There was also lots of snuggling this week. My moment of zen happened last night, curled up on the couch under a pile of blankets next to a bottle of wine. Ziggy slept on my lap quietly twitching in REM sleep, and she was so deeply relaxed that she shifted and let out a deep burp inches from my face.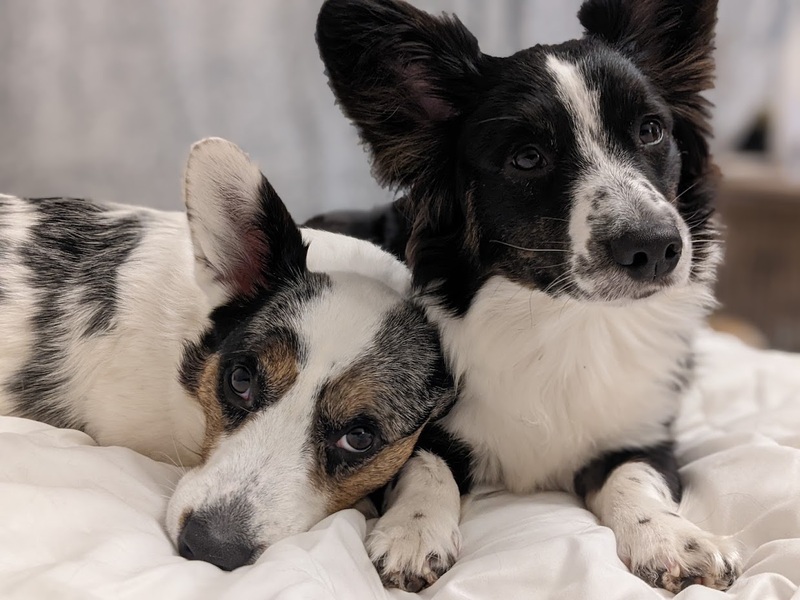 If snuggling on the couch with Ziggy was my moment of zen, then anti-zen also happened yesterday afternoon while we were getting ready to run errands. I plunked Miles in his crib so we could finish showering and getting ready. Marissa capitalized on a rare twenty minutes of midday free time to dry her hair and take a cup of coffee downstairs at the computer.
Finally it was time to collect Miles. I crossed a plane of stench in his bedroom. "Someone pooped," I muttered.
I had no idea how true that was. The next thing I knew, I piece of poop whizzed by my face, hitting the opposite wall and rolling to the ground. I froze in my tracks, noticing poop fingerprints on the walls and crib, poop tracks in his mattress, and smudges of poop all over his hands and his face. Not only did Miles poop, but he managed to wrestle out of his diaper, shove it into a drawer under his crib, and throw the rest of it all over his room.
Marissa gave him an emergency bath, flung the window open in his room, and scrubbed every inch of his crib. I started a new laundry cycle on "extra soiled", handling his clothes like radioactive waste. I brushed his teeth with a hefty glob of blue Batman toothpaste.
"This is the worst thing he's ever done," we repeated half-smiling and half-serious, frantically scouring away the nightmare.
"Tell our realtor we only have a 2 bed now because we had to burn down Miles' room," I joked.
My words fall short. I had better just show you a picture of this disaster.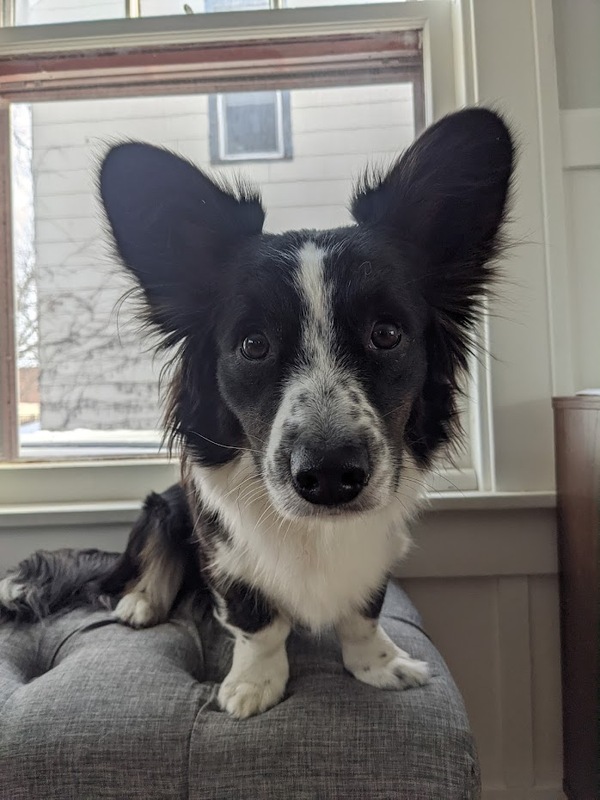 Let's change the subject to something with less poop, shall we? Marissa and I finished the first phase of Trainer Greg's transformation program. We met for a quick zoom call last Friday. In the face of our conscientious concerns, Greg's approachability and positivity are refreshing. He repeated phrases like "Just do your best to replicate the movements" and "it's all about consistency".
"Greg does a really good 'therapist smile'", laughed Marissa. "You know the kind that says 'I was hoping you would realize that'?"
He asked about our most recent weigh-in. "There was a reason we both jumped up five pounds," I laughed. "We had to get a new scale, and for some reason the new one thought we were heavier."
"Well that's fine," said Greg. "I was wondering about that, like did they..."
"Skip workouts and just ate deep dish pizza every night for a week?" I said, finishing his thought.
We took a new set of progress photos. "I still hate it," said Marissa thoughtfully looking at her photos. "But not as much..."
We took a family trip to Dick's sporting goods to pick up more weights. Marissa and I lazily strolled the aisles of fitness equipment, and Rodney got in his own reps at a punching bag in the corner.
Back at home, we exercised and watched football. As much as my heart wanted to see a Bengals-Niners super bowl, the there was no stopping the Rams. But how about those Bengals? Watching them seal their own trip to the super bowl, I thought of my friend Ben who, out of superstition, can't bring himself to actually watch any of the games. He told me he's enjoyed their historic playoff run just sitting with his kids refreshing the score on his phone. Now that Cincinnati is in the big dance, will Ben have to watch the super bowl that way too?
What a dilemma. Best of luck, Bengals. I'd love to see you beat the Rams, not that I really have a horse in this race anyway.
Hey, thanks for coming by today. Have a great Monday, everyone.
---