Thursday, February 10 2022
firebert, salmon lunch, and pump up music
---
---
Dear Journal,
Good morning, people of the web. Welcome to Thursday. Why don't you kick the salt off your shoes, throw on a cardigan, and pull up a chair - it's time to start the old journal.
Up here in Madison, we've plunged back into cruel winter. I saw a dusting of snow yesterday. Warm spring feels like it should be closer, but I'm not getting my hopes up anytime soon. With winter in the Midwest, you have to play the long game.
I have a special drink I make to warm up on cold winter mornings like these. I buy these roasted cocoa beans, and - it sounds crazy but - if you grind them up and run hot water through the powder and collect the solvent in a mug... oh nevermind, this bit is stupid. Grab your mug, let's get on with it.
Sip. It's laundry day at the Recker house. I'm sitting beside my bin full of clean clothes, and putting these away in my closet will be the first order of business to get to once I finished writing. I sifted through my clothes to find my favorite outfit that I reserve for day zero of a new laundry cycle - Adidas sweatpants and my Marc Andre Fleury "500 wins" t-shirt. I love this shirt because of the subtlety. It doesn't scream "hockey", but rather whispers it with a geometric flower pattern in the center of the chest painted with Blackhawks colors. Rodney had the same thing on his mind, rifling through his clean clothes to pick out an outfit for school.
"Where's my dino pants?" he said with urgency, scanning his eyes around the bedroom. He had his raptor t-shirt in hand, but the ensemble would never be complete without the grey dino pants. Finally, we found them folded up on the table in another batch laundry, narrowly avoiding a wardrobe disaster. Everyone deserves to wear their idea of a perfect outfit at least once in a laundry cycle.
In other news, kindergarten library day has turned on me. At first, I loved the idea of Rodney coming home with a new book from his library once a week. It gently introduces kids to the responsibility of borrowing things from a public institution, we get some more variety in bedtime reading, and it lets Rodney develop his own taste in reading material.
Ah, but there's the flaw. Frankly, Rodney has terrible taste in reading material, and I'm the one that has to read it to him. Every library day, Rodney goes right to the LEGO handbook shelf. Based on the various cartoon series LEGO bootstrapped to sell toys, these "handbooks" read like brochures or TV guide magazines. Each night before bed, we read technical specifications to made-up weapons, tedious back stories to generic characters, and plot lines to TV shows we will likely never watch.
In subtle defiance, I change the facts, and since I'm the only one in the room that can actually read, Rodney is none the wiser. While reading about the robot hero FORNX, on a whim I decided to pronounce his name as "Firebert".
"Firebert is my favorite because he's red," said Rodney pointing to the comic strip embedded in the page.
My mouth curled in a knowing smile. "Yes, Firebert is my favorite too," I replied.
I drew my own rendition of Firebert. He's a little more cartoony than the real thing, but true to form where it counts. All of these LEGO robots we study in the evenings are overly muscular and usually sport some kind of plasma rifle fused into their arm. How would you like having a plasma rifle for an arm? I bet you wouldn't feel so tough trying to make a sandwich. If Firebert were making his lunch, I'd bet he'd reconsider his whole commitment to hunting evil around the universe at the expense of such an unwieldy appendage.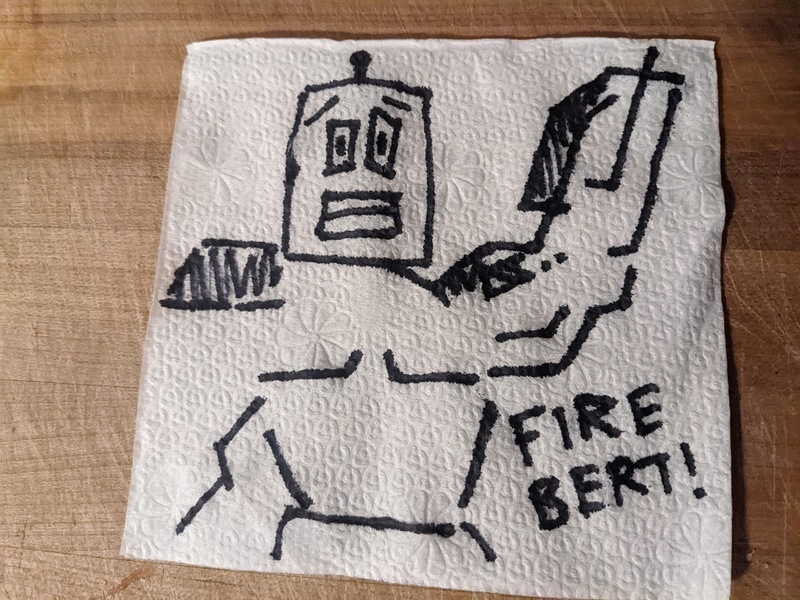 Speaking of lunch, lavish lunch Wednesdays are kind of becoming a staple, even though they always seem to occur by accident. Marissa made salmon for us on Tuesday night, and she accidentally bought too much. We had a whole extra fillet in the fridge, and we needed to do something with it.
Want to know a good way to cook a salmon? Lightly salt it and leave it on a wire rack in the fridge overnight. Just before it's time to eat, brush it with honey and mustard, then pop it under the broiler for a few minutes. The honey carmelizes nicely.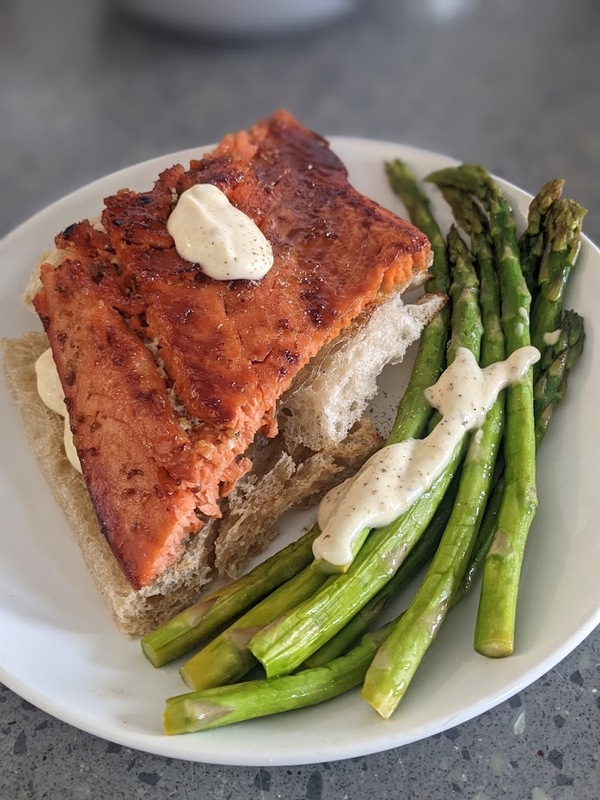 Look at how fancy! We even made an aioli with it, and I don't have the shame to hide from you that I didn't know what an aioli was until we googled it before dinner the night before. It turns out it's just mayo, oil, mustard, and lemon (all stuff that goes into mayo anyway, isn't that kind of strange?).
My work has a "recharge Friday" tomorrow, so sadly instead of waking up early to write, I'll probably be sleeping in. But how about to hold you over, as a parting gift for this entry, I'll give you a video of Rodney singing to his pump-up song in the parking lot before ice skating. Marissa tells me he listens to What's Up Danger every morning before school at full volume, and we do it before ice skating class too.
Thank's for stopping by today. Hope you have a good rest of the week, and stay warm out there.
---