Thursday, March 31 2022
celebrating, snacking, and costumes
---
---
Dear Journal,
Good morning, everyone. Happy Thursday.
I should have started writing a few minutes ago, but I've instead just been staring out of the dining room window watching the steady wave of snowflakes fall to the ground. There's a full blown snow flurry happening outside. Getting this much snow so late in the spring is annoying, but it's also beautiful. I could stare out the window just watching this for hours.
Here on the main floor of the house, it's peaceful. Upstairs, Rodney and Miles heckle each other from their bedrooms. Miles just started crying - it sounds they've broken out into some kind of wordless brotherly argument. I think they're both feeling annoyed because they're wide awake, but it's not time to come out of their rooms. Rodney, always the bargaining type, tried to plead his case one more time while I passed his door to the bathroom.
"How about I come out my room after you shower," he said, giving a thumbs up like it was a done deal. Still warming up to the morning, I didn't even have the energy to scold him. What a couple of wingisses.
But I'm here now in a quiet, no-kid zone. No silly questions or random stories for the next forty-five minutes. Just peace, writing, and coffee.
Ah, I forgot about my coffee. That's a great idea, let's get some of that going this morning.
Sip. That's the good stuff. It's good to be here today. We're braving the snow, the cold, and the fatigue to finish out this work week, and we deserve all the coffee we want.
Marissa and I stayed up a little too late last night, and we loosely deemed it a celebration. In one of her upcoming art shows, there's a special gallery within the gallery. On a whim, she submitted a new piece as her application. She could have gone with an old piece - one that's more representative of the style she's known for. But instead she decided to take a risk with something she painted only about a week ago that's totally different.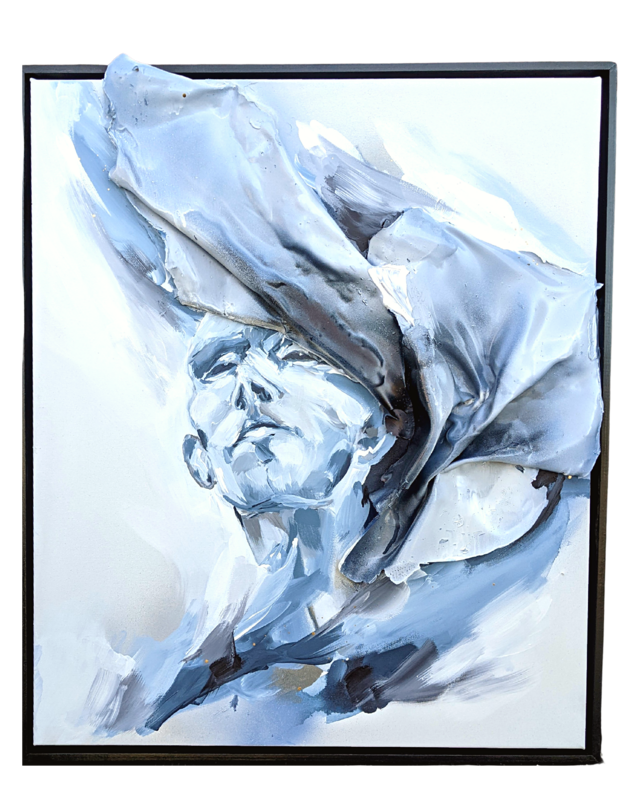 She just learned that her piece was accepted into the gallery. Getting her own booth at a show is cool, but getting a piece shown in a fine art gallery is even cooler.
So we decided to celebrate - or that's at least what we told ourselves when it was time to turn in for the night. Instead of heading upstairs, we refilled snacks, got comfortable, and played another episode of Impractical Jokers. In a true sense, we were celebrating, but more accurately we were just too comfortable in blankets, dogs, and snacks to ruin it all by heading upstairs to bed.
I was doing most of the snacking. I sort of cut loose with wasabi peas, dates, and Australian licorice. The eclectic smorgasboard was sourced from me and Rodney's new favorite section at Hy-Vee. It's a table just beside the produce with little containers of dried fruits, nuts, and other interesting things. I don't know what else to call it, but Rodney calls it sweet sweet candy.
I'll use that in a sentence. When we walk by that section of Hy-Vee, he pulls my arm and says, "dada, are we gonna get any of that sweet sweet candy?.
Rodney picked up the phrase from me and Marissa. I could be wrong here, but I'm pretty sure Marissa and I started to say that quoting a Futurama episode.
It's fun watching kids sponge up your habits, inside jokes, and phrases.
These days, the crown jewel of all our snacks comes in a big puffy bag filled with fluffy, airy, cheesy goodness. Pirates Booty is the ultimate snack.
"I've been having these at Kindergarten," said Rodney. "It's so tasty, try it."
Rodney was introducing me to Pirate's Booty as if I never had it. Since they serve it at his school for snacktime, I'm pretty sure that Rodney thinks that's where it was invented or something. But I indulged him anyway. "Hey these are pretty good dude," I said while enthusiastically chewing. "I think your teacher might be on to something."
In other news, Rodney's Spider-Man costume is back. There are wide holes in the feet. The mask is missing the plastic eye coverings. The zipper in the back is broken. But no matter how much we try to convince Rodney to let us get him a new one, he insists on making the same tattered Halloween costume work. Holes in the feet? Better floor grip for stunts. No eye coverings? Not a problem - it's easier to see out of the mask that way. And the zipper? Rodney just wore his Spider-man hoodie underneath.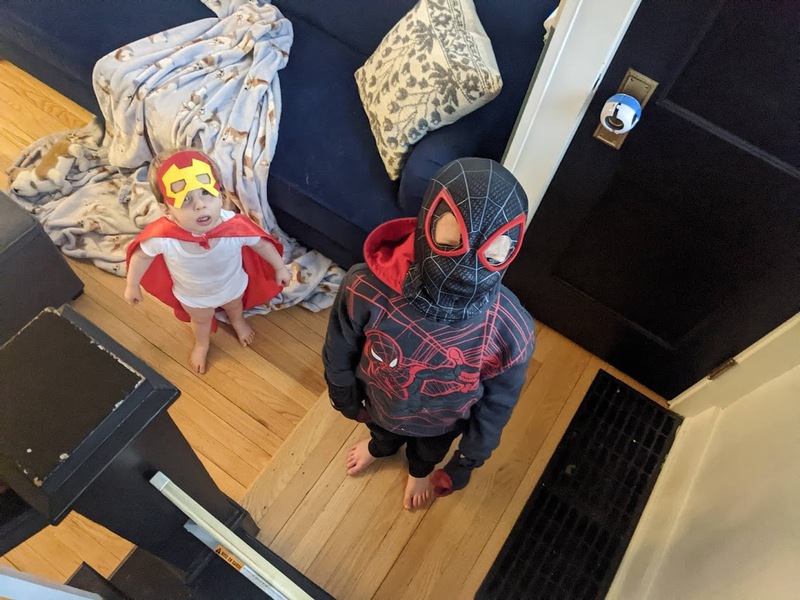 While Rodney practiced his stunts, Miles stood close by wearing a cape and mask. A super here team duo - wingiss man and his boy wingiss sidekick.
I let Rodney keep his costume on for our trip to Hy-Vee. I blared the Spider-Man soundtrack, letting him wave at people out the window from the back seat. He got at least four different cars to laugh, smile, or give him a thumbs up back.
Almost the end of the week. Hang in there everyone, it will be Friday before we know it. Thanks for stopping by, and good luck out there.
---