Friday, April 22 2022
walk throughs, hoops, and vicente's new track
---
---
Dear Journal,
Good morning, everybody. Happy Friday. How are you feeling today?
I took a day off writing yesterday. The night before, we deep cleaned the house in preparation of our final walk through. I admit that Marissa did most of the cleaning, but I held up my end with a double header bedtime routine, and that's no cakewalk. Miles' bedtime routine isn't so simple and rustic anymore. No longer content with a simple fist bump or a silly face at the door, Miles now demands his own special kind of tickly baby back rub. He grabs his two favorite stuffed animals, leans up against the corner of his crib, and lets his big doughy eyes do the rest of the convincing.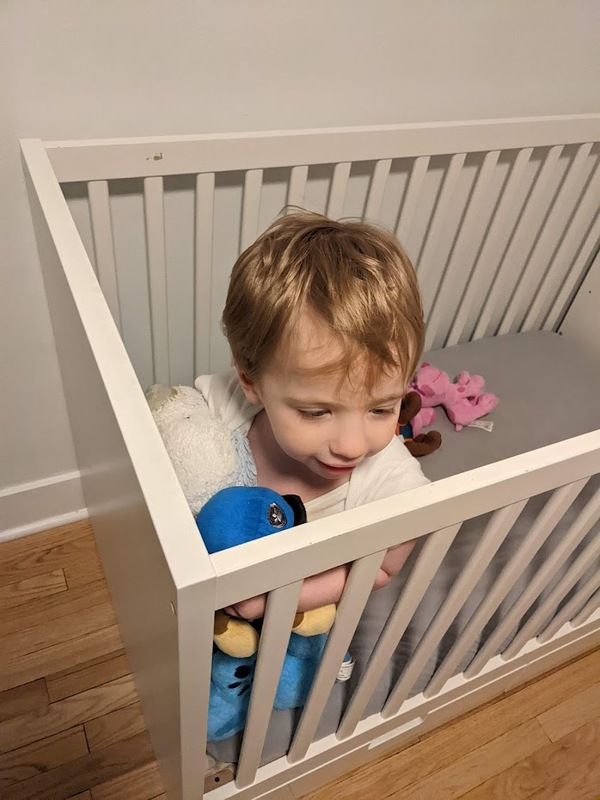 The rest of the night, we cleaned the house. It wasn't as deep of a clean as we had to do on opening house weekend, but in respect to our buyers we wanted to the final walk through to be as easy as possible. Positive vibes only.
The hard night's work and the beautiful spring weather the next morning made it nearly impossible to sit down at the computer and write. So grabbed my earbuds and embarked on another extemporaneous morning wander around the neighborhood. I took Ziggy along. The two of us wandered around the block, then we ventured up a long winding ramp that led to a walking bridge over East Washington. It's no River Walk, but even before the backdrop of a McDonald's, a Taco Bell, and a Mobil station, the rumble of cars whizzing by under your feet from the highest point of the concrete bridge is kind of exhilarating. Holding a dog leash and a cup of coffee, I got the best picture I could.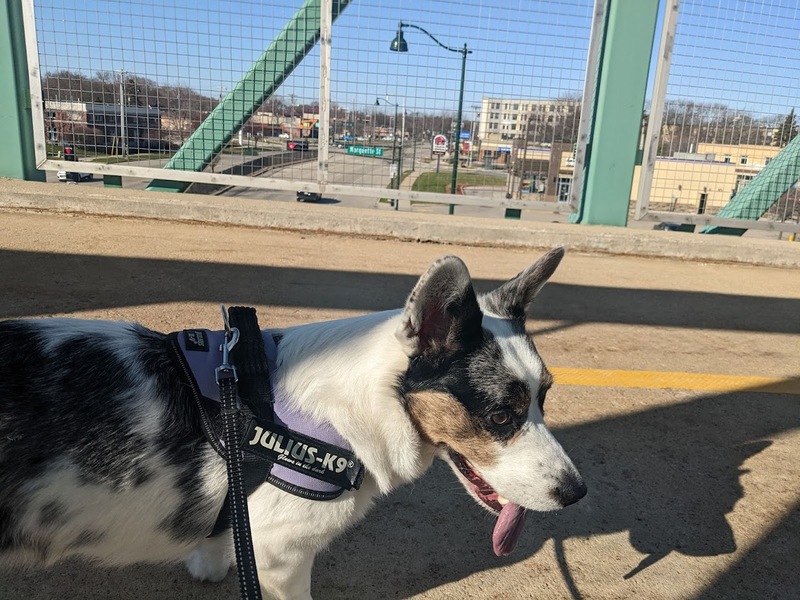 Later that day, I hung around in the dining room, pretending to busy myself with things around the house while I waited for the Realtor to approach our front door. She had the buyers on a Facetime call. "I'll just stay out of your way," I said awkwardly, slinking back to the corner of the living room.
We cleaned and readied our house as if the buyers were harsh, ill-willed property critics, but that couldn't be further from the truth. They sound like lovely people. They were forthright with the compliments, even while I was sitting in the room. I know Marissa would have loved to be here while they gushed about her personal touches, but I felt a pang of pride on her behalf. Just like that, the walk through was over. Clearly it was more of a ceremonial cap on the whole transaction.
Sip. Speaking of new house vibes, I did my best to recreate the picture of Rodney standing in front of our new home with his tongue out.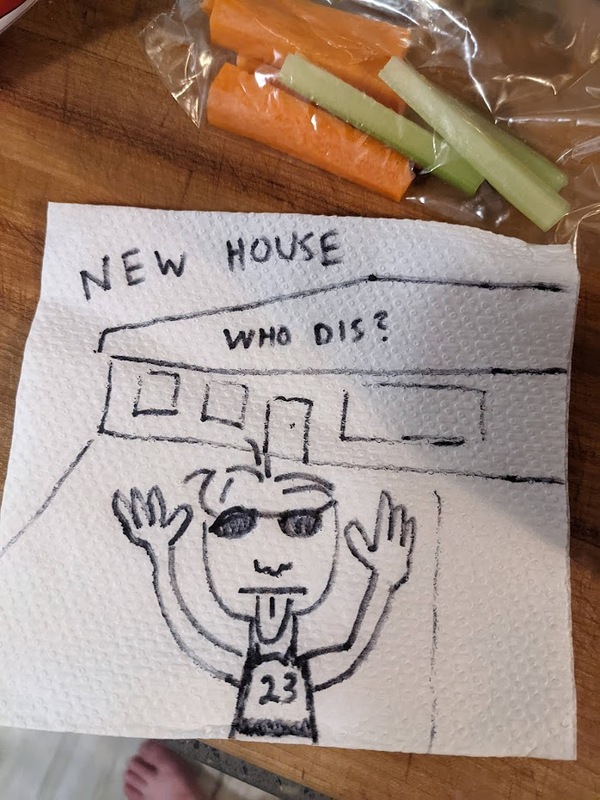 My Rodney character always sports sunglasses, which leaves less room for error when throwing down a quick napkin drawing. I also like give him a Jordan jersey because he's blossoming as a young basketball fan. He was pleased to learn that the owners of our new house offered to leave their Basketball hoop. That's certainly an upgrade from his previous rigs. His first hoop was a tupperware bin balanced on the top of the bannister. When Rodney drained a jumpshot, he had to break his flow to scoop it up off the ground and, balancing on his tippy toes, set it back in place. Then Rodney got a small plastic hoop in his bedroom hung on the back of his door with a plastic clip. But it only took a few of his energetic solo rough housing sessions to snap the hoop off his door. "You're gonna have a real hoop soon, and you'll be able to use it whenever you want," we told him.
We close on our house today. We'll get a longer, more formal introduction to the buyers on Facetime. I'm leaving them unnamed in the interest of privacy, but I can tell you that Rodney, purely by his own invention, calls them the bingus family.
"Remember when we told him they had a little boy who liked his room - we said 'they had their own bingiss'," explained Marissa. "Now he thinks their name is 'the bingisses'."
Marissa releases more art this weekend. She practically chained herself to the living room computer until she finished cropping, uploading, and listing all the new pieces on her website.
"Hey I need to name all these - can you help me think of some mineral, rock sounding names?" she asked.
I began to rattle off the terms that popped into my head. Once my word machine gets going, there's no stopping it. I overwhelmed Marissa's requirements, and then I just started to get silly with the assignment.
"How about ambergris?" I suggested.
"Isn't that... whale poop?" balked Marissa.
"Yeah, but... it's a really pretty word," I chuckled. "It's a good name for a painting because... if you know, you know."
She opened a close-up photo of a familiar painting. I recognized it from my friend Vicente's music cover. Marissa sent him some photos from this release to use for some of his new music. Naming the painting Selfless after its sister track felt like an obvious choice.
Vicente's music is awesome. As a person, he's upbeat and energetic, and he effortlessly imbues this into his homemade house music. Give it a listen.
On the precipice of moving, nice weather, and exciting changes, I think it's a fitting soundtrack for the morning. Thanks for stopping by today, and have a great weekend everyone.