Tuesday, May 17 2022
yoga, teeth brushing, and the s'mores jelly bean
---
---
Dear Journal,
Good morning, people of the blog. It's good to be here, isn't it? If you ask me, this week feels like it's sailing by more quickly than some others we've had. Yes, it's only Tuesday, but I'm taking a posture of optimism. It must be the effect of this tranquil view Marissa captured on her run to the lake yesterday.
"I didn't even know you went running," I said. "Nice job for fitting in exercise."
While she ran, I stayed back and worked in my office with Rodney. He had to put in some "asynchronous school" hours on his chromebook, so I agreed to let him tag along with my work day. We made a pretty good pair. I showed him how I use the little timer on my desk to work in 25 minute spurts, and in the five minute breaks that followed, Rodney showed me some of his yoga moves.
"This one's called apple tree," he said. He started curled in a ball on the floor, slowly rising to his feet, then spreading his arms in the air like a mighty tree.
"Here, try happy baby," I laughed. We rolled on our backs and grabbed the bottoms of our feet. "It's OK to fart."
It's OK to fart. That's true for doing yoga in your room as well as any other time of the work day, so long as you work from home like me. How did I get talking about farts again?
Sip. It's good to be here today. I have something funny to show you. We noticed that Miles has a new favorite hobby, and he was agreeable enough to let me take a picture of him doing it.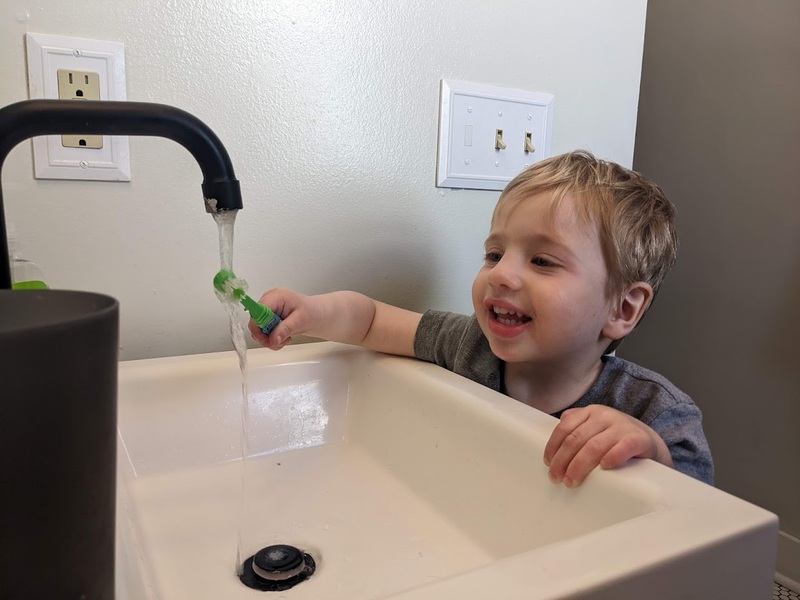 Miles is an enthusiastic tooth brusher. Not only does he brush his teeth in the morning and before bed, as it's recommended, but he'll also recuse himself to the bathroom after breakfast, before a nap, and pretty much any other time of day where we aren't fast enough to stop him. He gleefully selects his tiny green toothbrush from the plastic cup and holds out the little tube of toothpaste. Pretending to squeeze the toothpaste isn't good enough for him either - he wants the real deal.
Then he stands at the sink and stirs the brush around in his mouth. He dips it in water, back in his mouth, then back in the water, then back in his mouth. This is the same way Marissa rinses her toothbrush when she's finished. He certainly didn't get that quirk from me. When I brush my teeth, I simply rinse my brush under the faucet and set it aside, then I use a quick swish of water to get all the toothpaste out of my mouth. But how would Miles have picked this up from Marissa? When does he get a chance to watch her brush her teeth in the morning? Maybe it's genetic. Maybe a piece of our combined DNA makes Miles predisposed to be a water brusher.
We abide Miles' silly toothbrushing habit. There's worse things he could be getting into, and sometimes it's nice leaving him somewhere for a minute with the assurance that he's not going to get into trouble.
In other news, Rodney and I went to the grocery store yesterday. Along with buying food for dinner, we had a special mission to buy a new pack of jelly beans to refill our family's candy jar. It was a close call - Rodney and I stalked up and down the newly rearranged Hy-Vee candy aisle for five minutes before we spotted a bag. I grabbed a simple variety pack. Rodney grabbed a smaller bag all filled with s'mores flavored jelly beans. I rolled my eyes and tossed them into the card with the other food. When we got home, Marissa had the same reaction to Rodney's strange choice of flavor.
Are s'mores jelly beans any good? When it came time to sit down for dinner, I wanted to settle the debate for good. I placed a s'mores jelly bean in front of each of our chairs. We closed our eyes. At my command, we all tasted a s'mores jelly bean. Eyes still closed, each of us held out our thumb pointed up or down in lieu of a vote.
"Open your eyes," I instructed. There was only one thumbs up at the table, and it belonged to Rodney.
"Sorry dude," said Marissa, spitting her jelly bean into a napkin. "These taste terrible."
Marissa spoke the truth, but I'd go further to say it tasted like I was chewing on a cigarette butt. There was no chance I'd be adding the s'mores bag to candy jar with the other flavors. I set them aside for Rodney, but not without roasting his terrible taste in his lunch napkin later that night.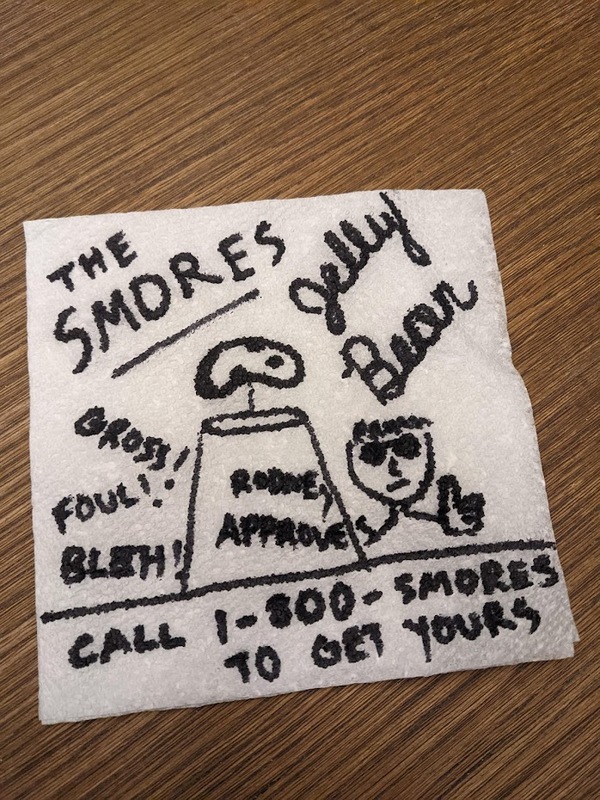 In about two hours, Rodney will open his lunch and hopefully recognize this imaginary late night TV informercial for the most disgusting jelly bean ever made - all with a thumbs up approval from Rodney.
That's what I got today. Steer clear of the s'mores jelly bean, and have a wonderful Tuesday.