Wednesday, September 21 2022
a rainbow, the box, and poached fish
---
---
Dear Journal,
Good morning, everyone. I hope you're gently waking up to this beautiful Wednesday. If you were in our house and you were still sleeping, no doubt Ziggy's desperate, jealous whelping would have done the job by now. After Rodney trotted onto the bus, Marissa decided to get some agility time in the yard, taking each dog out one at a time. High pitched barking, nails on the sliding back door - it must be Minnie's turn right now. The dog agility power rankings came back from this past weekend, and for the first time in her young career, Ziggy is 1st place for her breed. It must have gone to her head.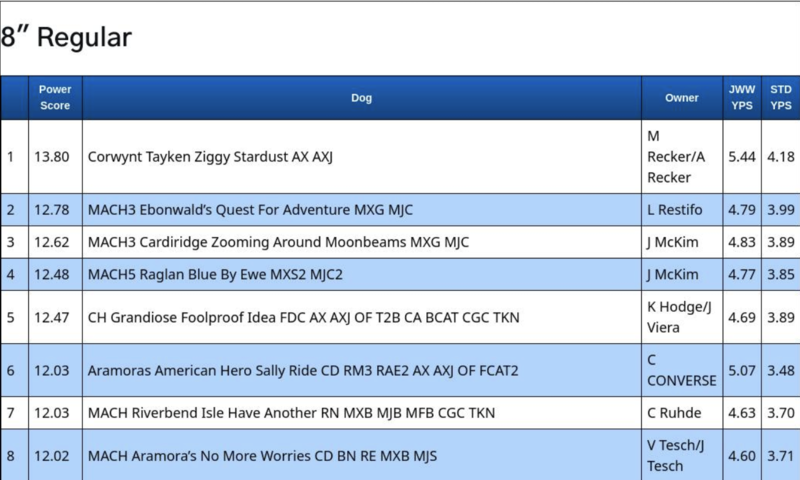 But I'm across the hall in my office. I've got an empty text buffer and a hot cup of coffee. My own dog-like instincts take over - it's time to write.
Sip. How about that rainbow yesterday? The downpour came while Rodney and I were still out getting groceries. Rodney pointed it out, but always fearful about when the next tornado is coming, he didn't take any chances and bolted into the house through the side door. I stayed outside in the rain and took some pictures.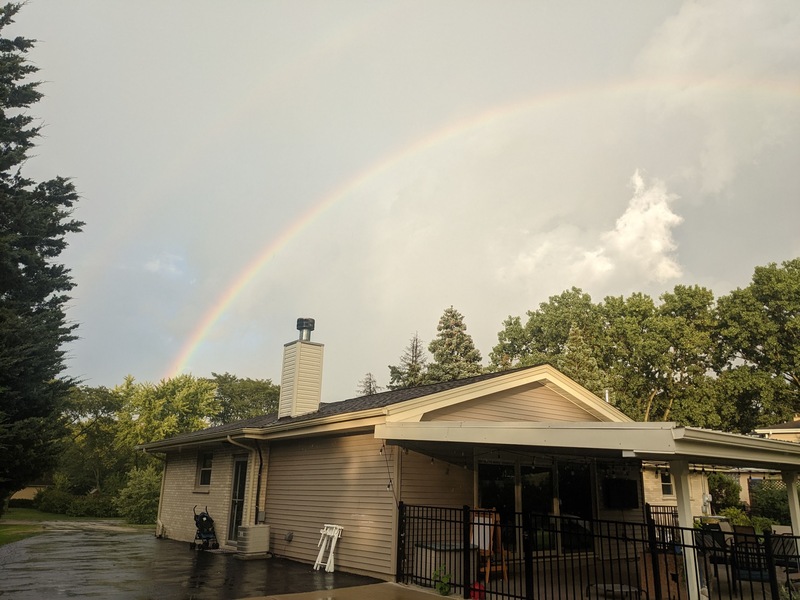 Can you see Rodney's "jet" in the frame? We donated that box to Rodney a few weeks ago. He's cut windows, attached wings, and added a few layers of duct tape. Earlier this week, Marissa cut the boys loose with a box of fresh markers.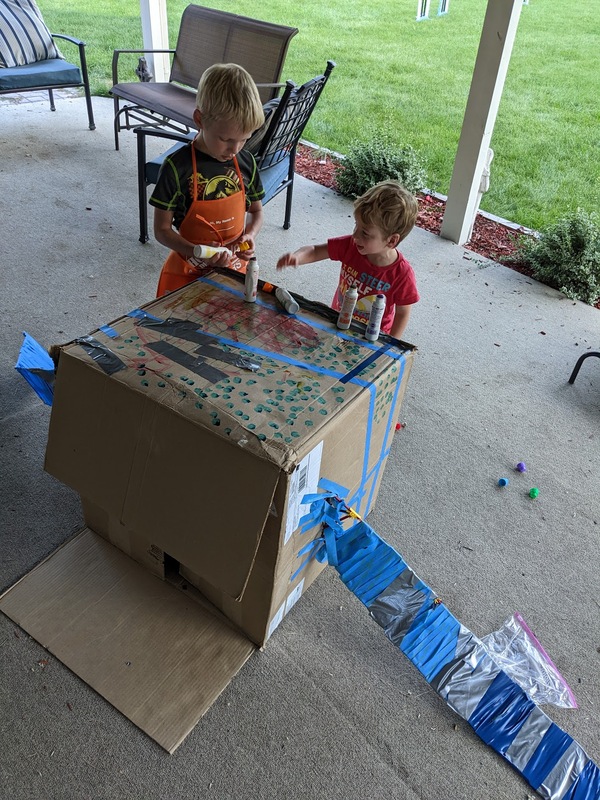 What are Rodney's plans for the box? I'm not sure, but the box is starting to cause a small family conflict. We're silently wondering when it's OK to crumple the soft, damp mass of cardboard and tape into the garbage can. Rodney would keep the box forever, turning it into a family heirloom. The standoff continues at least until the next garbage day.
In other news, I found a new way to cook fish, and the dish has taken over this week's dinner menu. The technique involves lining a pan with butter, cold fish, and diced shallots and covering the pan with a fluted piece of parchment paper. You dump in just enough white wine to go halfway up the fish, and simmer gently until the fish is cooked through. As a bonus, it makes your whole house smell amazing.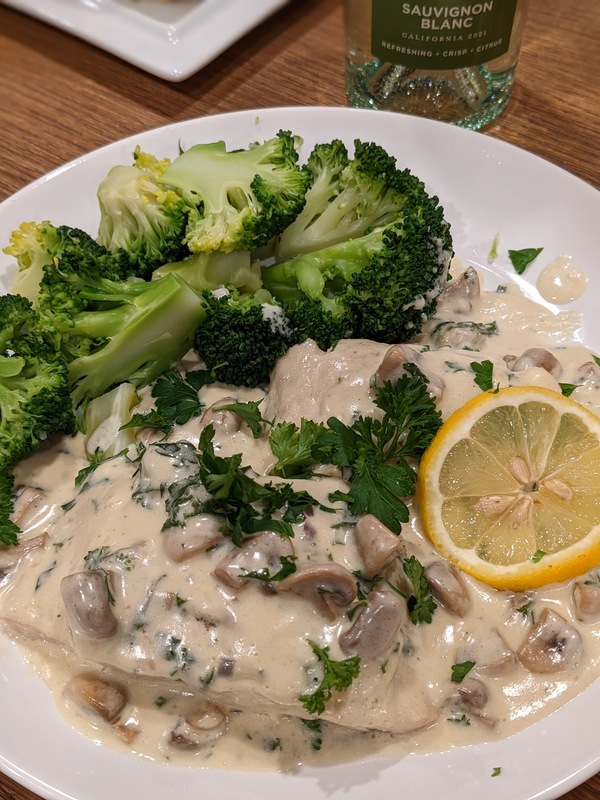 I've tried the technique with cod, trout, and red snapper. It feels like this recipe is impossible to mess up, and those are the kinds of recipes you want to keep close to your kitchen. Here's a link to the recipe, in case you want to try it yourself.
Sadly, no napkin doodle today. Rodney is only at school for a half-day today, so I guess that means we'll see him trotting up the driveway in just a few hours. I had better get some quiet computer and coffee time in before then. Hey, have a great Wednesday, everybody.