Monday, October 10 2022
a new car, the farm, and funny face
---
---
Dear Journal,
Good morning, everyone. How's your Monday going so far?
Today I'm checking in from my bright and sunny corner of Marissa's art studio. Rodney has the day off school, and out of all of us, I'm the only member of the family that needed to wake up early today. Marissa, accompanied by the dogs, scores an extra hour of sleep. Rodney chose not to sleep in, but to instead spend the morning bantering with Miles from across the hallway.
It's a regular Monday for me, so I had better get to it. But first - how about a journal entry, and even before that, a big sip of this fresh coffee?
Sip. I have some big news to catch you up on, and it has to do with that 2008 Honda CRV that was sitting in my garage three days ago. Last week, while coming back from our trip to the West loop (remember when we had to pick up my soap?), we had some car trouble. Lights flickered on the dashboard as the faulty vehicle stability assistant clicked into action. The sick engine throbbed as the vehicle slowed to a crawl. We've known about the faulty VSA, and the same thing had already happened a few times in Madison, but on the mean, unforgiving interstates of Chicagoland, it felt like the car put us in a new type of danger.
"It's time," said Marissa. "Let's just go visit a dealership and see what we can get."
Even though we declared our intent was just to "look", I knew we were coming home with a new car. I snapped one last photo of our family's trusty sidekick in its natural habitat.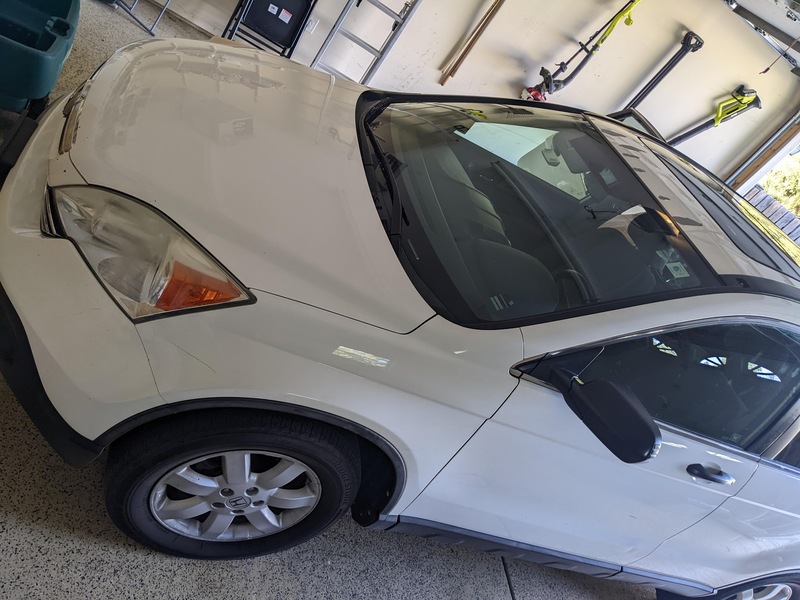 It was time for this car to go, but not without the respect it deserves. Even though all the engine issues we've been having lately were frustrating, I can't deny that this car served faithfully. Over one hundred ninety thousand miles. This car moved us across state lines and took both our kids home from the hospital. Sitting in the passenger seat on our way to Carmax, Marissa counted all the states we've visisted on her fingers. "Pennsylvania, Ohio, Indiana, Michigain... pretty much all over the midwest," she laughed.
The Carmax employee read off the list of irreparable damage found in the appraisal. "Peeling paint, rust all over the wheels and bumper, hail damage on the roof," he recited. Even though he was trying to justify the pitifully low trade in price, the rap sheet just made me feel proud. You can't expect a fourteen year old car that has been parked outside through six harsh Wisconsin winters to look as pretty as the other cars glimmering in the front lot.
Trapped at a Carmax all day, I had plenty of time to reflect on what the CRV has meant for our family. The process took a lot longer than we expected. Marissa and I even had to leave halfway through to pick up Rodney. He and Miles played in the corner while Marissa and I finished up with the salesman. At last, he led us over to the garage where our new minivan was parked alongside our old car.
"Now I'm feeling emotional," I said, giving the Honda one final lookover. "This is tough. It's like saying goodbye to the millenium falcon or something."
"Actually, if it were the Millenium falcon, you would be seeing it again," corrected the salesman. Marissa shot me a tired look. Our rapport with the Carmax salesman was getting a little stale, and we were grateful it was almost time to go home.
The Recker family has a new ride now. You can barely hear the engine while it coasts down the street. The trunk is big enough for Miles and Rodney to walk around in like an airplane cabin. There are approximately a hundred cup holders. The old CRV has treated us well over the years, but we had no idea what we were missing.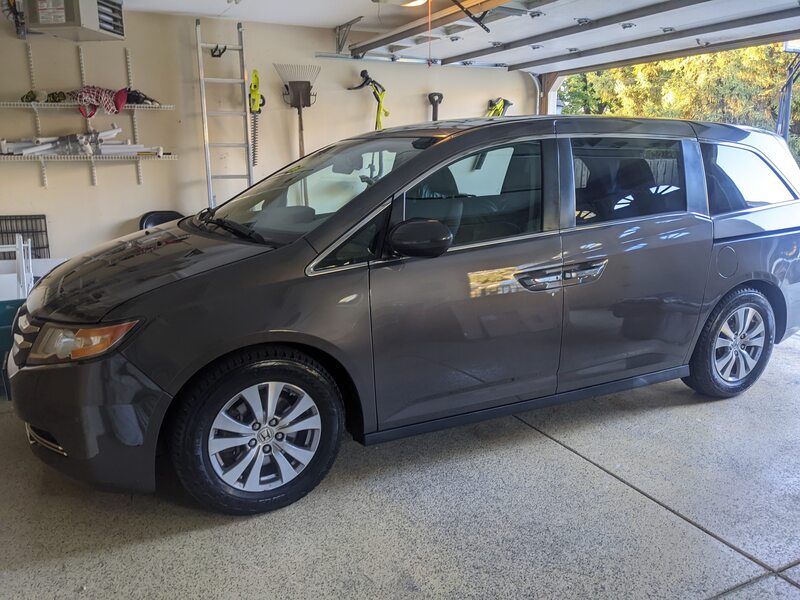 In other news, we took the boys to the nearby farm for some classic fall fun. Ours is called Goebbert's farm. On the walk over, Marissa and I puzzled about this weird tradition. Hay rides, corn mazes, apple picking, and climbing on old tractors. They're all slightly too expensive, but they're a lot more fun if you commit to a whole day. Whatever - it was something to do, and Marissa and I were eager to burn some calories with piggie back rides.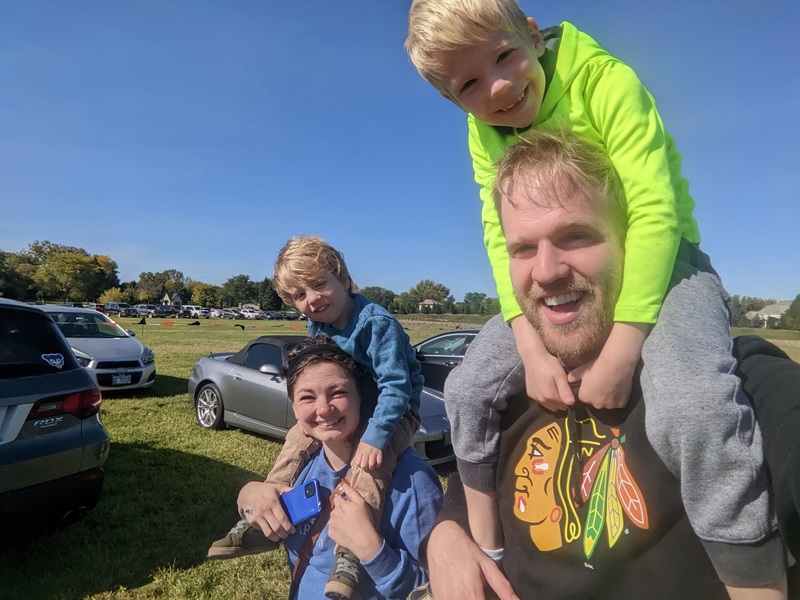 This farm had lots of animals. Alpacas, Ibanezes, goats, sheep, and a giraffe.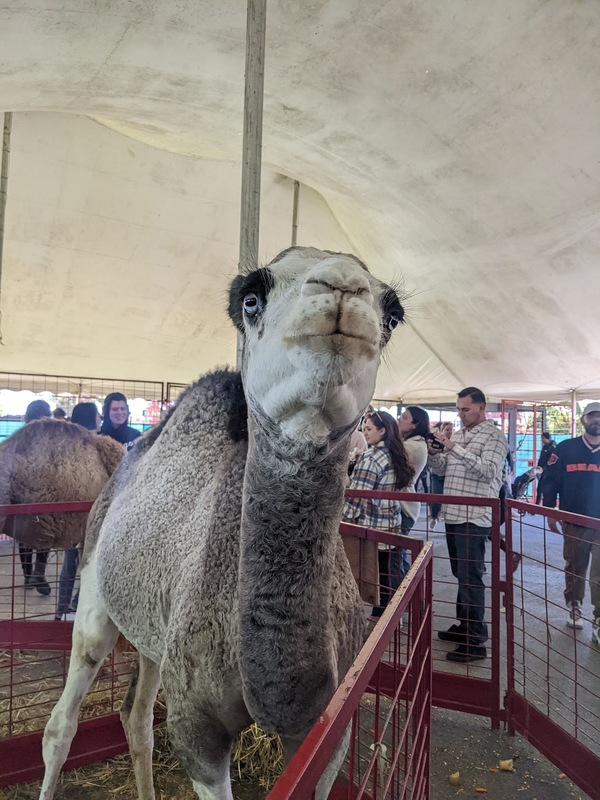 We found the perfect place in line in front of the giraffe pen. We didn't want to spend an extra four dollars on a cup of dirty carrots. Thinking on her feet, Marissa scooped some unused carrots off the floor, and we got a photo op anyway.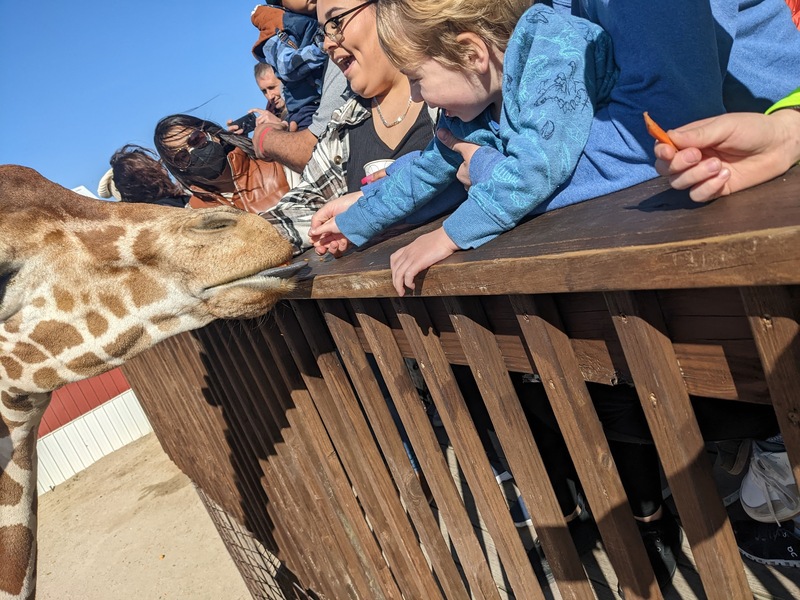 Miles is still recovering from his flu. He's fine during the day, but the coughing and sniffling keeps him up late into the night. The other night around 11 PM, I found him wide awake in his crib. So I decided to invite him out into the living room.
It's fun watching little kids try to figure out what time it is. Miles didn't know what to do with himself. We sat there on the couch staring at Miles. Miles smiled back and sat in the middle of the floor.
"Make your funny face," I commanded.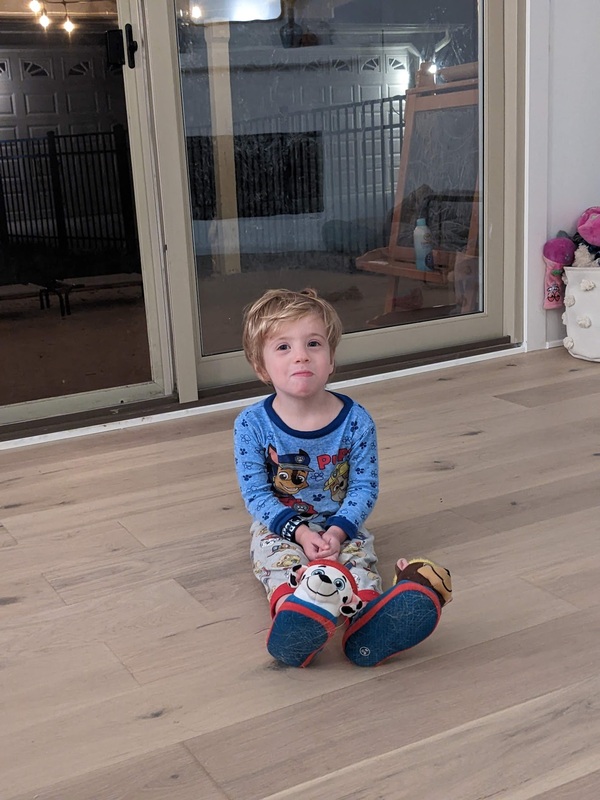 That's what I got today. Have a great day, everyone.
---