Wednesday, November 9 2022
the dino show, the sculpture park, and the pizza boys
---
---
Hey Reader!
Over the next few weeks, I'm going to be making some changes to my website - a new theme, a new cadence, and a different feel. You can expect shorter, punchier snippets from my life with a less formal tone. I'm also going to retire my trusty "Dear Journal" opener. It served me well while getting my writing habit off the ground, but it's time to begin a new chapter.
I may take some breaks from writing while I work out the new site design, but in the meantime, you know where to find me. Enjoy.
The Dino Show
We politely sidestepped through a restless crowd in a cramped section of the Allstate arena. We were there to see the live Jurassic park show - the very same one that was featured on one of Rodney's favorite YouTube channels. Rodney's not (yet) a famous YouTube influencer, so we had to settle for the nosebleed tickets, but we made up for it by buying him this $35 light up shock stick.
Think of a number between 10-20. That's probably a good estimate as to how many times Marissa and I have felt the cruel jab from that stupid shock stick.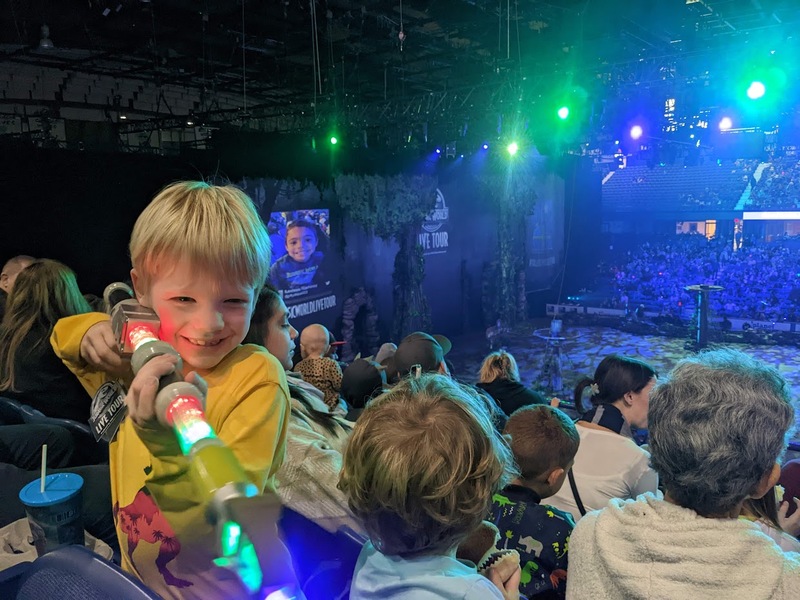 Question for the group - at a dinosaur show for children, am I allowed to drink a beer? Even if I justified it, it wasn't happening. There were simply too many people in line at the single hectic concession stand.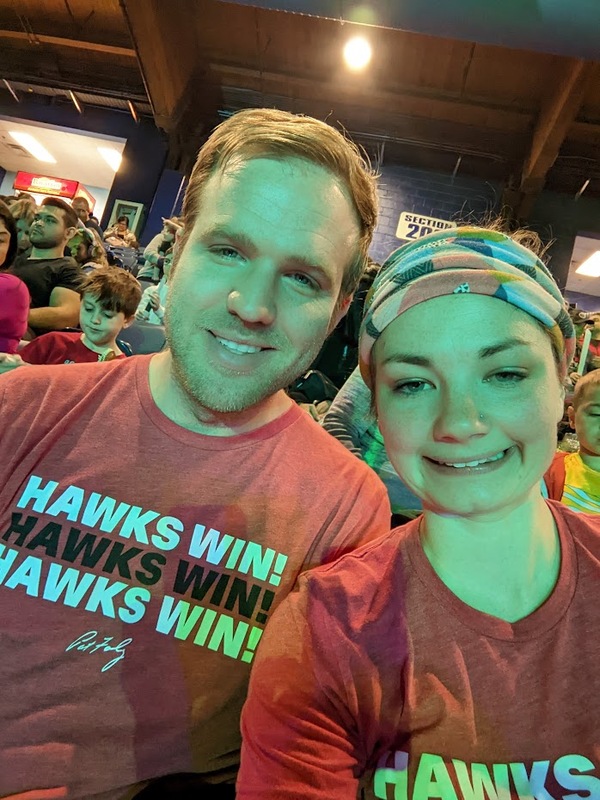 Big rubbery dinosaurs wandered around the stage. We saw explosions, motorcycle tricks, and choreographed kung fu. I was distracted by the velociraptors, whose costumes didn't adequately cover up the actors' human legs. Somehow a raptor with muscular human legs felt scarier to me than the real thing.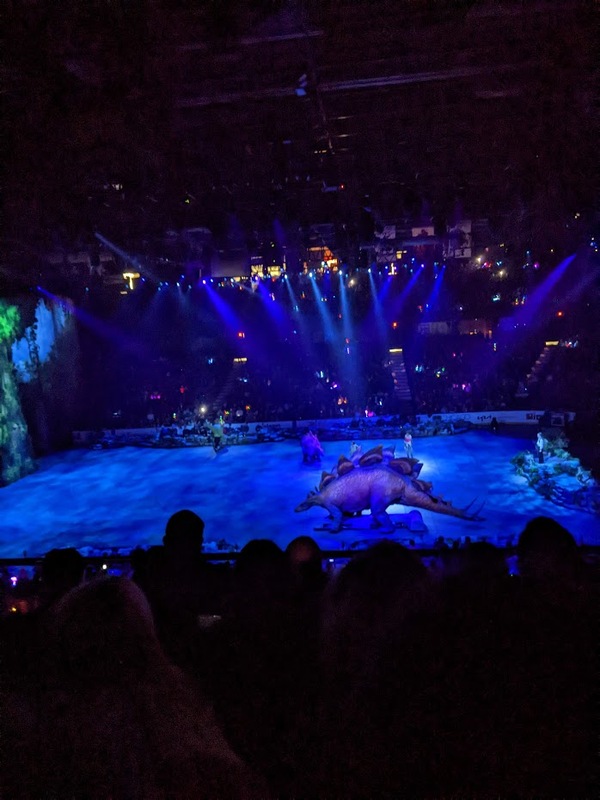 The whole production was actually pretty good - not that any of the kids really cared. In fact, the most amusing part of the live dinosaur show was listening to the crowd murmur grow anytime the human actors had to get through a substantial amount of dialogue.
"Listen to them," I laughed over the restless roar. "They're all bored."
A Walk in the Sculpture Park
Having a lot more time to kill before dinner than we expected, we decided to take the boys to the sculpture park. The boys seemed content to tag along anywhere, and as a small bonus, Marissa and I could burn off some calories before an indulgent dinner at our favorite Mexican place.
Our neighbors John and Kathy mentioned the sculpture park to us a few times in passing. It's about a five minute drive from our house, but those who brave the journey up a construction torn Roselle Road are rewarded with a tranquil walking path through the woods lined interesting art installations.
"Is that John?" said Marissa. After I had finished parking the van, I turned my head and saw a burly man walking a big dog. He recognized us and grinned. We had a brief chat with our neighbors, then followed the path into the woods for our own journey.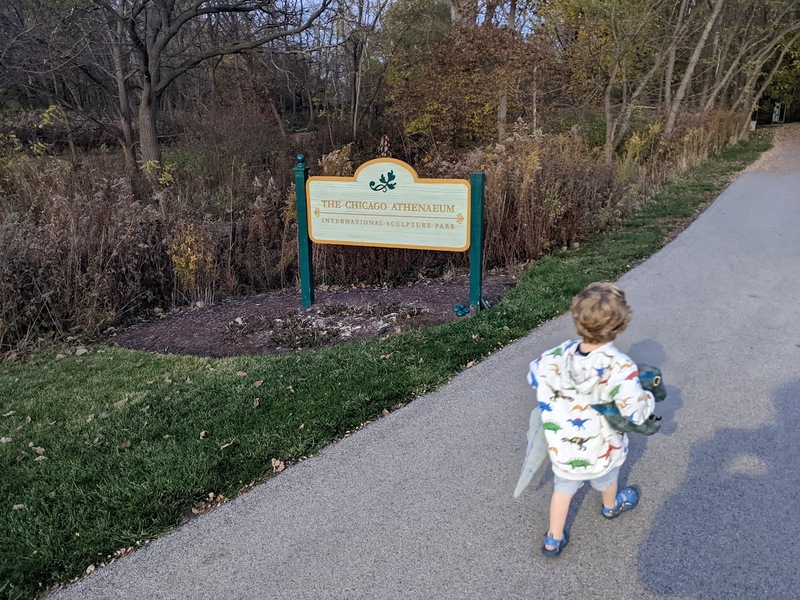 We found a giant metal buddha statue, a sleek curvy metal bench, and an arrangement of rocks that kind of felt like stone henge. Don't ask me why, but we had the urge to set all the stuffed dinosaurs we brought in the middle, like some kind of weird build-a-bear sacrifice. It made for a good surreal photo.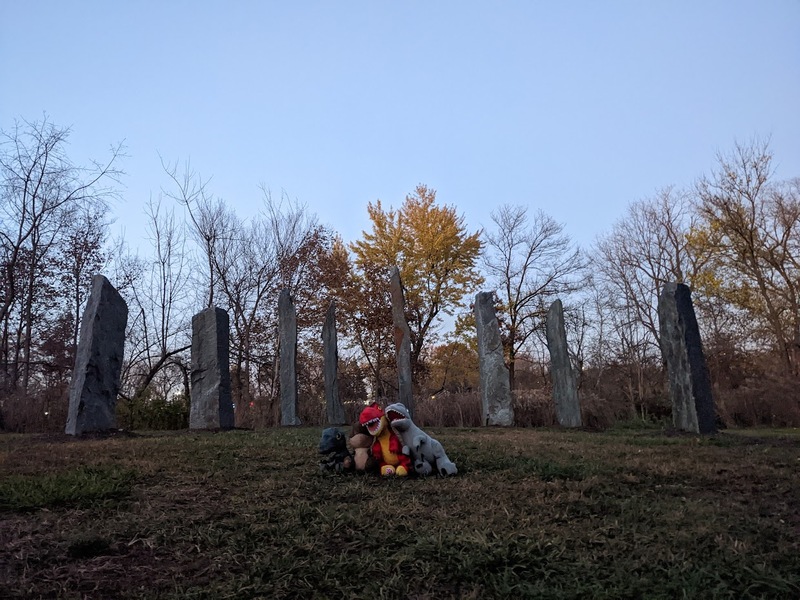 The sun set quickly, and within five minutes of wandering along the path, we were enveloped in darkness. Miles must have felt a little intimidated by the dark forest, because he clutched Marissa's arm with two hands.
"I think... we should go to dinner," said Rodney, trying to sound braver than he was feeling. "Or we're gonna get lost or something."
The Pizza Boys
I didn't feel like cooking last night. Almost simultaneously, Marissa and I blurted out the same suggestion - "pizza?". It was a Lou Malnati's night, and nothing was going to stop us.
When we order food, I try to pick up the food myself. I don't have to tip a driver, and I can feel a little bit better as a parent on lazy, gloomy days knowing I took the boys somewhere other than their own living room.
"Where are my pizza boys?" I parked. "C'mon, let's go."
The Lou Malnati's trip is always quick. Rodney begs me to take sharp turns. Still adjusting to the wide girth and turn radius of our new minivan, I absolutely botch the parking. The three of us waddle into the side carryout door. The boys stand on the wooden bench and stare out the window while I get our order from the counter.
"The pizza boys," chimed Marissa after we returned. "I like that. It sounds like they're a podcast or something."
"We're the pizza boys - just two regular guys and best friends talking about beer, pizza, and life," I bellowed. "Support us on patreon!"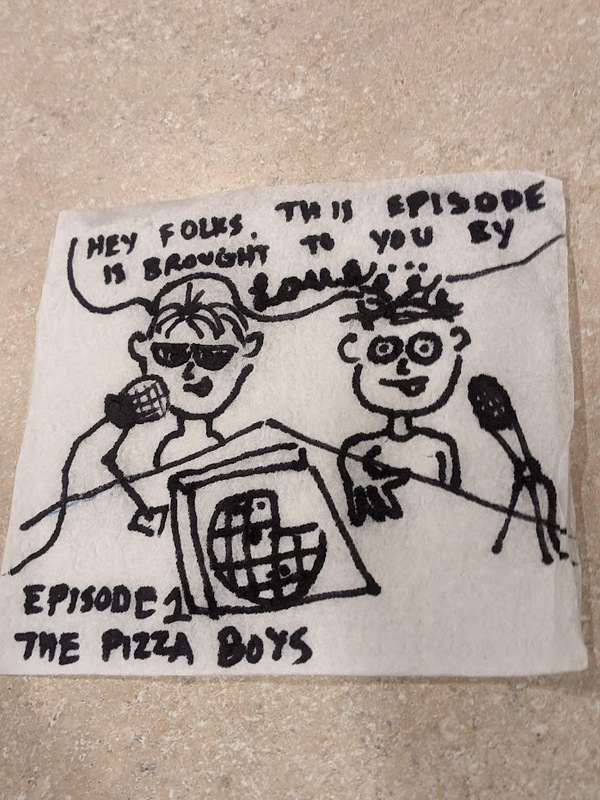 ---