Monday, March 15 2021
daylight savings, something to look forward to, and cheesy bechamel
---
---
Dear Journal,
Good morning, everyone. Happy Ides of March. Does the ides of March always fall on daylight savings? If it does, that seems like an appropriate pairing. Time lurches a whole hour ahead, and I'm left to feel disoriented and betrayed and... stabbed to death?
I'm struggling to wake up today. In about an hour, Marissa and Rodney will feel it too. Yesterday was a struggle too. See, we had a plan to lessen the impact of daylight savings by just ignoring it all day yesterday. We all slept through our alarms. I skipped making breakfast. Rodney was first down the stairs, and he joined me at the table to eat a bowl of lucky charms. Marissa would make here way down too. We set up on the couch for that happy time of staring and quietly drinking coffee. We skipped church, but I still put on Veggie Tales so we could fit in some kind of stand-in for a Bible lesson.
We spent the whole morning and afternoon in limbo. All the clocks in our house reported something different, so we just abandoned all sense of time. We ate, slept, and worked when we felt like it.
The time change made us all grumpy, too. Very quickly in the morning, we had to declare armistice. Any argument or sleight would be immediately forgiven under the blanket daylight savings pass that applied to all of us the entire day.
Daylight savings. What a scam. How many years are we all going to have to put up with this nonsense? Isn't there already tons of research and public sentiment out there behind canceling this silly holiday?
Sip.
Oof. What a struggle today. I think this is a tough time to find motivation in general, and I might be directing all my angst against daylight savings as a proxy. After the spring peeked out for a couple of days, it got cold again. We might even get a small flurry today. The fake spring has ended. Like how a rock band walking back out onto the stage after pretending to end the concert, the midwestern winter encore is about to start.
Work is a bit of a bummer too. Looking at my calendar, I have only two hours of individual working before beginning a continuous stretch of meetings that will last all day. From 11 AM all the way to 4 PM, one long stretch of meetings. How dreadful.
This morning, desperate to find something in the coming weeks to look forward to, I started paginating forward in my Google calendar. It felt a lot like when Rodney flips through the future months of his Paw Patrol calendar to find something interesting on the way. I have only three full work weeks before we get some time off to drive to Pennsylvania to pick up our puppy. I wish it were this week.
Sip.
So how are you holding up? How was your weekend? We're feeling tired, but we had a pretty productive weekend all things considered. The weather got nice, which allowed us to finish up some things outside. We packed away the Christmas lights for the year. Marissa also threw some more time at her stair well project. A few days ago was the really dusty day. She hung a long plastic sheet in front of the stare-well when she broke out her automatic sander.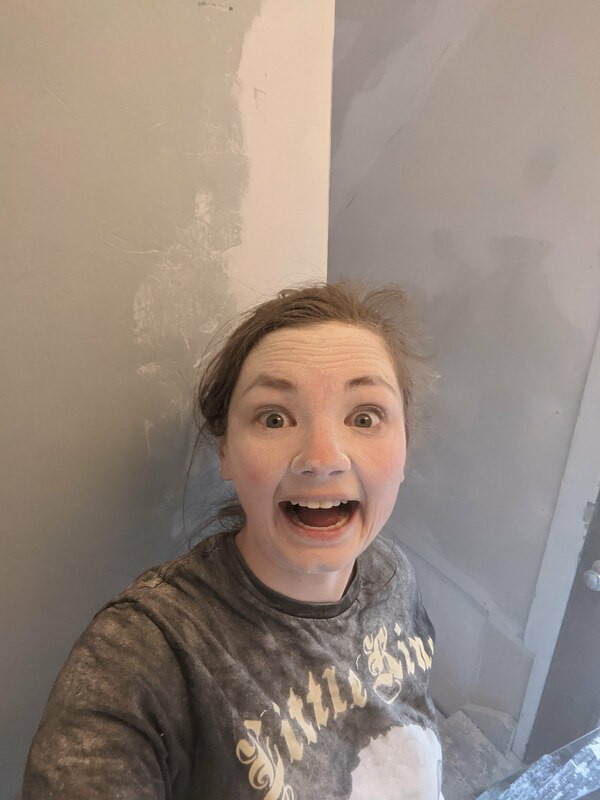 I also got pretty experimental with food this weekend. Two nights in a row I made a whole meal that was purely R&D. Both ideas involved a bechamel sauce with cheese mixed with ground beef. The first was a gussied up version of a casserole we used to eat when I was little. A cast iron pan lined with puff pastry, stuffed with ground beef, bell peppers, shallots, and corn, and I topped it with a cheesy bechamel sauce and shredded gruyere.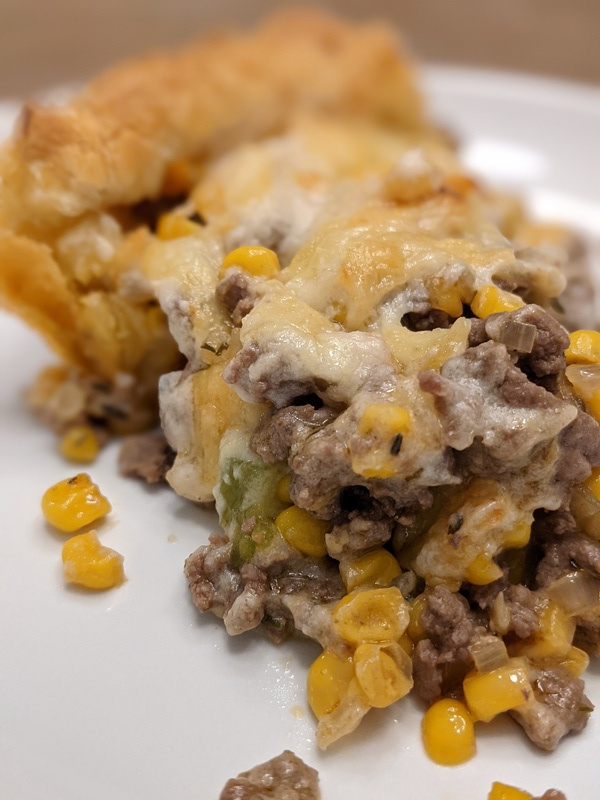 Last night, I made something similar. I call it the cheese burger calzone. I cooked down some ground beef in cast-iron and mixed it with a thick cheddar bechamel. It turned the meat into a cheesy glue that made for a solid foundation to the calzone. Next I added a little tuft of red onion and cabbage tossed in oil, like a salad. Next was some thinly sliced tomatoes, and finally a few big scoops of ricotta cheese.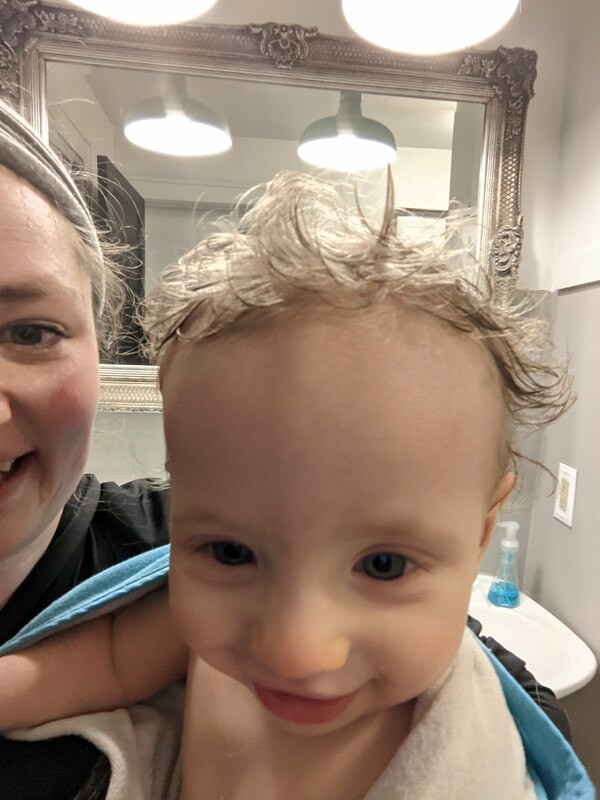 The pizza dough recipe I was following made two large calzones, but I could have easily just made one giant calzone. My oven at the hottest setting cooks them quickly. They get brown and sturdy, like a football. While Rodney was getting ready to sit at the table, I held out an entire calzone. "Here," I said. "This is yours."
"HUH?" Rodney squaked. "I can't eat that whole thing, it's too much this time."
As is tradition, we close this Monday entry with a chump of the week. Last night, Marissa suggested we hand out the award to daylight savings time. It would certainly be deserved - it was on our mind all day as we struggled to adapt. But everyone who came up with the idea is probably long dead by now. Plus, it's just a little too on the nose. Chump of the week is all about the element of surprise.
For example, like the surprise I received while opening up the bathroom closet. We stumbled upstairs later than usual. I was fumbling around the bathroom, trying to gut through my pre-bed grogginess to floss and brush my teeth. I sleepily pawed at the door knob on the bathroom closet. I felt my hand stick to the metal.
"Wha - oh come on," I sighed. The door knob was coated with thick blue children's toothpaste.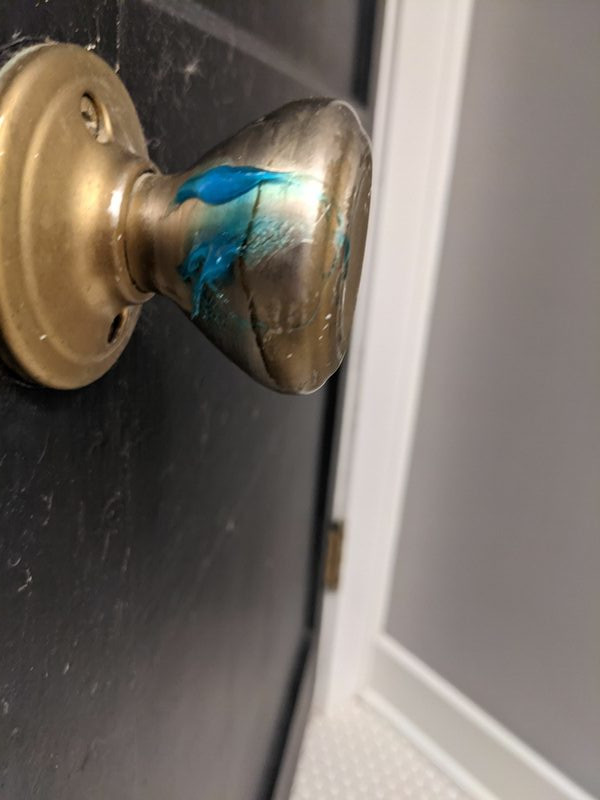 That's an immediate chump of the week - Rodney's repeat appearance. He's starting to rake in these Chump of the week awards like Kanye rakes in Grammy's. Thanks for stopping by today - hang in there, everyone.
---