Friday, May 7 2021
worms, terrariums, and new hockey skates
---
---
Dear Journal,
Good morning, everybody. Happy Friday. You'd have to be crazy to not be in a good mood today. The temperature is supposed to scrape the low seventies, not to mention we're slated to have a beautiful weekend.
Sip. We have an exciting adventure planned today. After work, we're taking the entire family (dogs, kids, and all) up to Minnesota for Auntie Megan's bridal shower. We're staying in a hotel tonight. We're not making any promises, but I'm told the hotel has a pool.
"I can wear a swimsuit again? Great - I've been staying indoors for a whole year and eating lots of birthday cake this week. I'm going to look very good in a swimsuit," I wrote to Marissa, accompanying my slack message with a gif from the X-Men movie - a pale, gelatinous Senator Kelly emerging from the ocean as terrified beach-goers flee.
Marissa and I laughed about how under-prepared we are for the weekend trip. Last night when we probably should have been packing and making plans, she was in the studio wrestling with a commission.
"Could you prop this up for me so I could get a good look at it?" she asked. I obliged her, lifting the table sized canvas up at a ninety degree angle. She stood back to observe, making the most hilarious face in the process.
I showed her the picture. "You should post more stuff like this on your Instagram. Your followers deserve to see the real process." Needless to say she did not post this on her official account, and she's probably not going to be thrilled to see it on the journal this morning.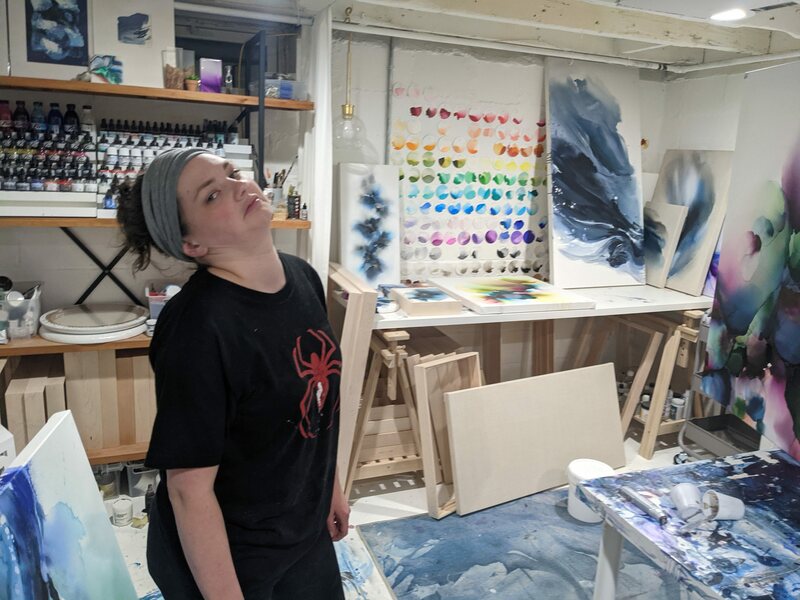 Marissa painted while I caught up on chores, and more importantly prepared a habitat for my superworms, still homeward bound in the mail. All I did was wash out a plastic box with bleached water, dry it out, and fill it with oats, but the chore carried ceremonial significance and gave me time to get excited for insect care. I don't want to just sit around in a smelly box and wait to be eaten by a spider. If possible I'd like them to be happy and feel safe - safe until they are inevitably eaten by a spider, of course. It may be just a sterile box filled with fresh oats, but I think it also looks like a cozy home, don't you?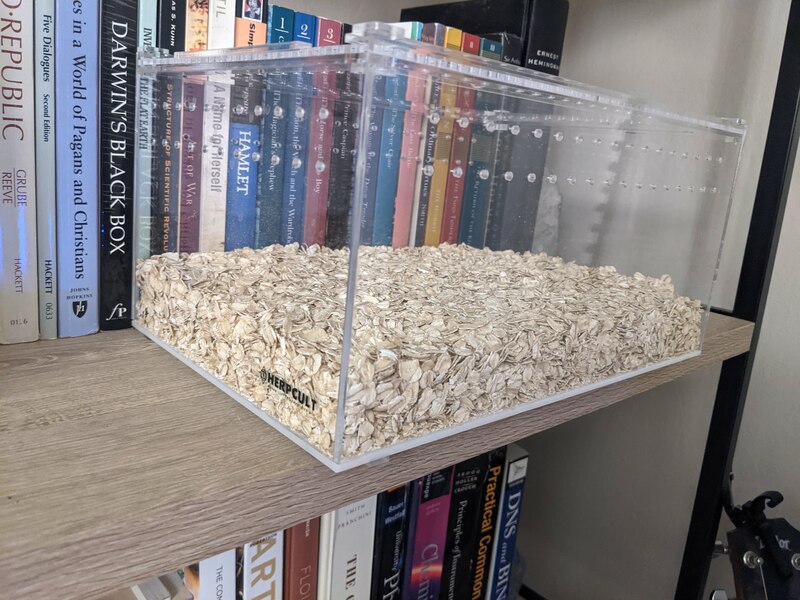 "Are those going to smell?" asked Marissa.
I shrugged. "I don't know, I guess we'll find out soon." Then I ran up the stairs with the terrarium before having a chance to hear Marissa's rebuttal.
The pet company Chewy accidentally double fulfilled my order, so I ended up with two extra terrariums. Their customer support told me to just give them away, so I turned two one of the little marketplace channels on our work's chat. The first reply was a very apt reference to the YouTube classic Neature Walk. The second reply from Holly - "tentative dibbs", she wrote. She explained that she would take the extra terrariums off my hands, as long as she didn't deprive anyone's kid from having a free tank to keep fireflies in this summer. That's a very sweet sentiment, and shout-out to Holly for taking the extras.
Yesterday was an errand day. Our first stop was the hockey store on the west side of town. Wednesday's ice skating lesson still stung a bit, but Rodney had mostly gotten over it and decided to stick with it. To reward him for his persistence, Marissa and I decided to treat him to his own pair of hockey skates. Besides, the rental skates he wore didn't fit him very well, and getting fitted for new ones seemed a lot easier than working with the rink on trying a different pair.
Walking through the doors felt like we were entering a hockey paradise. Endless rows of gleaming, polished hockey sticks. Shoulder pads and helmets proudly adorned the walls like medieval armor. The smell of fresh hockey pads trickled into my nose, and all at once the nostalgia of good memories came rushing back as I watched Rodney wander the aisles in wonder.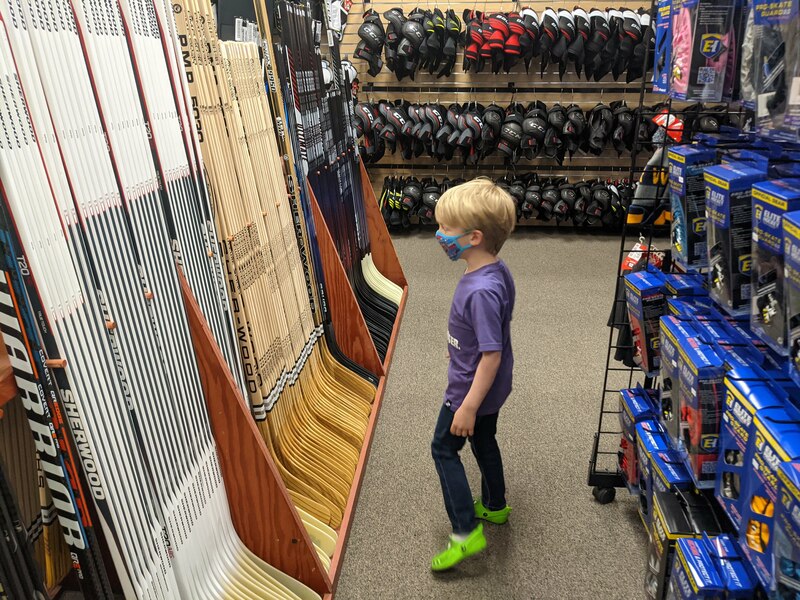 One of the staff members sauntered over. I told him that we were looking for a pair of skates, and he escorted Rodney over to a big machine on the back wall. "Take your shoes off and step up onto the platform, little man," he said. The machine beeped and whirred, the platform beneath Rodney glowed as he shifted curiously.
"You gotta hold still, dude," said the attendant. "Let's try again."
"Rodney FREEZE," said Marissa. Rodney smiled and froze in place. A silly game we play around the house that happened to be very practical in that moment.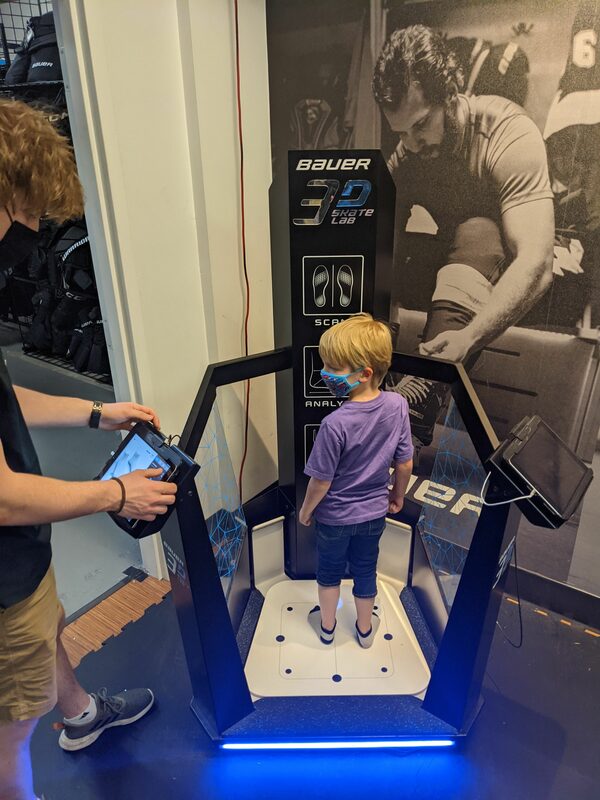 The attendant disappeared into the back, returning with two boxes of tiny skates. His feet slipped into them easily. The padding was soft and supportive around the ankles. "OK, buddy now try to stand up," said the attendant.
"Take some tiny marches, like you learned in class," I added. Rodney seemed hesistent to stand-up, but he quickly realized how much easier these skates were to walk in than the rental pair from the first class. His ankles, no longer wobbly, stood securely in place.
"They feel... kind of pretty good," said Rodney happily.
The attendent tied on the second pair for Rodney. Rodney began to chat him up. "Do you know the Blackhawks?" asked Rodney.
"Oh I know the Blackhawks," said the attendent. "That's Patrick Kane right behind you." He pointed to the wall behind the bench where we sat where there was a life sized poster of Patrick Kane celebrating a goal.
"I love the Blackhawks," said Rodney. "Know who my favorite player is this time?"
"Let me guess - Patrick Kane?" said the attendant.
"Kaner," said Rodney, correcting him.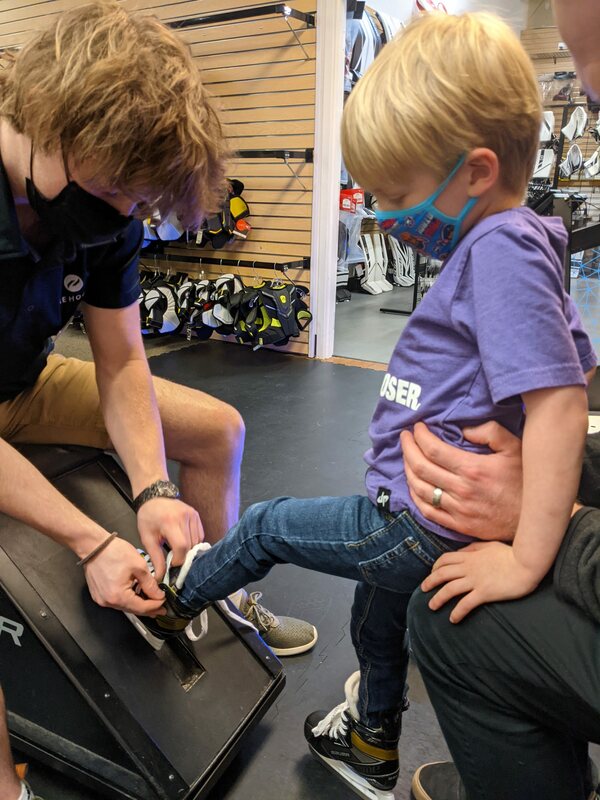 Rodney, thinking he and the attendant now had a "dream-sharing" type of friendship launched into the retelling of his favorite nightmare. "And do you know where the ghost was?" continued Rodney. "He was playing the piano."
"Sounds pretty spooky, dude," said the attendant, a little confused.
I'm glad Rodney had such a good time at the hockey store. While tempering expectations, I have a feeling that the next ice skating lesson is going to go a lot better for him. Thanks for stopping by today, have a wonderful Friday everyone.