Saturday, May 29 2021
st charles fine art show 1
---
---
Dear Journal,
Good evening, everybody. Happy Saturday. I have only 56 minutes to make the midnight journaling quota, so I'm going to do my best to set aside all the delicious distractions set out on my parents' kitchen bar table. Locally brewed beer, white chocolate covered almonds, limoncello. My father even broke out his treasured bottle of balsamic vinegar they brought back from their first trip to Italy, all just to dribble it on a slice of colby jack cheese for me to sample. The distractions abound, but we've got a journal entry to right. One more swig of beer, then I'll get to recounting the wonderful weekend we've had in Geneva & St. Charles.
Sip. The adventure started on Friday afternoon. Rodney emerged from his bedroom still wearing his pajamas to a flurry of last minute packing. He was eager to join in on the hectic action, moving art supplies from the living room to the front yard. We rented a van, and it was parked in our driveway. The energy that van brought to the house was palpable. I guess nothing makes you feel like a new adventure quite like an empty van.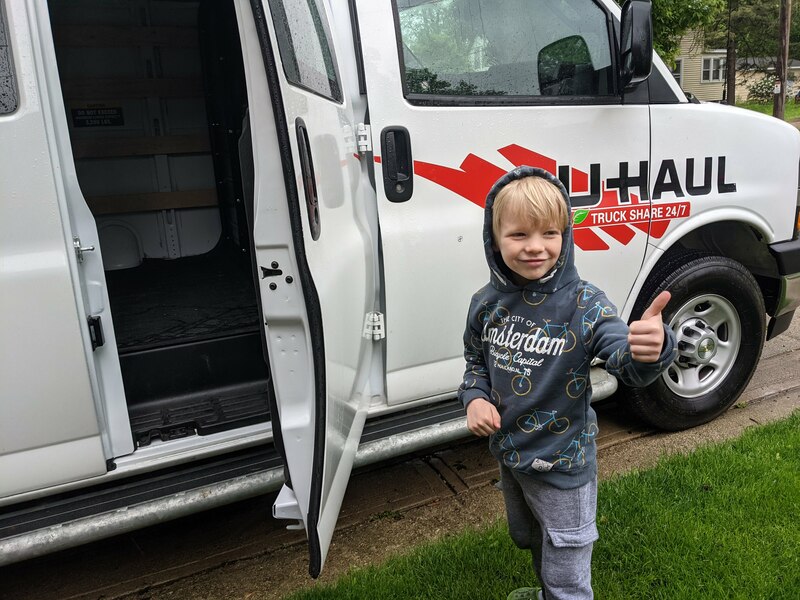 We filled the van with Marissa's art supplies, as well as some last minute things to keep the dogs happy at their respective baby sitters. Ziggy and Ollie would hold it down at their favorite kennel in Rockford. Minnie, still a little too timid for the big dog summer camp, would be having a sleepover with her Auntie Sarah and Uncle Phillip. Her dog cousin Hendo was eager to have her.
We made quick work of packing the van. Rodney was there with his super strength.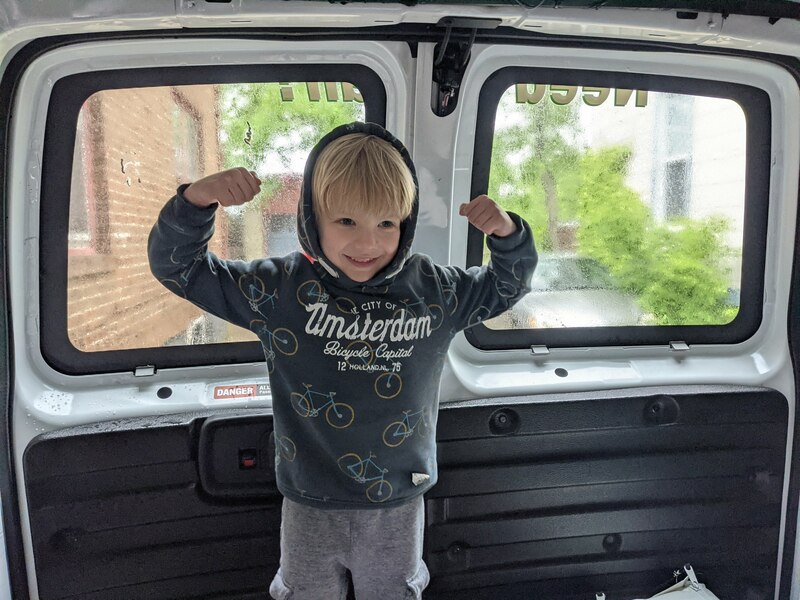 We hit the road. We dropped off Ollie and Ziggy. We'd arrive at my parents place in Geneva a few hours later. We spent just enough time there to get the boys settled and leave Minnie tucked in safely into her crate. We had to rush things to get Marissa checked into the art show in time.
The rain poured. We barreled down the busy suburban road in our rental van as water splashed on the windshield. The poor weather was an bad omen for setting up her art tent. We thought we had enough trouble practice building the tent in our home driveway on a sunny Sunday afternoon, but we had no idea what it would be like to snap the metal frame together, stretch the heavy canvass, and single handedly stand up the tent in the cold, pouring rain under the cover of night.
Clothes soaked. Toes numb. I caught my finger on a metal joint while sliding a tent pole into place, and my blood ran freely. I did my best to finish setting up the tent while mopping up my own blood behind me with my jacket sleeve. It looked like something horrible had happened there in her booth.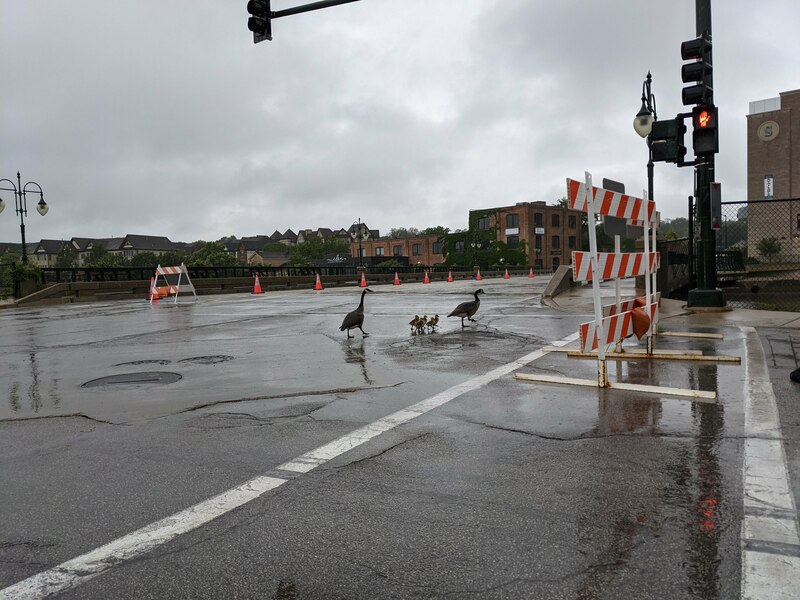 We finally finished, zipping the final walls into place. We decided to come back later to set up the paintings one things had dried off. We changed into dry clothes, at dinner with my parents, and before we returned we stopped by Sarah and Phillip's place to drop off Minnie. It was easy to forget we had more work to do that evening. We sipped drinks, snacked on some of Sarah's fresh bread, and watched Hendo curiously sprawl in front of Minnie.
Luckily the rain had stopped. Most of the hard work was already done. Inside our zipped up tent in the cover of darkness, I kept Marissa company while she arranged paintings. Only a single security guard leaned in to make sure we weren't up to anything. From the distance, live music from the nearby bar echoed over the empty street. It was a peaceful backdrop for a busy evening.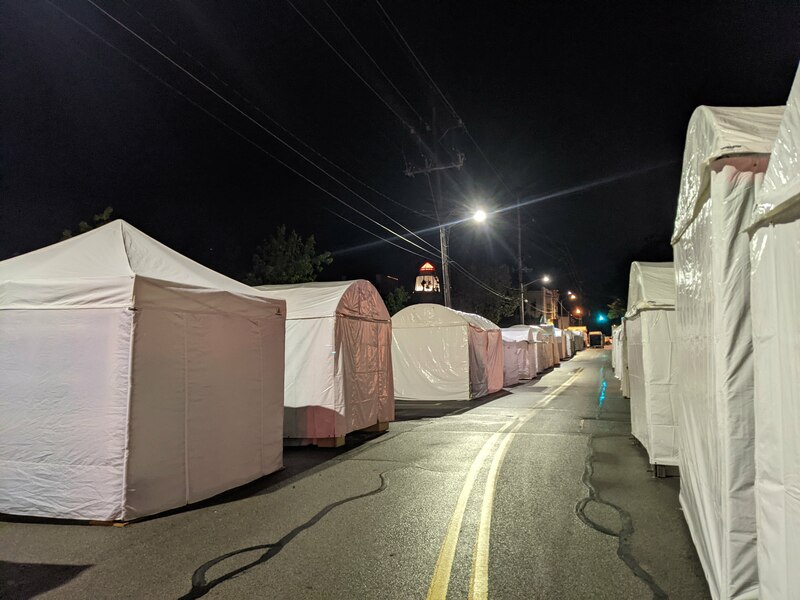 We would return in the morning, waiting at our booth at 9:30 AM sharp. The St. Charles fine arts fair was cancelled the year before, and the people that showed up this year were numerous as they were grateful. Marissa got lots of new interest, and some long time fans even made the trip to see her as well.
Sitting in an art booth for a full work day isn't as boring as it sounds. The people watching was excellent. We saw middle aged suburban parents wearing leather biker jackets. We saw some eccentric locals roll recumbent bicycles through a packed crowd. An older man wandered over to Marissa's booth, singling her out only to ask if she had any used records for sale.
We met fellow artists too. I related well to a nearby artists husband. We shared how fun it is to be mistaken for an artists when are wives have to leave us with the booth for a few minutes. Personally, I would love nothing more than to make a sale on my own while Marissa is taking a walk or grabbing coffee. It hasn't happened yet, but I got a serious chances today.
The crowd waned, and it was time to pack up for the evening. We walked further into town and found the D&G brewery nestled inside a quiet neighborhood. The reviews we read were accurate - it was like drinking beer in a friends garage (in the best way possible).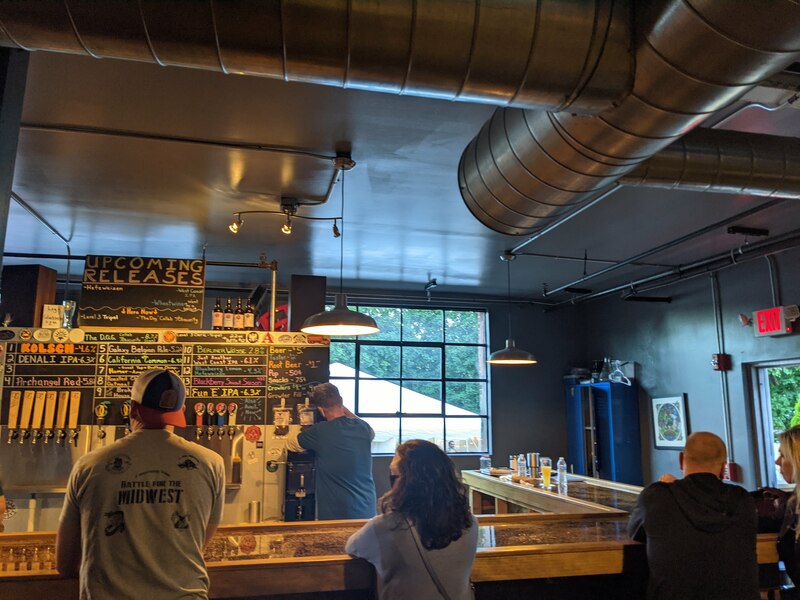 Thanks for stopping by. More of the art fair tomorrow, and no doubt more stories to tell.