Monday, August 2 2021
staycations, iowa, and peeing in cups
---
---
Dear Journal,
Good morning, everybody. Happy Monday, and welcome back to the blogosphere. How are you feeling this morning - tired? Energetic? Somewhere in between? I may have a stiff back from driving, a touch of queasiness from power-eating graham crackers, and heavy eye lids from staying up too late, but buried beneath all of that burns a tiny flame of optimism.
It also helps to have only two work days this week. I asked off work a long time ago so I could help Marissa this week with an art show in the twin cities. The curators cancelled the show, but my time off work remains, so I happily converted the time-off into a good old fashioned staycation.
But I'm here now. My staycation doesn't begin until Wednesday, so I had better get busy drinking coffee and rambling.
Sip. We haven't checked in with each other in a while - how did your weekend go? On Friday we had our friend Connor over for dinner. Connor couldn't make Rodney's birthday the week before, so this weekend served as a make-up birthday party custom tailored to Connor. Rodney hung at Connor's side until his bedtime, filling his ear with stories and observations. And we of course played a few rounds of Springin' Spiders. "Connor is so cool," Rodney reminds me often.
On Satuday, we began our great treck to Iowa for our cousin Frankie's birthday party. A mix of neighbors, friends, and family ushered us into Kelly and Jeremy's beautiful backyard. "This is my first time in Iowa," I announced. "And my expectations..."
Jeremy's brother Jared cut me off mid-sentence. "This is Iowa," he said smirking. "Don't have any expectations."
We did our best to follow Jared's curt country wisdom, and our first trip out to the new Iowa chapter of our family was rewarding. We watched all five family dogs tear around the yard with their tongues hanging out of their mouths. Rodney tumbled on the trampoline with his cousins until he was out of breath. The kids flung themselves across a cool, refreshing slip and slide.
In the evening they danced to YouTube videos and tackled Grandpa Dirk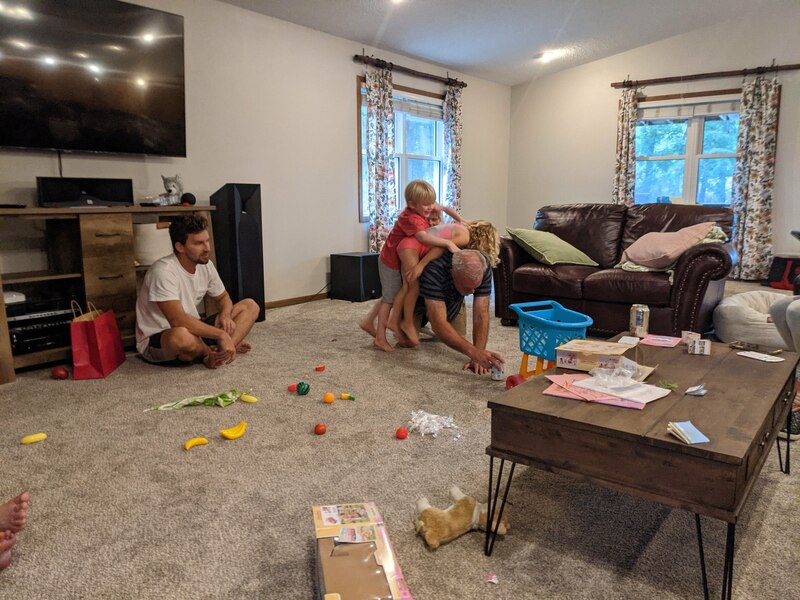 We ate Scooter's breakfast sandwiches on the porch in front of five drooling dogs and giggling cousins.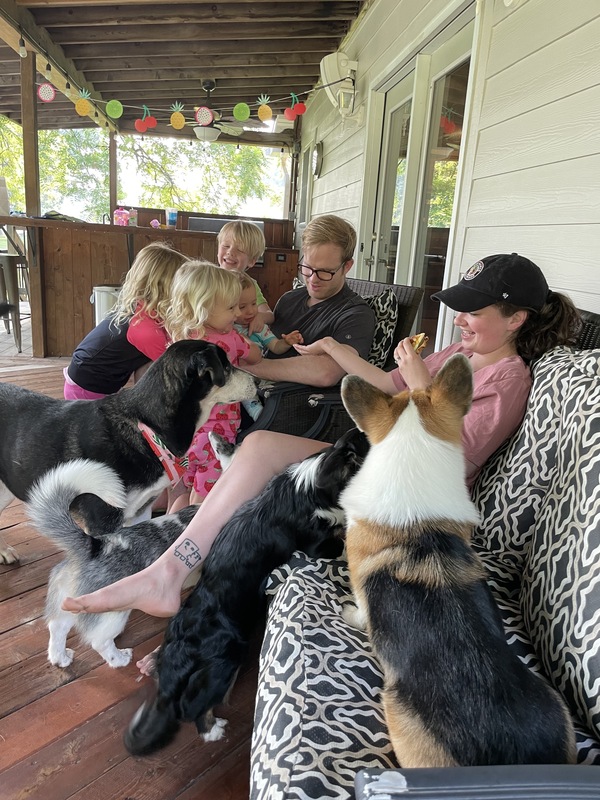 Baby Miles had fun too. He didn't always look like it, but that's par for the course for a "COVID baby", isn't it? Spending his formative years isolated in our house has made him accustomed to persistent contact with either mom or dad. He can only put up with being held by grandparents or cousins for short bursts, but if anyone came close to having the magic touch it might be Grandma Jane.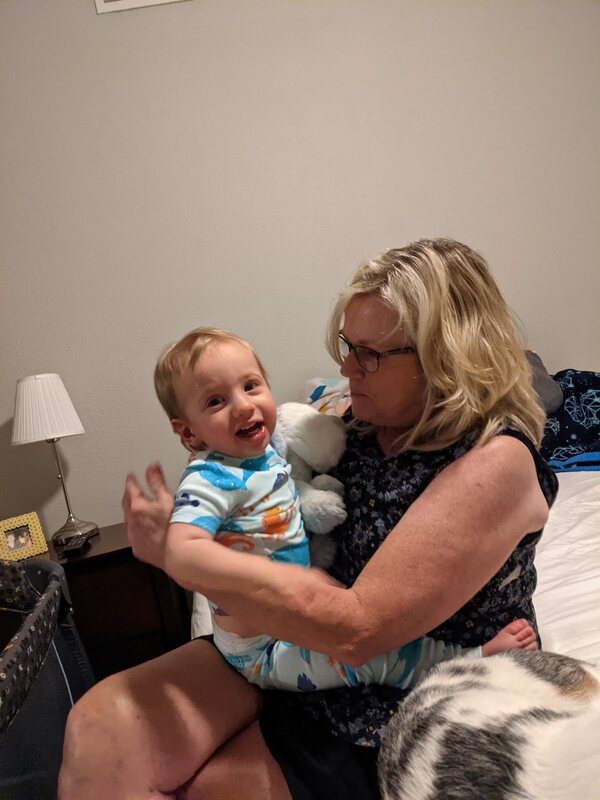 Sunday was our driving day. We spent a lot of time in the car this weekend, but even driving can be kind of relaxing. We listened to music. We treated ourselves to fast food and snacks. Marissa took short cat naps in the front seat in between clambering around the car to pick up fallen toys and distribute refreshments like a flight attendant in a tiny, cramped airplane.
Unsurprisingly, one aspect of road-tripping that has really garnered Rodney's enthusiasm is the sport of peeing in a cup. He filled his lemonade cup three times on the trip back. The art of the road trip pee really brought out his competitive nature. It was the ultimate challenge for the ultimate prize - watching the highway wind obliterate and disperse your own pee droplets onto the open road.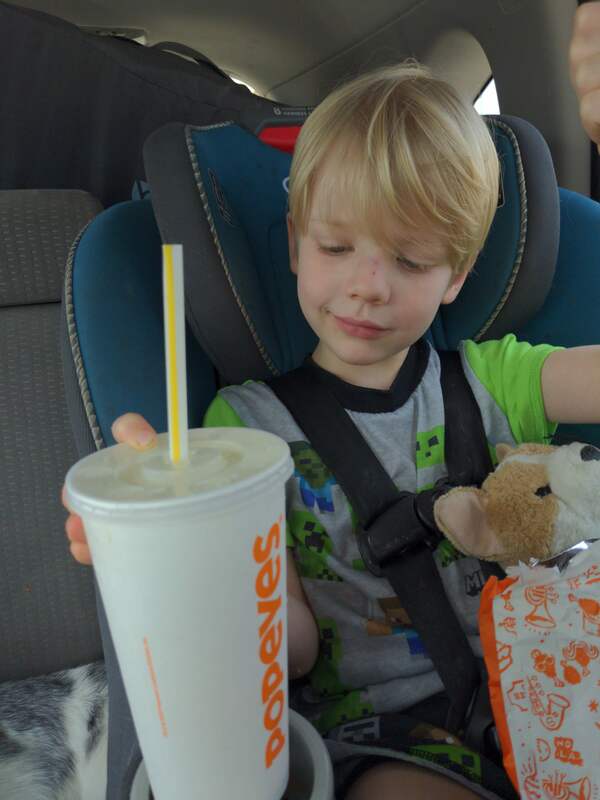 It felt nice to finally be home, and we were determined to squeeze as much relaxation into our Sunday evening as possible. Marissa tended to her fish tank while Rodney caught up on the new episodes of Ryan's World he missed. We ordered out. Before bed, Rodney and I hopped in the car one last time to pick up ice cream sundaes from McDonald's. It wasn't until putting the boys to bed when Mairssa and I saw that it was time to turn Rodney's bedroom Paw Patrol calendar to the month of August.
"Oh my gosh," sighed Marissa. "It's already August."
"You're probably starting school pretty soon," I commented. "Maybe even this month."
Rodney, waiting in bed in his pajamas, fell unusually silent. "Are you excited to start Kindergarten?" I asked.
Rodney rocked back and forth with his legs folded. "Actually, Kindergarten isn't for kids," he said trying to dismiss the reality.
"It is," I said quietly. "It's for you, and it's starting soon."
"When is it?" he asked.
"Momma and I are gonna check the website. We'll put it on your calendar tomorrow."
"TOMORROW?" exclaimed Rodney. I shook my head and laughed.
"No, we'll put it on your calendar tomorrow. It's probably not for another few weeks. Are you a little nervous about it?"
Rodney chocked back a lump in his throat and shook his head. I did my best to remind him of how much he loves to learn, and how much he enjoys being around other kids. But not wanting to belabor the point, I finally gave him a hug and left him alone with his thoughts. Starting school is a big transition, and Marissa and I probably felt the same bolt of nervousness and excitement as he did when we all realized how close it was.
I can't believe it's already August. Why does the summer have to move so fast? Thanks for stopping by today. Have a great Monday, everyone.