Thursday, June 2 2022
wilmington
---
---
Dear Journal,
Good morning, everybody. Happy Thursday.
Has it been almost a week since the last journal entry? Things are moving too fast lately. I meant to bring you up to speed yesterday. I sat down at the computer at 8:15, downloaded some pictures from my camera reel, and scrawled some notes down. I wrote the opening paragraph. But my stomach had other ideas, and I had to take a rain check on the journal entry. I suppose an extended holiday weekend in the car eating fast food will do unpredictable things like that. Our family achieved a new level of closeness, thanks to the long drive from Wilmington, Ohio. When you spend that much time in the car, things blur together. The car felt like a tired extension of my body. Childish back seat fart noises, raspberries, and shrieks bounced around in my head like they were my own thoughts. "My body feels like a giant cheeto," as Marissa put it.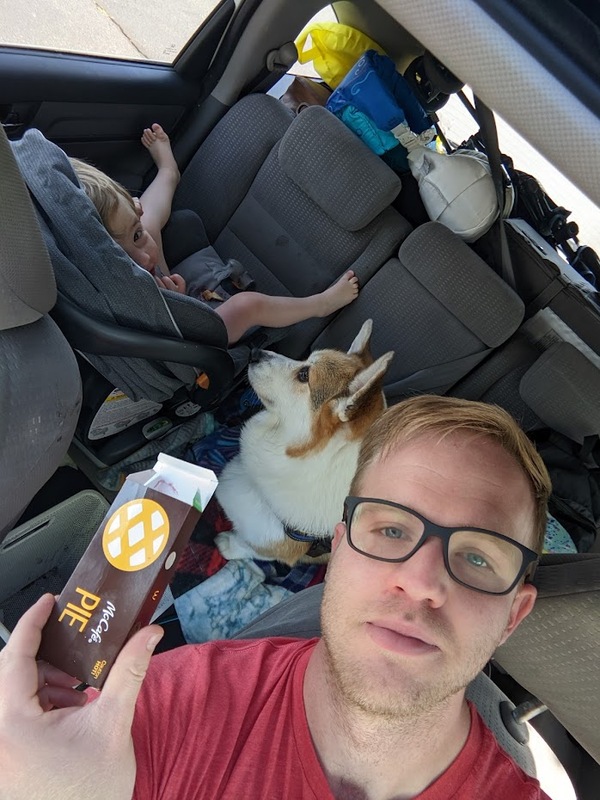 Sip. Speaking of coffee, I have a beef with Wilmington Ohio. Where is all the coffee? Marissa and I couldn't find a decent cup of coffee our entire stay. Most strangely, everyone we solicited for coffee reacted like we were asking for illegal drugs. The lady at the front desk snuck Marissa a cup from their back storage room, but cut her off at 10 AM. I tried to squeeze some coffee from the miniature hotel room Kuerig, but it was on the fritz. I walked Rodney and Miles over to the nearby Dairy Queen and begged the morning staff to hook me up with the good stuff. They reluctantly brewed their first pot of the day, and gestured to the stack of cups. Barely scraping by on gas station brew, sugar free red bull, and diet coke - they were dark days for coffee drinkers!
Wilmington Ohio is a strange place. Sitting two hours east of Dayton Ohio, you would think it was just a regular interstate pit stop if not for the gleaming, futuristic-looking Roberts Center cutting into the rural scenery like a Rolex watch laying on the side of the road.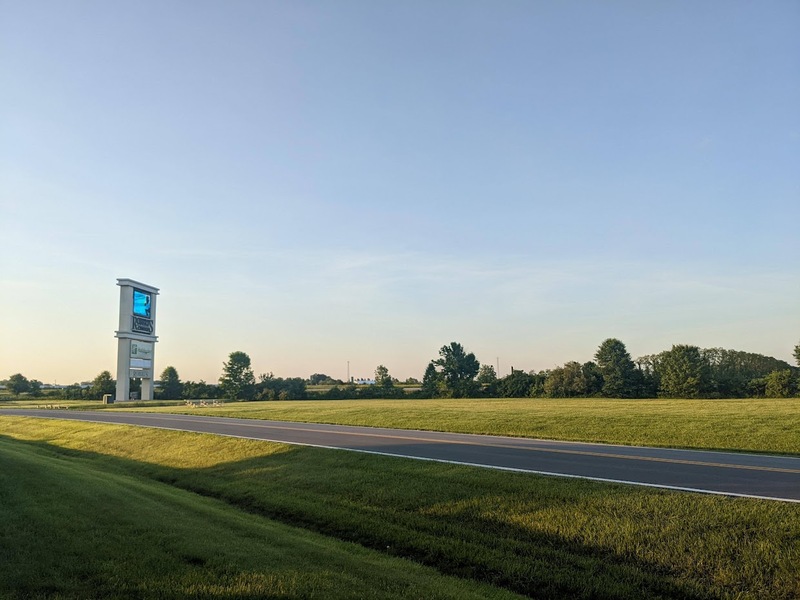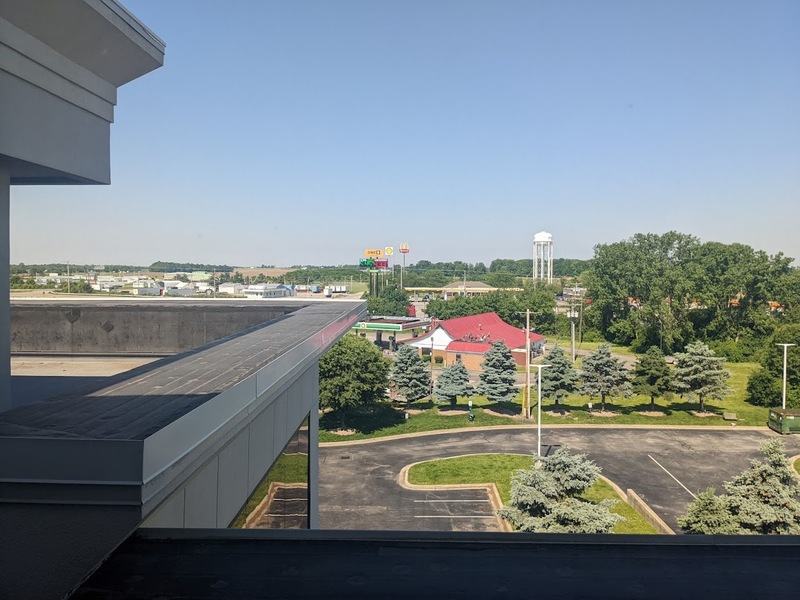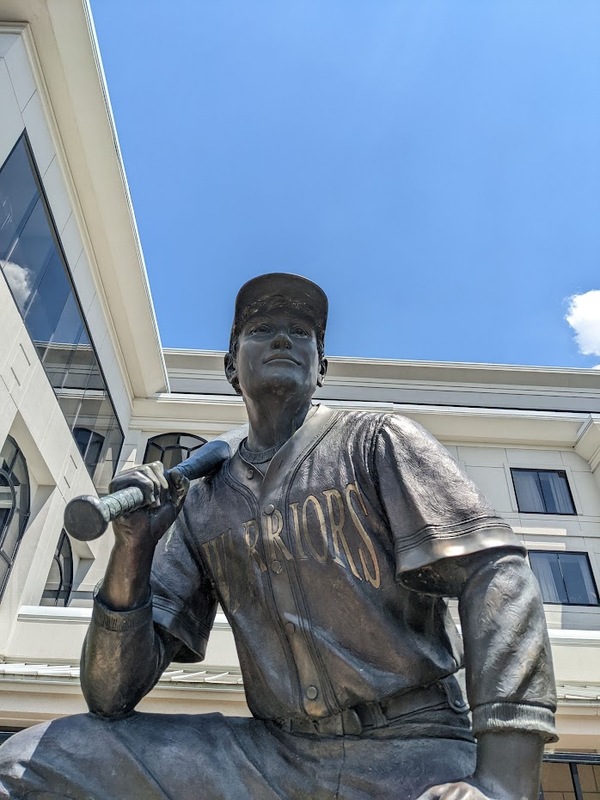 Why were we in Wilmington anyway? We were there for the Cardigan Welsh Corgi Nationals. Ziggy was running in the agility trial, and just for fun, Minnie would make an appearance too. Leading up to their first run, Marissa was anxious about the outcome. "I just want one qualifying run," she said. Ziggy botched her first three runs, but she completed her fourth run without any mistakes. And because Ziggy is so freaking fast for her breed, the qualifying run earned her an easy blue ribbon for fastest time.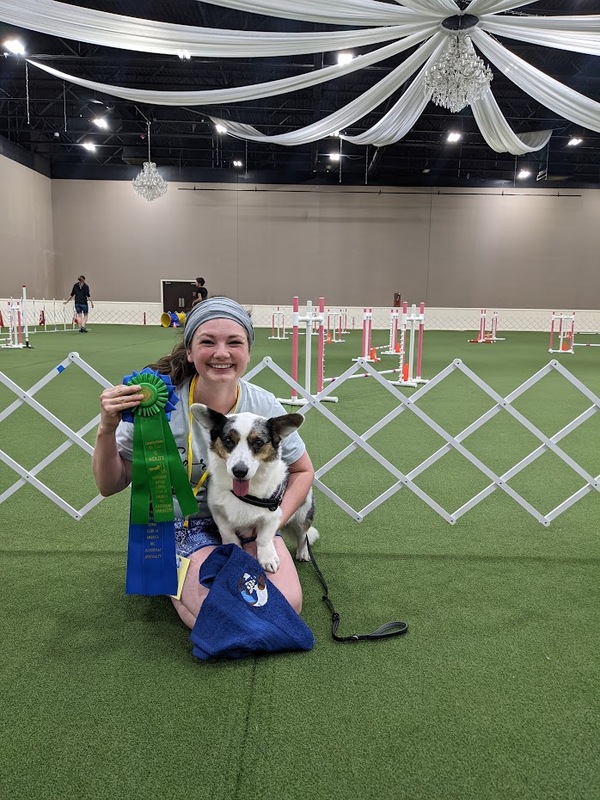 Rodney, Miles, and I saw glimpses of the agility action. But we spent most of the trip on our own. Stroller in hands, we walked clumsy laps around the Roberts center.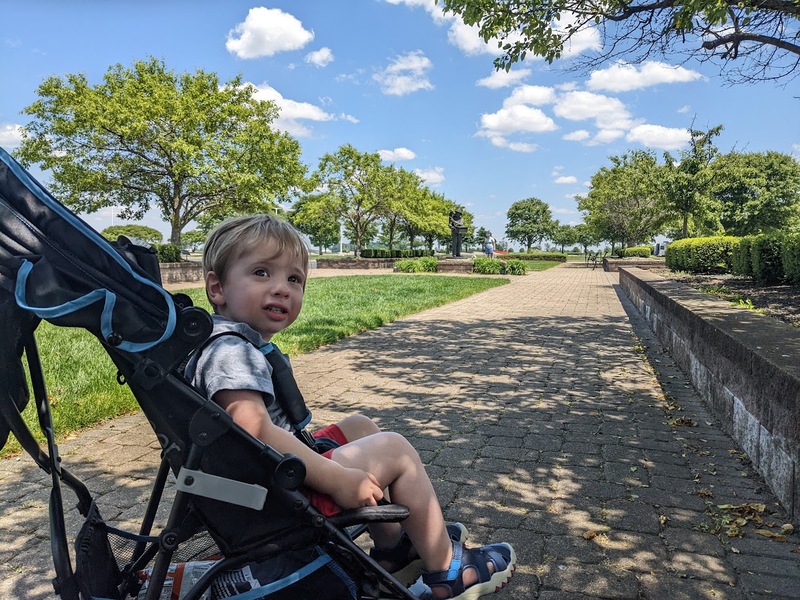 We terrorized the hotel hallways.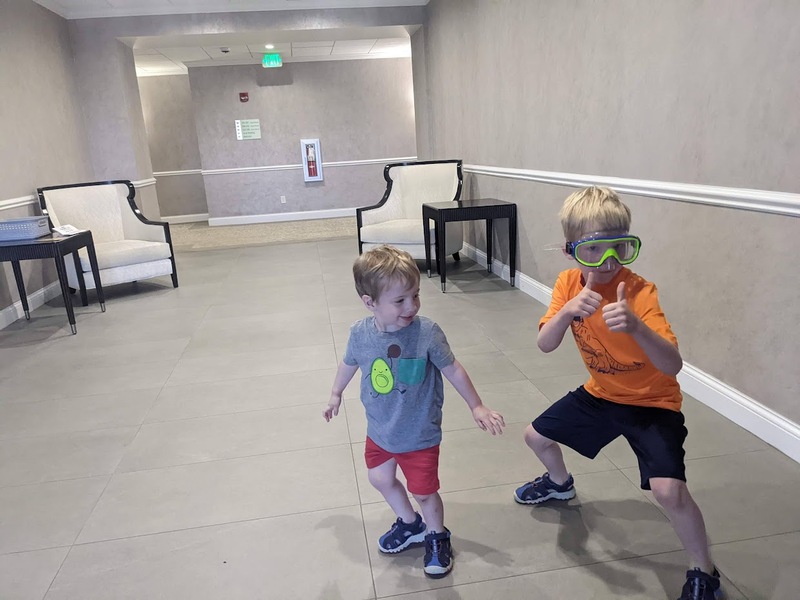 But most of the time, this was our view.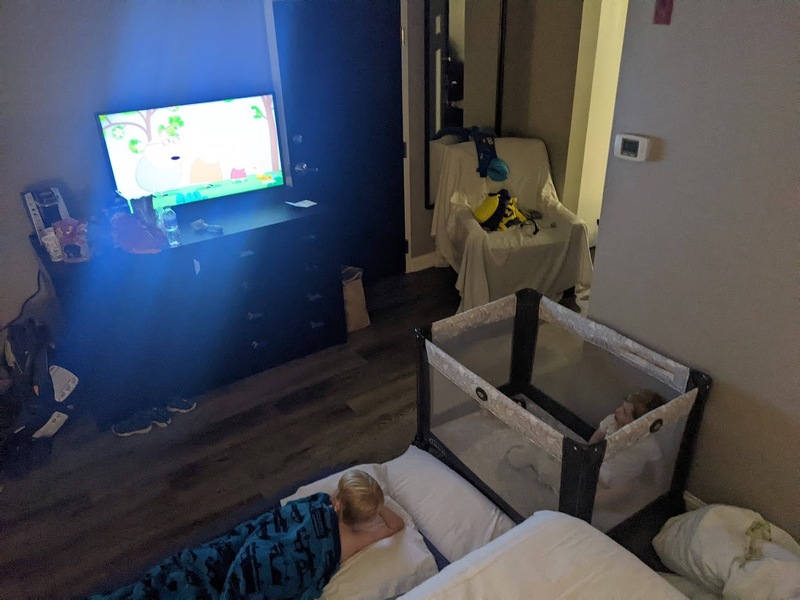 You could argue that at the heart of our trip was a twenty-four hour Nick Jr tv marathon. My boys, who have little experience with the wonders of live TV, were spellbound. Sometimes when a TV commercial plays, Rodney gets up from his seat as if it's a YouTube ad and there's a button to click past it. They have a lot to learn about the real world.
You might notice Rodney is wearing swim goggles. He wore goggles the entire time.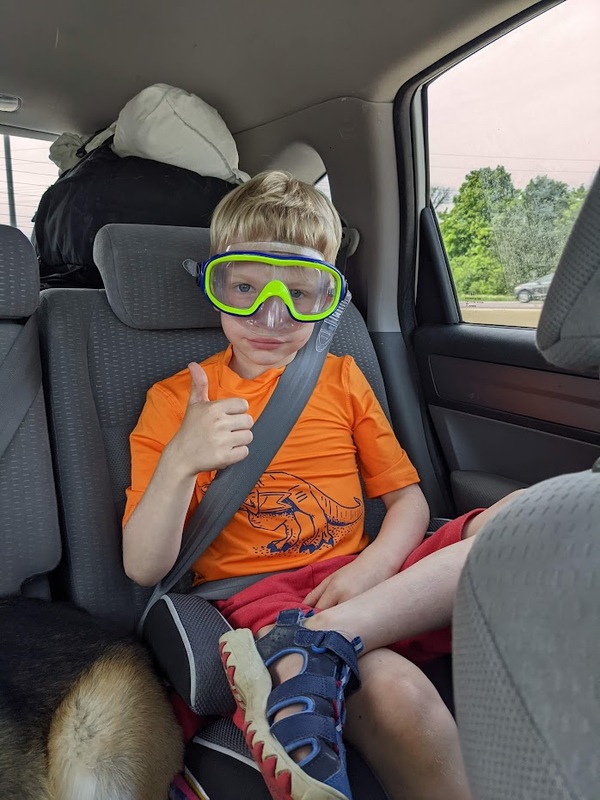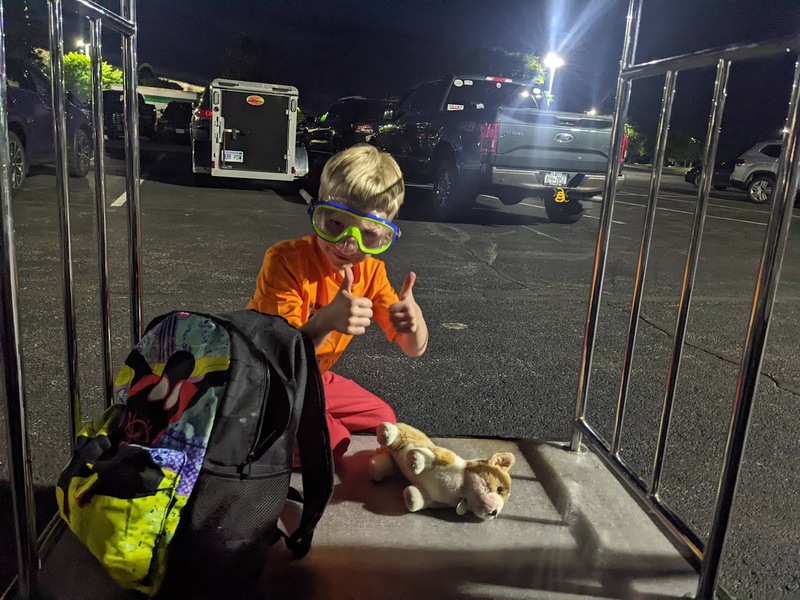 Once Rodney heard the hotel had a pool, he refused to take them off his face. I think he kept them on to serve as a constant reminder of the promise me made to him - we would swim, and after the event we would stay in the pool for as long as he wanted. We held up our end of the deal. Rodney and I piddled around in the hotel pool for three hours, then another two hours after dinner.
What do people eat while staying at the Wilmington Roberts Center? I have no idea. The hotel's restaurant was under construction. Nearby choices were a Dairy Queen "Grill and Chill" attached to a gas station, a truck stop McDonald's, and a small gym cafeteria that was open until 1 PM. I got so fed up with the lack of choices that on the last night that I practically threw a hissy fit. "I need to get out of here," I said. "Let's find somewhere to eat."
We drove slowly throw the small, quaint streets of downtown Wilmington. Our heads bobbed left to right while we gawked at the unfamiliar sights from our car window. "Let's eat at this Mexican place," suggested Marissa, pointing out the window.
We landed at a place called El Dorado's. The moment our waiter Martin set down two fishbowl sized margaritas and a generous helping of chips, I knew we made the right choice. Not to mention the food was fantastic.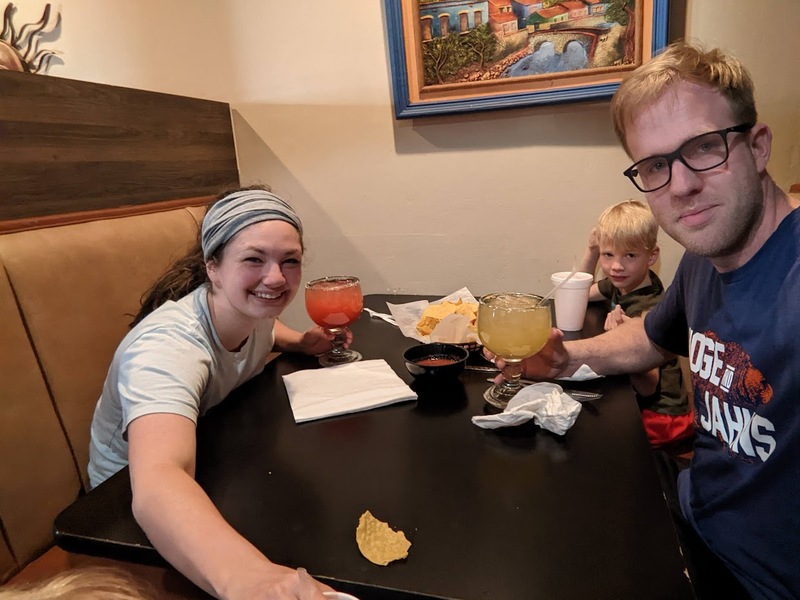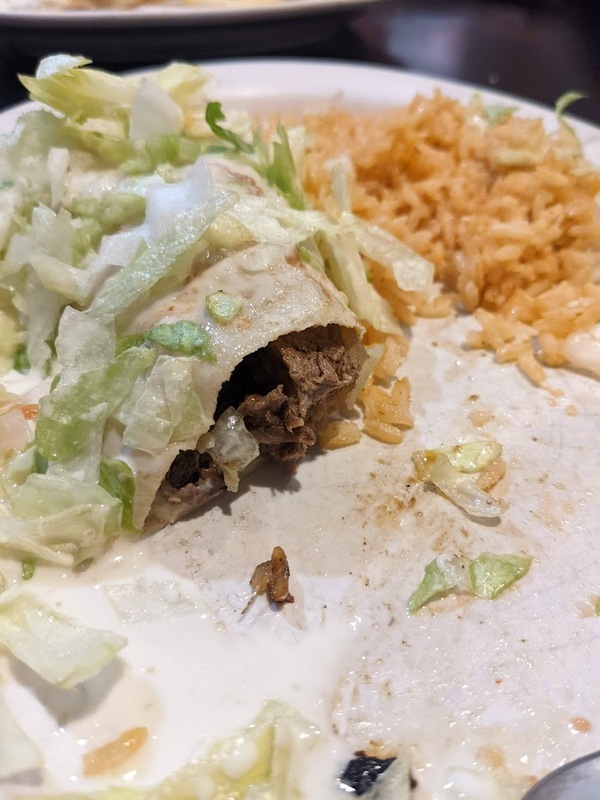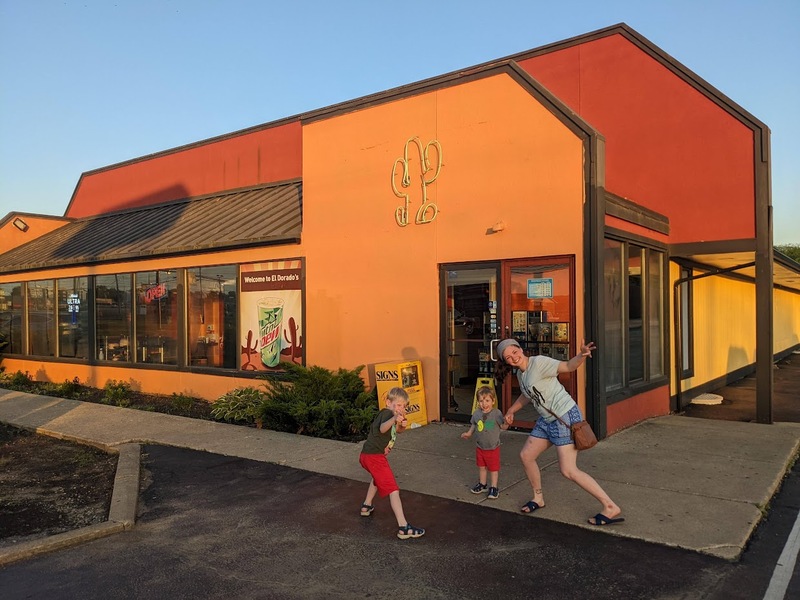 A turning point for our trip. What are the chances that we found this diamond in the rough? Let me tell you this - if you find yourself in Wilmington (assuming you aren't hog tied in someone's trunk), make sure you hit up El Dorado's for some genuinely delicious local Mexican food made with love.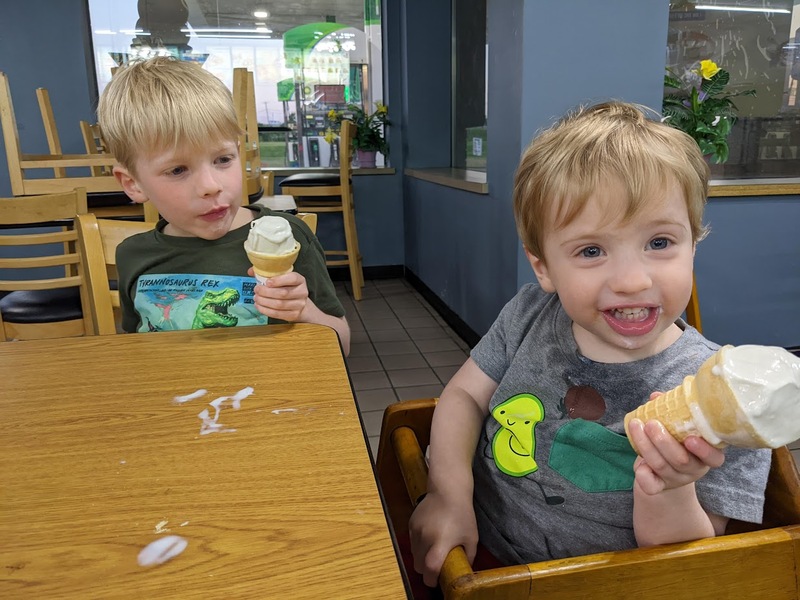 Thanks for stopping by today. Have a great Thursday, everyone.