Friday, June 24 2022
minnie, smoked meats, and the tooth fairy
---
---
Dear Journal,
Hey, everyone. Good morning, and welcome to the old journal. Sitting here in my dim dining room just beyond the closed shades, I can hear a flurry of birds chirping. It's sort of inviting. But it's going to take more than just some dumb birds to encourage me to open the dining room windows. I like how dark it is in here right now. I will choose to sit here in darkness with this hot cup of coffee, like some kind of coffee addicted computer troll.
Sip. That's the good stuff. I had kind of a rough time letting the dogs out this morning. Their big new backyard is messing with their heads. Ziggy keeps over-working herself, feeling compelled to chased down her sister instead of helping herself to the several water bowls we've set out. Minnie seems to have more stamina, but she has so much fun bolting around the yard during potty breaks that she forgets to go potty.
This morning, I saw her bolting up and down the fence line, teasing the neighboring German Shepard Ramses. At least from what I could see out the kitchen window, it was a flirtatious gesture. But in the end I had to head outside to leash up Minnie, and escort her to the other side of the yard so she could do her business without the distraction of a tall, dark and handsome German Shepard.
As icing on the cake, Minnie dashed into our bedroom and lept onto my side of the bed before I noticed her paws were muddy. She tracked tiny muddy paw prints on our clean white sheets leading up to Marissa's pillow. Minnie - I say this with fatherly love - some days I want to just make you an outside dog.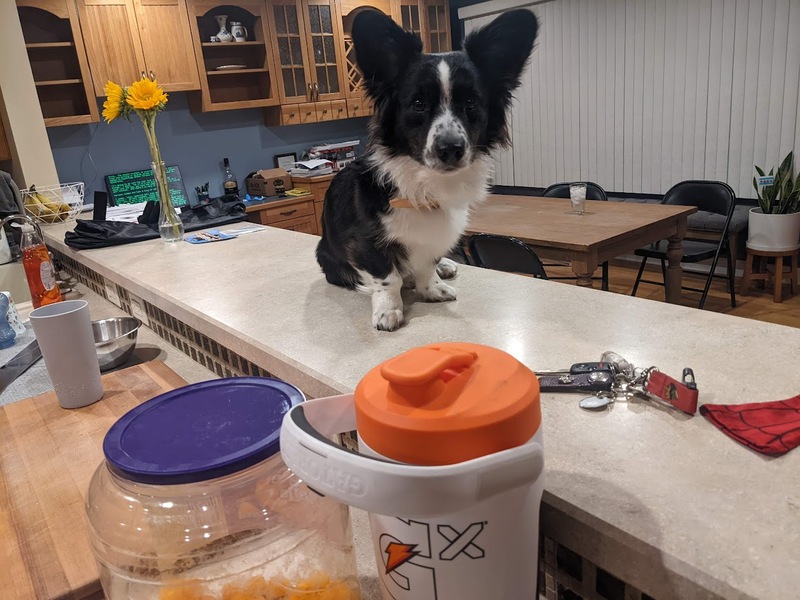 It's been a heads down kind of week. There's still lots of work to catch up on before closing out the week. And I have yet to put in some hours of my own for rock moving duty. But I'm still excited for the weekend because I'll have time to play with the cool stuff I got for Father's day.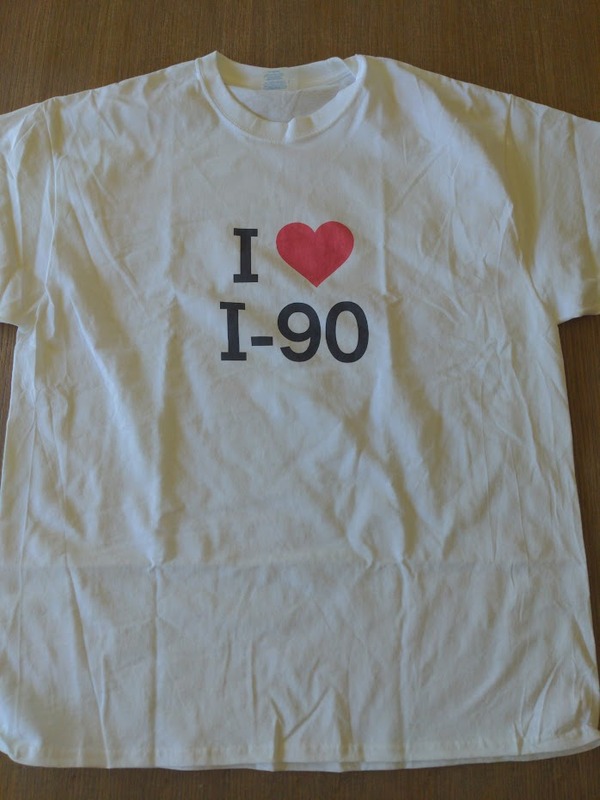 OK, so this was more of a joke gift. One night Marissa and I were walking around in Chicago after one of her art shows, and we crossed a bridge that overlooked I-90. I decided to shared some facts about I-90, and thanks to the few beers I had I got a little carried away with the enthusiasm. I think I even uttered the words "I LOVE I-90" loud enough for people to hear me on the other side of the street. A fitting gag gift for the embarrassing sound bite.
Just for the record, the construction of I-90 may have been our country's greatest achievement in transportation engineering. It's the longest stretch of highway in America spanning all the way from Seattle to Boston. Surely I can't be the only one that's amazed at the thought of driving across the entire country on a single road.
The real gift is sitting out in the backyard under a grill cover - a Weber Smokey Mountain. Honestly, I'm surprised to find myself getting the urge to smoke meat again. Maybe it's just because I'm back in Weber country. Maybe it's because we have this big beautiful backyard. All I know is I'm smoking meat on Saturday, and I'm going to eat most of it after moving buckets of rocks across the yard.
In other news, Rodney lost another tooth - his front tooth. Marissa and I held back snickers listening to Rodney adapt to his sudden difficulty with s's, but once he heard it for himself he was a good sport about it.
"Hey dude, do you see any slithering serpents over there?" I asked.
"Nope, no th-lithering th-erpent-ths," laughed Rodney.
Marissa and I have been a little wishy-washy about the tooth fairy. Rodney even admitted that the last time he lost a tooth, "Mom just gave me some money out of her purse." Left to assemble all the facts for himself, Rodney's final understanding came out a little muddled.
"Tell uncle Jeremy," he said, holding his tooth close to his chest in bed. "He's a dentist, and he can bring me money."
"How much money do you want?" I replied.
Rodney stared up at his ceiling. "Sixty... sixty-five thousand dollars," he said with a clumsy lisp.
I wasn't sure what to do with that request, so we took a night to think about it. The next day, Rodney was ready with a compromise. "I want a coin," he said. "But I don't want any fairies to come into my room. Can you just give me a coin?"
"Yeah if you want," I said. "How about we do it while you're sleeping so it's a surprise."
Rodney was satisfied with that, but he was still worried about looping the tooth fairy into the new plan. "What if she tries to get in?" he asked. Rodney leaned over my shoulder and watched me draft a text message.
"Hey TF - you can skip Rodney tonight?" I read while typing.
Pretending my phone vibrated in my pocket, I pulled it out and pretended to read it off the screen. "No problem! Tell Rodney I said congrats - TF"
Despite our planning, Marissa decided to go rogue. She wrote a note with the coin and signed it "from the TF". As I'm writing this, Rodney is trying to sort out what happened. Thinking on my feet, I read another fake text message from my phone.
"Hey, noticed you forgot to leave Rodney money last night. Hope it's OK, but I took care of it - TF," I said. "Wow. Sorry dude, we were so tired we forgot. Good think the tooth fairy took care of it."
Rodney stared blankly ahead. Eyes filled with wonder, he slowly walked back into his room to process what had happened.
Kids are fun, aren't they? That's what I got today. Have a great weekend, everyone.
---