Monday, June 27 2022
hauling cube, smoking meat, and toothless dinosaurs
---
---
Dear Journal,
Good morning, everyone. Are you ready feeling ready for a Monday?
I'm still waking up too, so why don't we just set the scene here from where I'm writing. It's a sunny day, and from this chair in the dining room I can hear birds chirping from all directions. My neighborhood cul-de-sac is quiet and empty, but there's a single dirty tennis ball sitting in the middle of the road. Did we put that there? Rodney has a pretty good arm, but I don't think he could knock a ball quite that far into the air.
The predominant feeling in my body right now is soreness. My fingers feel soar, my right shoulder feels sore, and this comfortable computer chair is hitting my back in all the right places. Don't get me wrong, though. I'm not complaining. If anything, I'm subtly bragging about all the work we got done this weekend.
Sip. Ugh, that's the good stuff. Coffee tastes so good these days.
We spent a good amount of the weekend hauling cube as we like to call it. Hardly an accurate description for the chore of moving buckets of sand and rock, but nevertheless "hauling cube" is just kind of a fun thing to belt out across our backyard while we work. It's a thing from The Office - if you know, you know.
So why exactly do we have a giant pit in our backyard? This is what was leftover from tearing down old pool. It's an unforgiving mixture of sand and rock, and there are other fun things like rubber and tarp mixed within too.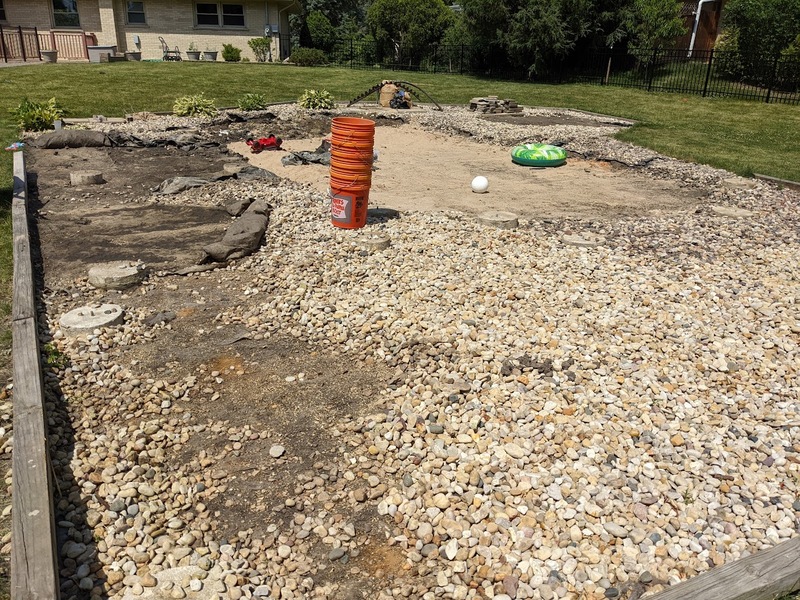 Working a few buckets at a time, we're moving the clean rock to a skinny strip of land between our fence and the neighbor's fence. With no hope of fitting a lawn mower back there, our next best choice is to make a nice looking rock pathway.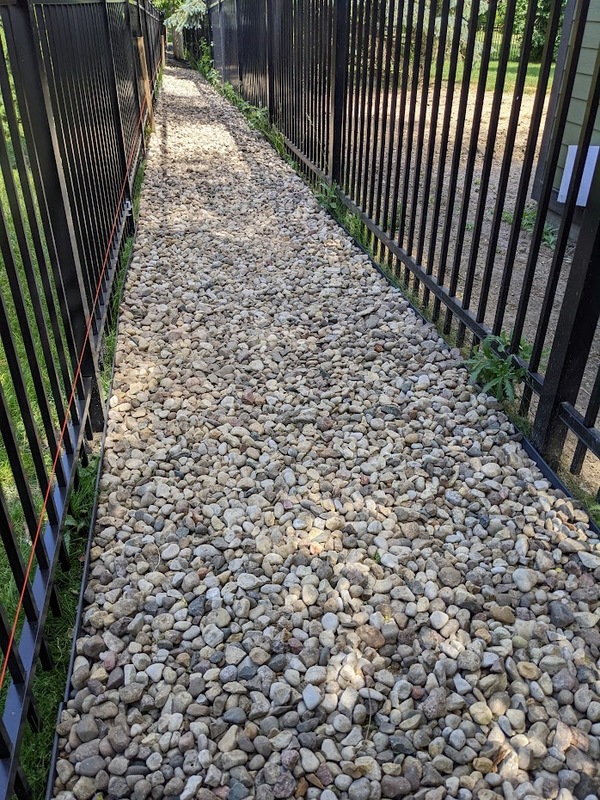 Working between the two fences is tricky business. Marissa uses to metal chairs to awkwardly clamber her way in. I employed the help of Rodney. His lightweight five year old frame made it easy to just throw him into the walkway. He slithered around tree trunks and underneath branches with a pair of scissors while the two of us collected the neon color twine left over from zoning the new fence.
I was on bucket dumping duty most of the day. Trainer Greg would have been proud of how I straightened my back and engaged my core while slowly walking buckets of rock and sand across the yard and to the back fence. "Hey, nice farmer's cary, bro," quipped Marissa.
It was tough work, but it felt kind of cathartic and meditative in a way. Miles and Rodney contentedly fiddled in the big pile of sand. The dogs slept in the shade. There were no distractions, save the occasional taunt from my neighbor John. He periodically checked in with us from his side of the fence to see if we had yet discovered any buried treasure.
Thankfully, the weekend wasn't all labor and toil. I had a chance to fire up my new Weber Smokey Mountain. I've had mixed results smoking meat on my standard Weber Kettle. While it's totally possible to convert a Weber Kettle to a makeshift smoker, frankly it's more trouble than it's worth. My first experience with an actual meat smoker left me flabbergasted with each little convenience I discovered. There's a side door for accessing the burn chamber. There's a wide, heavy water dish that shields the food from direct heat. The ideal "smoke zone" range was colored in to an easy-to-read thermometer on the top lid, and the smoker magically stayed at the correct temperature for hours.
Marissa and I like to do this thing where we pretend to write satirical headlines for The Onion using embarrassing moments from our lives. My Onion headline for the day was "Local Man Discovers Smoking Meat Much Easier with an Actual Meat Smoker".
The results were satisfactory. The beef short ribs practically fell off the bone. My hungry family devoured them like animals crouched around the fire.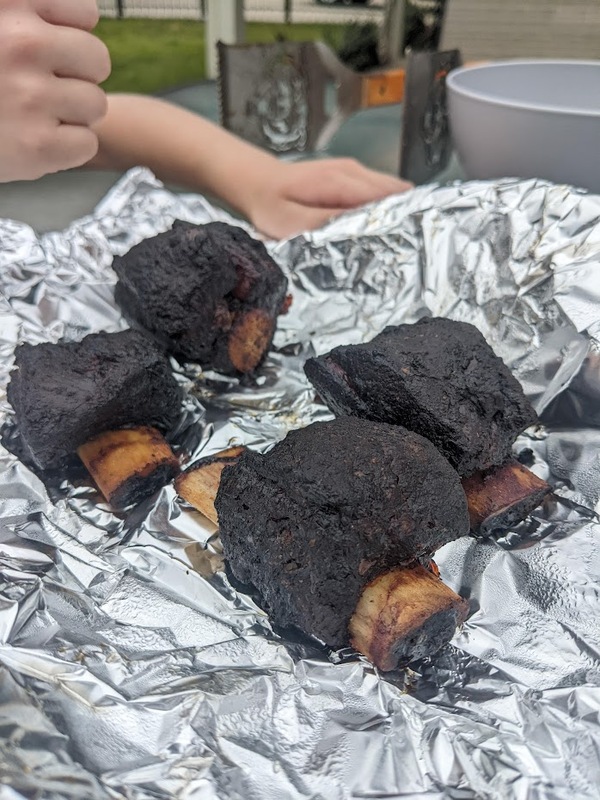 In other news, Marissa started on Rodney's bedroom mural. After he got all fired up about the theme of "dinosaurs playing sports", Marissa had to talk him down to simply "dinosaurs". She kicked things off with a giant T-Rex that wrapped around his wall.
"Where are its teeth?" asked Rodney teasingly.
Maybe Marissa should consider a new theme - toothless dinosaurs. Rodney is certainly losing a lot of teeth these days, and maybe he would really connect with that kind of motif.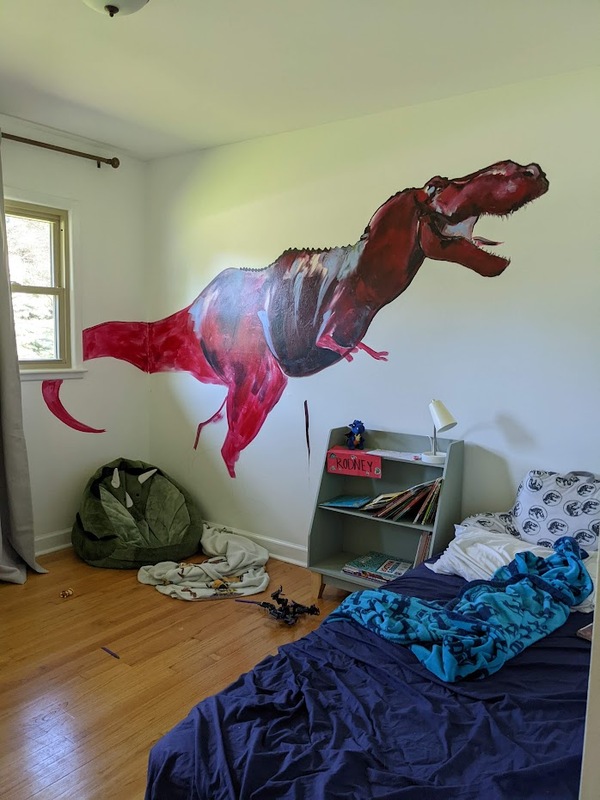 Thanks for stopping by today. Have a great Monday, folks.
---