Tuesday, July 5 2022
fourth of july
---
---
Dear Journal,
Good morning, everyone. Welcome back to the work week. Just in case your house is also a mess and you too are feeling lethargic from a toxic mixture of beer and smoked meats in your stomach, why don't we all just take it a little easy today - sound good?
The house is starting to wake up. I'm starting to push my luck with this sliver of morning silence, so I had better just get to writing already. Assume the position, reader.
Sip. What a great weekend. On Friday we hired the neighbor kids Anthony and Julia to watch the boys at our house so Marissa and I could go on a date. It actually felt kind of nice to put on good clothes for a change. Marissa and I grabbed a reservation at Seasons 52 in Schaumburg - and now comes the portion of the journal entry where you have to look at food pictures. There was roasted corn flatbread.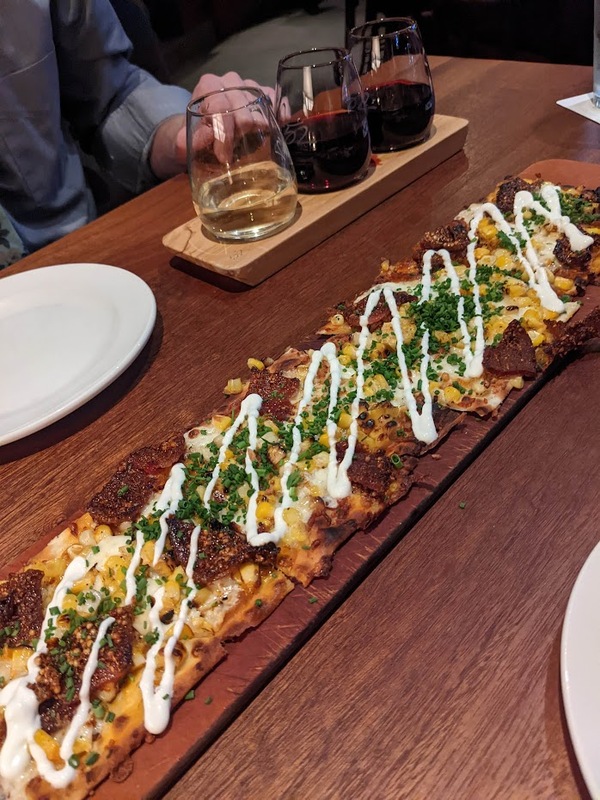 Juicy, lemony, seared scallop on a stick.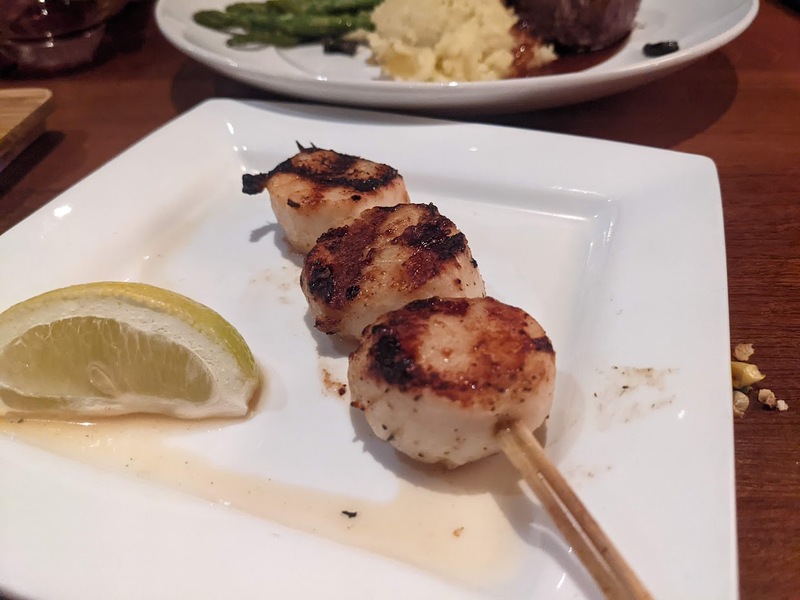 And a ruby red filet that was so tender, it melted off the end of the steak knife.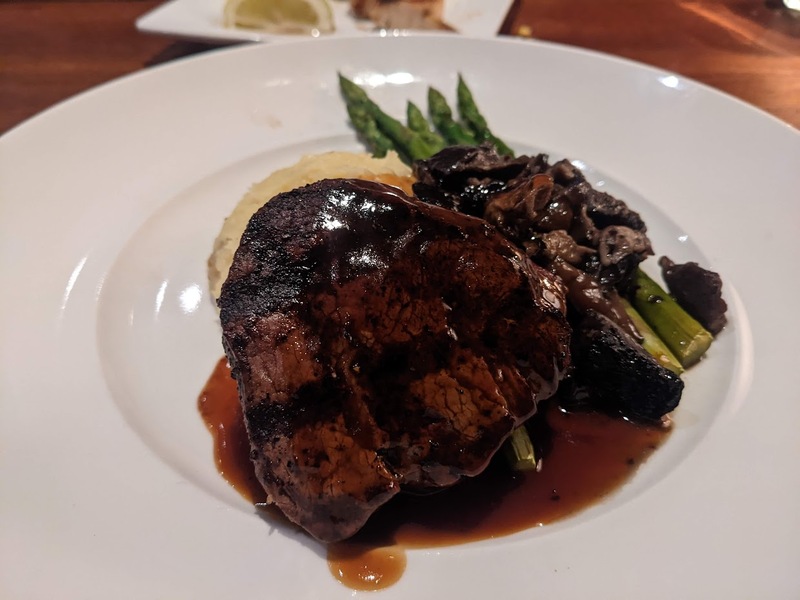 Here's a question. Have you ever had a waiter that started off on the right foot with you, got confident with your rapport, then slighted you by the end of the night? Our waiter complimented us on our food and wine pairings, and in the backdrop of a fancy evening dining room it was hard not to feel cool after that. He specifically spoke highly of the baked shrimp, crab, and mushroom appetizer we ordered, but Marissa and I weren't feeling it. In fact, we left most of the mushrooms in the bottom of the dish.
"You... know you left some mushrooms here, don't you?" asked our waiter. The second he walked away, Marissa wrinkled her nose, holding back laughter.
"Um yes, I know what food looks like," I retorted to myself.
Marissa and I ordered some dessert - two small cups of chocolate cheese cake, and I floated the idea of some dessert wine.
"We don't carry dessert wine anymore," said the waiter.
"That's fine," I replied. "How about we share a pour of moscato or something."
"Too sweet," said the waiter sharply. "I'll just bring out a pino griggio." He turned on his heels and disappeared into the dim lighting. Marissa and I stared at each other in befuddlement.
"Too sweet?" asked Marissa. "Isn't that the point of a dessert wine?"
I regret letting our waiter strong arm me like that. With each sip of tart white wine, I winced in pain, exaggerating the effect just to make Marissa laugh.
"It's actually very nice, after a meal like this you want to just erase it all with a really sour wine," I said, pretending to defend our waiter's recommendation. "Trust me, by the time you're done with this glass, you won't be able to taste any of that steak. It's gonna scour it out like an acid wash."
We spent a lot of time outside with the kids this weekend. On Sunday night, we bought a back of novelty fireworks from Jewel. But to our disappointment, the only fireworks you can legally buy in Illinois don't really explode - they just make smoke.
After Rodney and Miles went to bed, I disposed of the rest of the silly smokey fireworks. But in good conscience I couldn't just put live fireworks in the garbage. So I tied all the fuses together and lit off a final giant smoke bomb in the driveway.
Our neighborhood sounded like a thundering, thumping battlefield all weekend. We watched the real fireworks on a blanket in the backyard. Thanks to Rodney's camera work, I can show you every single firework that we saw last night. In fact, Rodney took so many photos, I could probably assemble them into an animated movie.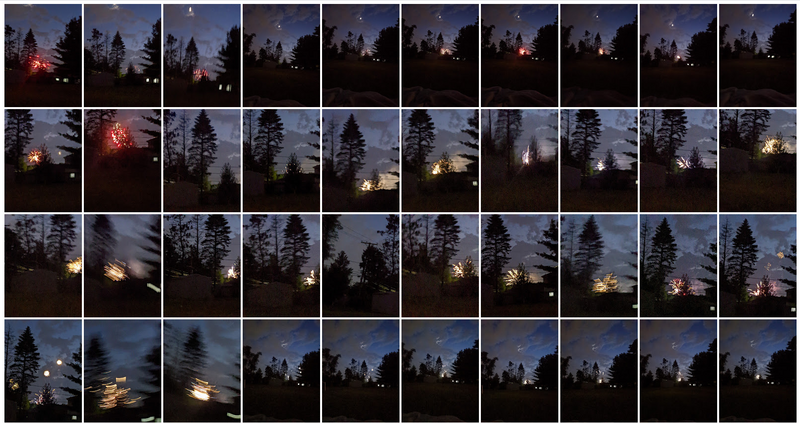 In the spirit of a last minute holiday shin-dig, we invited Sarah and Philip over for dinner. Before the party started, Marissa gave Rodney a haircut. About a week ago, Rodney cut off a lock of hair from the middle of his forehead. In that way, he forced our hand and we had no choice but to shave it down to a buzz cut.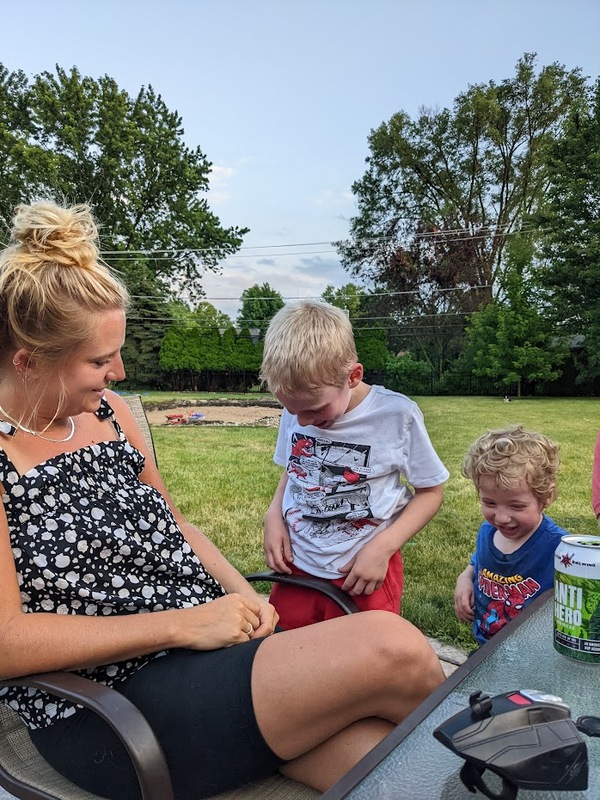 The storms held off long enough for us to sit outside and digest our food. Sarah brought out watermelon-vodka jello that she made in a real watermelon rhine. It was hard explaining to Rodney and Miles that the bright red jello was only for adults. Before Sarah and Philip left for the night, Rodney pulled Auntie Sarah aside.
"Next time, bring two watermelons," he said. "One of them just for kids." Sarah looked crushed, like she had just accidentally stepped on a dog's tail. But there was no reason to feel bad for Rodney and Miles - they got their own jello cups, and they each ate three more smores after Sarah and Philip left.
It was a good holiday weekend. As a final treat, here's some alluring footage from the bbq station, edited together in this nifty reel by my savvy Instagram influencer wife.
Thanks for stopping by today. Hope you all had a great Fourth of July weekend. I'll see you this time tomorrow.
---