Tuesday, September 5 2023
septemberfest
---
---
Hey Reader!
How was the holiday weekend? Relaxing? Idle? Hardly. We packed a lot into the extended weekend. Maybe we were trying to give this summer the send-off it deserved. Maybe Labor day snuck up on us, and we tried to partake in as many staple summer activities as we could before the weather starts to get cold again. At any rate, I feel like I need another holiday weekend just to recover from the holiday weekend.
We attended the Septemberfest this weekend. We rode our bikes to the fairgrounds. While we waited for our friends to arrive, we scoped out the free pony rides.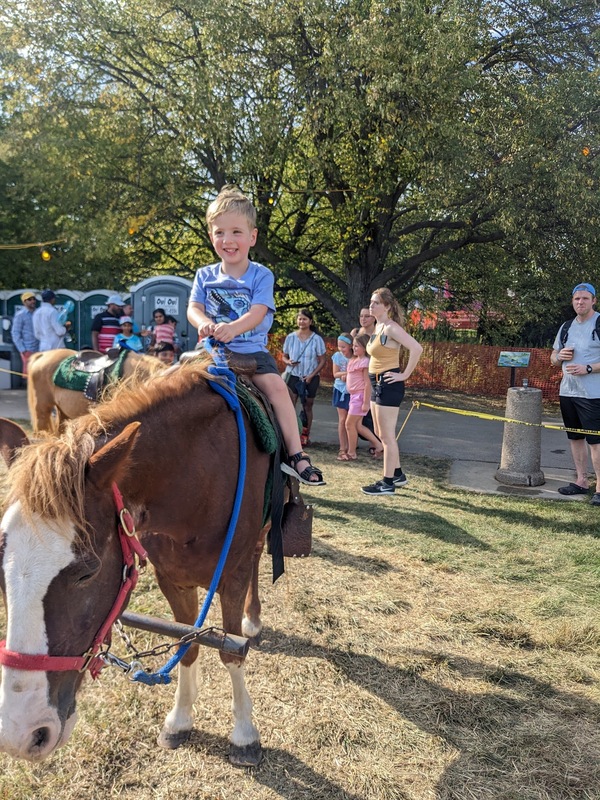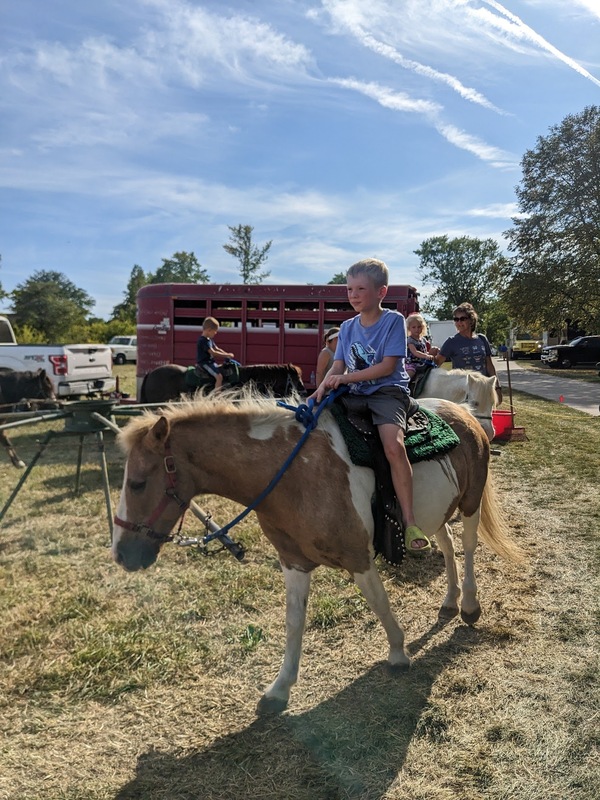 We recognized a familiar face while waiting in line. Marissa and I stared at the back of his head for a few minutes before she exclaimed, "That's the guy that fixed our air conditioner." Our air conditioner broke down this summer, and the guy we hired told us we would need a completely new unit. Mere days later, Marissa chatted with a guy she met on Facebook marketplace that stopped by to take some rubber mulch we collected from our landscaping beds, and he happened to mention he repaired air conditioners. He came back with his tools the next day, and within 10 minutes the whole system was operational again. "A part just needed to be tightened," he said meekly.
"You were the highlight of my summer," I exclaimed. It felt like a weird thing to exclaim while standing in the middle of a bustling summer fair, but I meant it.
Our friends arrived. We got in line to buy some tickets so we could get on rides. With great pride, I explained to them the ever-evolving scam of how you pay for things at Septemberfest. First you buy a card, then you pay cash to load the card with credits. How many credits do you need? Good luck. Each ride may cost 24 credits, 36 credits, 41 credits, but what you can be sure of is that these seemingly random increments were mathematically vetted to screw you out of the most money possible. Also, there's no where to check your balance, so at some point you're probably going to wait in line for a ride and get some bad news when you reach the front.
It might be a bit of a racket, but what are we to do? How can you resist the aroma of freshly fried funnel cake? How do you tell a kid not to think about the colorful clouds of cotton candy they can see in every direction, or the inflatable swords and Minecraft plushy toys hanging over their heads? Summer is short, and when at Septemberfest, you do as Schaums do.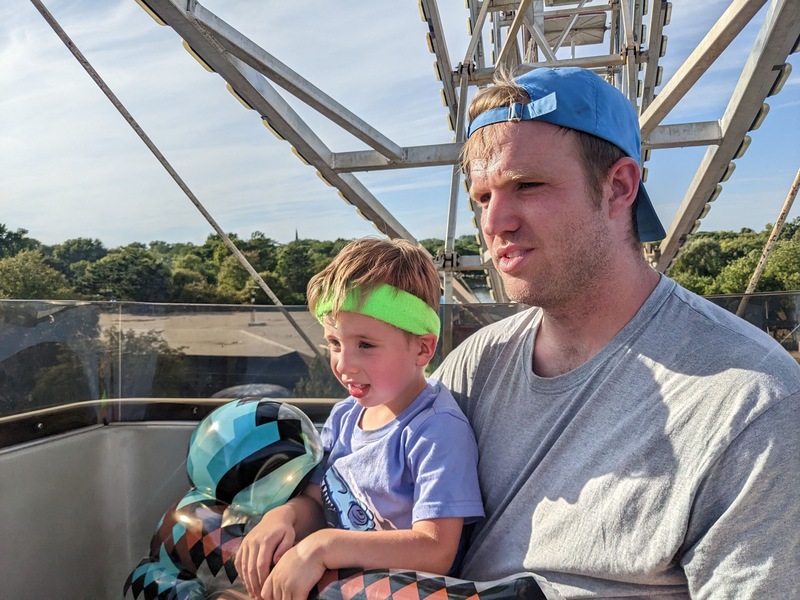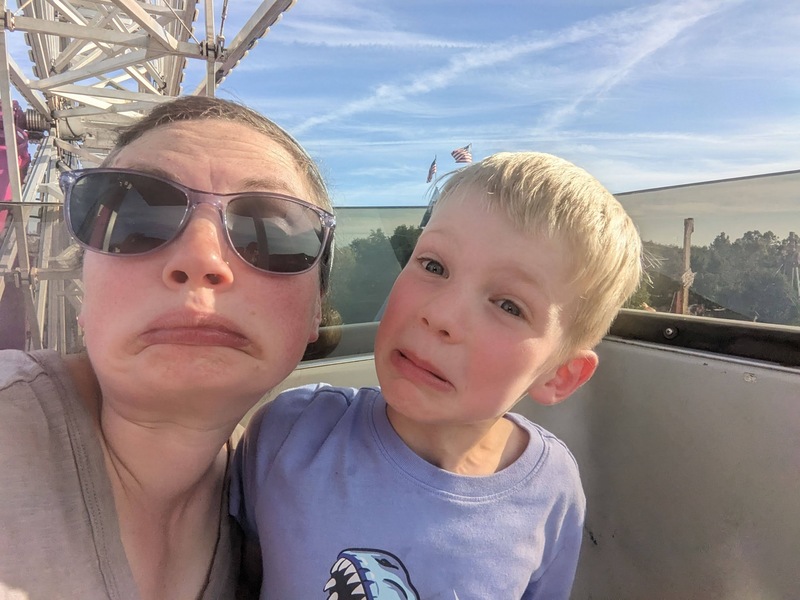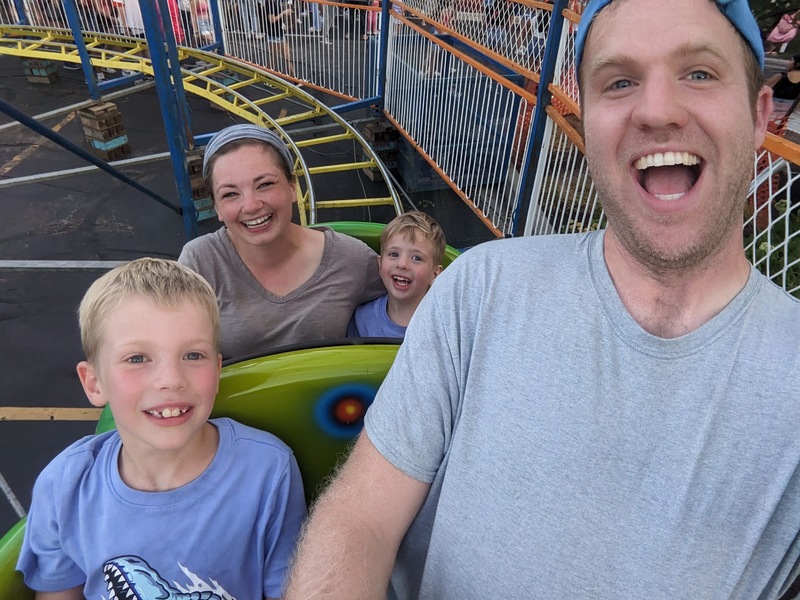 Rodney, Miles, and I climbed a giant metal egg, nervously finding our seats on the warm, metal bench. The Dizzy Dragon roared to life. Feeling overconfident, the three of us enthusiastically twisted the turn stile, which made our chamber spin faster. The outside world flew by our tiny window in dizzying, colorful streaks. The air in our metal chamber felt stale and nauseating. Rodney put his head in his lap. Miles' grin faded. I clenched my teeth, refusing to entertain the thought that I was about to lose the miller lite in my stomach. The three of us sat in silent determination through the final minutes of the Dizzy Dragon. None of us puked, but we got a lot closer to doing the deed than we expected.
Have a great Tuesday, everyone.
---